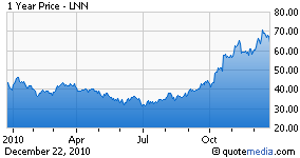 Lindsay Corporation (NYSE:LNN) delivered an EPS of 34 cents in its fiscal 2011 first quarter ended November 30, 2010, falling short of the Zacks Consensus Estimate of 49 cents and a 36% decline from 53 cents in the year-ago quarter. The decline was due to decline in infrastructure revenues and increase in operating expenses which offset increase in irrigation revenues.
Total revenues in the quarter were $89.2 million, up 4% year over year and in line with the Zacks Consensus Estimate of $89 million. Total irrigation equipment revenues increased 13% year over year to $60 million. On the domestic front, irrigation revenues perked up 14% to $36.6 million and international irrigation revenues upped 11% to $23.4 million. Infrastructure revenues however were a dampener, declining 11% to $29.2 million primarily from lower sales of QuickChange Moveable Barrier product. Revenues in the first quarter of fiscal 2010 included $15.6 million of the Mexico Citybarrier project, which was completed later in the year.
Cost of operating revenues increased 8% year over year to $64.9 million. Gross margin contracted 280 basis points year over year to 27.2%. Infrastructure margins were lower primarily due to decreased revenues of higher margin QuickChange Moveable Barrier product. Irrigation margins were flat compared to the same prior year period.
Operating expenses increased 20.3% year over year on an absolute basis due to higher research and development expenses, higher personnel related costs, sales commissions for QuickChange Moveable Barrier product and the acquisition of Digitec Inc. The increase in operating expenses also included $0.7 million of incremental expenses for environmental monitoring and remediation as part of ongoing development at its Lindsay, Nebraskafacility. Operating margin plunged 560 basis points from the year-ago quarter to 7.4%.
Backlog
As of November 30, 2010, Lindsay's backlog was $59.7 million compared with $38.4 million as of August 31, 2010, and $36.1 million as of November 30, 2009.
Financial Position
Lindsay had cash and cash equivalents of $80.5 million as of November 30, 2010, lower than $83.5 million as of August 31, 2010. The company generated $2.2 million net cash from operating activities in the quarter compared with $9.5 million in the previous year quarter.
Total debt decreased to $11.8 million as of November 30, 2010, from $12.8 million as of August 31, 2010. Debt-to-capitalization ratio as of November 30, 2010remained flat at 5% compared with August 31, 2010.
Outlook
Lindsay contends that in the irrigation markets farmer sentiment has improved with higher commodity prices and USDA (United States Department of Agriculture) projecting a 31% increase in farm income for 2010, third highest on record boding well for the farmers. The company pointed out that order flow is strong as it enters the irrigation selling season and anticipates a continuation of the strong, global, industry demand.
In the infrastructure segment QuickChange Moveable Barrier systems, which provide a cost effective method for safely managing traffic congestion, has generated interest. Approximately half of a major QuickChange Moveable Barrier project was completed and billed in the quarter and Lindsay plans to ship the balance in the second fiscal quarter. However, the segment's outlook remains uncertain with a multi-year highway bill unlikely until sometime in 2011 and global governmental budget constraints.
Our View
The company stands to benefit in the long term from demand for increased food production, driven by worldwide population growth, efficient water use, mounting need for biofuels and improving transportation infrastructure. Its strong balance sheet allows it to invest in both organic and inorganic growth initiatives.
Its irrigation segment will benefit from a forecast for rising farm income, as well as a continuing shift from flood irrigation to more efficient systems and exposure to fast-growing international irrigation markets. However, the outlook for the infrastructure segment remains cloudy due to government budget constraints and a delay in the congressional passage of a new federal highway bill. We currently have a Zacks #2 Rank (short-term Buy recommendation) on the stock.
Omaha, Nebraska-based Lindsay Corporation is a leading designer and manufacturer of self-propelled center pivot and lateral move irrigation systems, which are used principally in the agricultural industry to increase or stabilize crop production while conserving water, energy and labor. The company also manufactures and markets infrastructure and road safety products. Lindsay competes with the likes of AK Steel Holding Corporation (NYSE:AKS) and Valmont Industries Inc. (NYSE:VMI).
Disclosure: No positions