The change in business for Telstra Corporation Ltd (OTCPK:TLSYY) from what originally was Australia's public telephone company to an increasingly international telecom and enterprise service company can be seen very easily within its latest 2014 full year results.
As the market leader in Australian home phone, broadband and mobile phone service, the $64.3 billion company is known for its solid dividend payment, which currently has a yield of 5.1%. However, average earnings growth over the past 5 - 10 years has not been great. The company can see that to really drive earnings it must become an Asian regional, if not a world-scale, business.
Just within the past year or so, it has made great strides in putting the next steps of its overseas expansion in place, as well as ways to fund the growth. In the full year 2014 financial results analyst briefing presentation, it showed the breakdown of sales revenue growth, and what a telling story it told.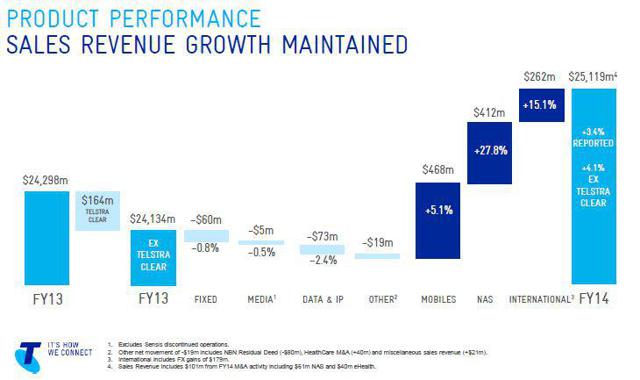 Click to enlarge
Source: telstra.com.au (Note: dollar values are in AUD)
It is seeing its traditional fixed-line phone service revenue decrease, along with media and data and IP. The businesses seeing the greatest increase are mobile phone (which would include broadband service), network application and service (NAS) and international - 5.1%, 27.8% and 15.1%, respectively.
Telstra now has a customer base of 16 million mobile users, and its 4G network covers the locations of 87% of the Australian population. It still can grow more in both coverage and users, but for a multi-billion dollar company, it needs scale it can expand into.
That means Asia. However, that doesn't just mean mobile phone service, which many companies in Asian countries are servicing already. As more and more companies are themselves operating on the internet and increasing international business, Telstra wants to establish itself as a business enterprise services provider as well as a digital communications and media company.
International expansion
Recently, it acquired the US video technology company Ooyala, which it had already held a 23% stake in previously. It services video and digital TV content producers to deliver across any device to mass audiences. Especially important is its data analytics to clients to focus personalised content and advertising. Companies like NBC Universal, Dell, News Corp and the Washington Post use its services. This is a bigger step into the US media market.
At the same time, Telstra is planning to work with networking giant Cisco Systems (NASDAQ:CSCO) and other companies to build a "global intercloud" - a network of cloud computing platforms that could support objects connected by "the internet of everything." Wearable devices, appliances as well as cars could be connected online through this proposed $1 billion proposed cloud framework. European, Canadian and Indian companies also will become project partners.
Separately, even Japan's NTT (NYSE:NTT), the telecom giant, wants to team up with Telstra for more business ventures in Asia. Telstra could connect its networks with NTT's data centers around the world, and establish itself as a business enterprise service provider to a wider range of customers.
This is in line with its current working relationship with Indonesia's main telco, Telekom Indonesia.
What benefits Telstra from the Cisco and NTT ventures is that the company doesn't have to build and develop totally new network infrastructures itself, saving funds that could be spent on such things as cloud enterprise networks and further regional tie-ups.
Telstra is also the majority shareholder of Autohome Inc. (NYSE:ATHM), China's largest auto sales website, which listed in December 2013. This has been a great investment for the company since it bought its initial majority shareholding in Autohome in 2008 for around AUD 76 million ($70.8 million).
Telstra achieved a 14.3% increase in NPAT in 2014, partly from the business enterprise service and international expansion. It's stepping out onto the world stage in a big way, and I believe it has much more to do before it starts to slow down.
Income stream from existing copper phone network infrastructure
The expansion can be part-funded by income it plans to receive through its leasing agreements for the phone copper network with the National Broadband Network Company. The income is projected to incrementally increase annually for the next 55 years, starting out at AUD 400 million ($372.9 million). It could rise to AUD 1 billion ($932.2 million) by 2019, and steadily continue from there.
Another possibility that is becoming more likely is that Telstra may turn ownership of the phone network over to NBN Co. with no direct compensation for it. However, NBN Co. would be responsible for maintenance of the infrastructure, which could cost around AUD $1 billion ($932.2 million) annually.
Telstra would be the most experienced and technically capable to perform the maintenance, so a good part of that projected annual cost may come to the company as fee income year after year. Either way, the asset will produce a steady income stream for the company to support future business growth.
My view from here
Telstra Corporation Ltd has great growth potential and offers shareholders a stable, strong 5.1% dividend yield. I think it would be a very good addition to an income or international equities portfolio.
Disclosure: The author has no positions in any stocks mentioned, and no plans to initiate any positions within the next 72 hours. The author wrote this article themselves, and it expresses their own opinions. The author is not receiving compensation for it (other than from Seeking Alpha). The author has no business relationship with any company whose stock is mentioned in this article.
Editor's Note: This article discusses one or more securities that do not trade on a major U.S. exchange. Please be aware of the risks associated with these stocks.