Intro
Warren Buffett and Charlie Munger have often stated the wisdom of avoiding "fair businesses" even at great prices in favor of buying great overall companies at less favorable prices. I believe International Business Machines (NYSE:IBM) represents the strongest blue-chip value proposition in the market today - truly a "great business" that also happens to sell at a "great price."
Buffett, via Berkshire Hathaway (NYSE:BRK.A) (NYSE:BRK.B), clearly believes in the strong future at IBM as his initial stake of 4.87% in fall 2011 has recently surpassed 7%. This shift occurred due to a combination of Buffett increasing his shares by 22% and IBM reducing their outstanding shares by over 15% in the past 11 quarters.
This article provides a brief background of IBM, highlights Buffett's involvement, dispels a few bearish notions, and sets a conservative price target of $257, 37% upside, based on a reasonable multiple (17.5x) to free cash flows.
Brief IBM Background
IBM is an information technology (IT) company which specializes in business services and systems maintenance and has recently been divesting itself of many hardware segments. The first major shift was IBM's divestment of the PC unit to Lenovo (OTCPK:LNVGF) in late 2004. IBM continued to prioritize higher margin service revenues, but still maintained a robust server division.
Most recently IBM has sold its server business to Lenovo and is attempting to sell its chip foundry to Globalfoundries. The latter deal involves IBM paying GF to take the loss-maker off its hands, which emphasizes IBM's intent to maximize margins and trim all commodity exposure.
With IBM shedding several of its legacy hardware business units mixed with tepid global demand for IT products, IBM's revenue and share price have stagnated in recent years. The chart below (from Google Finance) shows a strong recovery from 2009, but a languishing share price since mid-2011.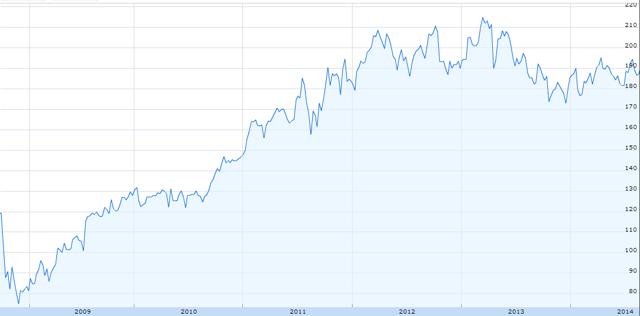 The 10-year snapshot below (from MSN Money) highlights IBM's revenue issues, but also shows marked improvement in net margins.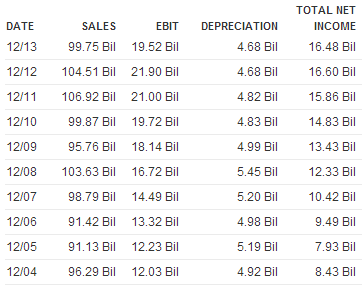 Buffett Background
Warren Buffett first revealed a stake in fall 2011- holding 57.3M shares for a 4.87% stake in IBM. In early 2012, Buffett made some controversial remarks essentially stating that he hoped IBM's share price would stay depressed for the next 5 years. He provided two $50B repurchase scenarios using base cases of $200 and $300 average share prices over the next 5-years. In the $200-avg scenario, Berkshire would own 7% of IBM by 2017 while the $300-avg would only result in 6.5% ownership.
Since these comments, IBM's share prices have languished ($172-$215), IBM has accelerated its repurchases, and Buffett has increased his share holdings (70.2M shares reported last week). This "trifecta" has boosted Berkshire's ownership by a shocking 44% in under 3 years.
If the dividend increases (13% in 2012, 12% in 2013, and 16% in 2014) are included, Berkshire's cash flows from IBM have increased by nearly 80% in 3 years! Since Berkshire cannot claim direct access to IBM's net earnings, these dividend payments are important to furthering Buffett's capital allocation objectives.

IBM Shareholder Returns
IBM provides shareholder returns via robust dividend and share repurchase programs. Over the past 10 years, IBM's dividend has grown at an annualized rate of 19.8% (18c quarterly in 2004 to $1.10 quarterly in 2014). Over the past 5 years, IBM has increased the dividend at an annualized rate of 14.9% (55c quarterly in 2009 to $1.10). The below chart highlights the steady increases in payout.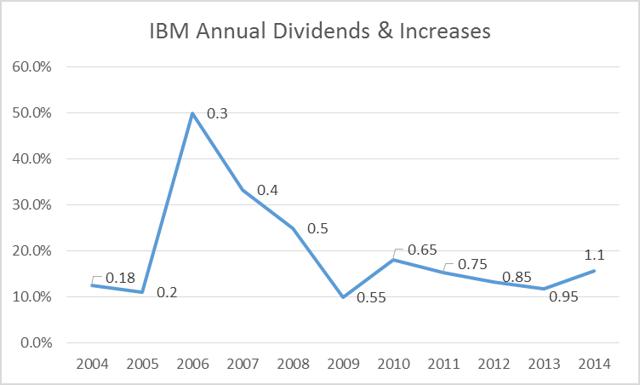 IBM's repurchase program over the past decade has resulted in a nearly 40% reduction of shares, from 1.63B in 2004 to under 1B this past quarter. These repurchases have enabled IBM to triple its earnings-per-share from 2004 to 2013 despite revenues only increasing by 3.6%.
The Bearish Points
The bear cases for IBM boil down to three primary arguments - IBM has "unsustainable debt levels," IBM has "lost its competitive edge in the market as evidenced by flat revenues," and IBM's margin improvement is due to "accounting manipulation."
Unsustainable Debt Levels (Misleading figures)
The first point about debt levels is best explained by Chuck Carnevale, who recently (August 8) published an extremely well-done piece that addresses these points. Essentially the operating unit debt levels have not markedly changed over the past decade, and the primary increases have been due to consumer financing.
Losing Competitive Edge (Cloud Commoditization is a legitimate threat to IBM)
The second point is the strongest potential "mark" against IBM as their revenues have continued to languish, total income remains flat, and IBM has struggled in the cloud business - most notably with an embarrassing bid loss to Amazon (NASDAQ:AMZN) in 2013. While I think the argument that AMZN and other peers can out-innovate IBM over the long-term is absurd, I see the potential of 'cloud services' becoming as ultra-low margin as IBM's PC business became in the 2000s.
The recent price wars in cloud services between Google (NASDAQ:GOOG) (NASDAQ:GOOGL), Microsoft (NASDAQ:MSFT), and Amazon underscore the potential for massive margin erosion in this field. To avoid this pitfall, IBM must focus on providing unique, secure, and enterprise-focused solutions to its client base.
IBM's strength will shine in providing unmatched enterprise-level innovation. IBM has topped the list of patent approvals for the past 20 years straight. IBM has a team of 250 thousand technical experts around the world who have created the world's largest private intellectual property portfolio. IBM has shifted drastically from the stodgy hardware focused firm of the 1970s-1990s, and is now emerging as a leader in innovation and IT services. Losing the "edge" in cloud services might be a legitimate threat to IBM in the short-term, but in the bigger picture, these specific storage services are rapidly becoming a low-margin commodity business that IBM shouldn't want to pursue anyways. In other words, focusing on generic cloud storage and services provision would be to repeat the same mistake IBM made in the 1980s when they pursued (low-margin) hardware development over Microsoft's (high-margin) approach to software.
Accounting Manipulation (Tossed around by those who do not understand basic corporate finance)
Note: for those who are simply talking about the "lower quality" of earnings vs. free cash flow, there is a discussion in the next section close to the peer chart.
The combination of repurchasing undervalued shares and selling off unprofitable business units is simply good management practice. When a company such as IBM can issue 10 year debt for record-lows (1.875% in 2012) or even relative-lows (3.625% in early 2014), and use the proceeds to repurchase stock with free cash flow yields of over 7%, it's clearly the prudent financing decision. In fact, with equity valuations this low and long-term debt costs where they stand, it would be irresponsible and incompetent management practice to NOT repurchase common stock hand-over-fist.
Selling off low-margin businesses to companies such as Lenovo is hardly poor business practice - it's simply common sense management. In a commodity hardware business, IBM has extremely limited competitive advantage. Their cost of labor is higher, and despite massive corporate innovation, the final product is roughly the same as boilerplate Chinese technology.
Very few companies in the world maintain strong margins selling commodity hardware of any type- in fact, Intel (NASDAQ:INTC) and Apple (NASDAQ:AAPL) are perhaps two of the only such (sustainable?) cases. Apple benefits from superior design and marketing to a rabid fan base and Intel benefits from enormous barriers to entry, gigantic scale, and decades of IP control. Cisco (NASDAQ:CSCO) and Hewlett-Packard (NYSE:HPQ) are struggling with hardware margin issues and so was Dell prior to going private - why would IBM want anything to do with this fray?
Valuation Discussion
There are a multitude of approaches to valuation, but the most basic involve assigning a "fair" P/E ratio based on earnings stability and growth potential, assigning a value based on a dividend-discount-model (DDM), or selecting a "fair" free-cash-flow yield.
The issue with all of these approaches is in selecting a proper discount rate or earnings multiple. Many analysts choose an industry comparison model, but the obvious weakness here is that the entire industry may be either undervalued or in a bubble. Additional weaknesses are visible when comparing strengths of business models or management. A simple example here would be comparing industry stalwart McDonald's (NYSE:MCD) to typically rudder-less Burger King (BKW) and declaring BKW a "buy" and MCD a "sell" simply because BKW has a cheaper relative valuation.
Many IBM valuation models apply potentially misleading "peers" such as Cisco, HPQ, and Apple - all of which are involved in slightly different businesses with different relative risks, and all of which have also been struggling with depressed stock valuations. I have expanded the peer group and ordered the peers in which I believe is the best comparison. As the chart shows, I think VMWare (NYSE:VMW), EMC Corporation (EMC), and Oracle (NASDAQ:ORCL) are much more applicable peers than HPQ, AAPL, and INTC.
Compared to a widespread sweep of these peers using 3 valuation metrics (see below chart)-IBM remains "cheap" by comparison-but how cheap depends on which whether you focus on earnings or free cash flow.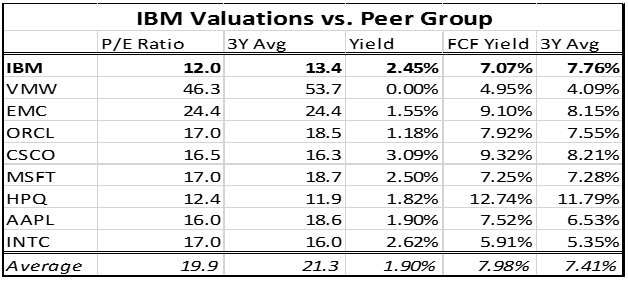 Price/Earnings is obviously IBM's strongest metric, while the free cash flow yields are approximately average. This is due to three primary factors - IBM's strong capex/research expenditures, IBM's declining traditional depreciation, and IBM's multitude of favorable one-off earnings impacts.
Capex & Development
The strong capex and development expenses are a by-product of IBM's continual innovation; however, not all of these expenses appear on the income statement. If IBM purchases a stake in another business, this expense may classify as capex (or at least appear in investment cash flows), but will not negatively impact current year earnings. This facet is not "accounting manipulation", but it is critical for investors to realize the underlying cost of maintaining growth.
Declining Depreciation
Although IBM does expense portions of its active research and development on the income statement, their traditional depreciation expenses are small relative to investment cash outflows. This is typical for a company in an asset-lite business. The polar opposite would be a giant utility company that requires minimal expenses to expand services relative to the annual depreciation expenses. Less depreciation is not inherently bad, although it can reduce potential tax benefits.
One-Off Earnings Impacts
As IBM continues to sell certain business units and recognize deferred revenues, annual earnings may temporarily outpace free cash flows. This factor is what most IBM bears point to as "poor earnings quality". While I agree that certain aspects of these earnings are not sustainable, I have no reason to doubt the cash flow quality over the long-term. The "unsustainable" portion of IBM's earnings is less than 20%.
Competitive Advantage
The single most important factor for IBM going forward is their dominance of specialty, high-margin, and IT business opportunities. This dominance factor is why HPQ, INTC, AAPL, and even CSCO are often poor comparisons.
By simply looking at a valuation chart, Hewlett-Packard looks extremely cheap (disclosure: long HPQ) compared to IBM. However, HPQ lacks the competitive advantage and internal innovation to be a fair comparison. In 10-20 years, when technologies that don't currently exist in the marketplace make up a majority of sales and profits, would an investor prefer to own shares of IBM or shares of Hewlett-Packard?
Valuation Target
I believe IBM deserves a free cash flow multiple of 15x-20x (yield of 5%-6.7%) for its established presence in the technology sector combined with strong competitive innovation. The mid-point of this range (17.5x of the 3y average free cash flow) sets a market cap valuation target of $256.4B (range of $220B-$293B), or $257 per share (range of $221-$294) for IBM based on 997.6M shares outstanding.
I believe there is a "fair value upside" in IBM of 37% based on share prices on August 18, 2014.
Conclusion
Investors rarely have the chance to own a "great business" at a "great price," but now have the opportunity due to languishing share prices at IBM. Warren Buffett clearly sees this opportunity as Berkshire Hathaway has recently increased their ownership to over 7% of outstanding shares.
With 37% of upside to a "fair" price and 18% of upside to a "cheap" price (15x FCF multiple), the long-term investment choice should be clear.
Disclosure: The author is long IBM, CSCO, MSFT, AAPL, HPQ, MCD.
The author wrote this article themselves, and it expresses their own opinions. The author is not receiving compensation for it (other than from Seeking Alpha). The author has no business relationship with any company whose stock is mentioned in this article.