Mobileye N.V. (NYSE:MBLY)- Buy Recommendation - PT $32.80
The SEC-enforced 25 day quiet period on underwriter analyses of Mobileye N.V. initiated with the firm's July 31 IPO will conclude on August 26, allowing the IPO underwriters to publish analyses of the Israeli developer of technologies related to cameras for Advanced Driver Assistance Systems on August 27.
The release of the underwriter reports will likely cause at least a temporary rise in MBLY share prices.
Hugely Successful IPO, Some Losses Since
MBLY's hugely successful IPO priced above its upwardly-revised expected price range at $25.00 per share and enjoyed a 48% return in its first day of trading. The stock has since lost some ground amidst investor concerns that MBLY was riding a bubble, with particularly significant losses on August 7 and 8. MBLY closed at $32.35 per share on August 8.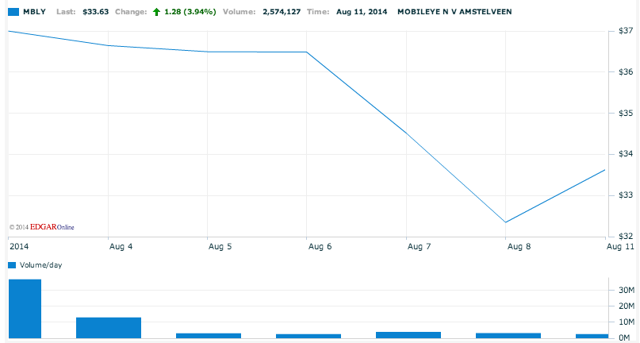 Click to enlarge
(Nasdaq.com)
Very Strong Underwriting
MBLY's IPO underwriters, including Goldman, Sachs & Co; Morgan Stanley & Co. LLC; Barclays Capital Inc; Citigroup Global Capital Markets Inc.; Raymond James and Associates, Inc; Deutsche Bank Securities Inc; Robert W. Baird & Co. Incorporated; William Blair and Co., L.L.C; and Wells Fargo Securities, LLC will seek to replicate stock's strong first-day results through the publishing of positive analyses starting with the quiet period expiration.
Underwriters, Quiet Period Expirations, and Buying Opportunities: Academic Studies
As The Journal of Finance (VOL. LVIII, NO. 1; 2003) describes, share prices typically begin to rise before the quiet period expiration as investors purchase shares early in the hopes of benefiting from forthcoming positive underwriter analyses.
According to lead author Dan Bradley, PhD, CFA, affiliated with the University of South Florida, and his colleagues, analysts immediately initiate coverage for 76% of firms at the expiration of the quiet period, nearly always with a rating of 'Buy' or 'Strong Buy.' Firms with coverage initiated enjoy abnormal positive returns of 4.1% for the two prior to initiation and the two days following. Returns have been found to increase further when more than one analyst initiates coverage-to 6.4%.
Carter, Piwowar, and Strader (2001) lend support to Dr. Bradley's conclusions; they note that the mean analyst rating at the conclusion of the quiet period is a "Buy," and that higher ratings correlate to higher returns. Lach and Highfield (2009) find that analyst initiations have been less positively biased since the NASD and NYSE rules and the Global Settlement; nonetheless, Highfield, Lach and White (2008) found that the five-day cumulative adjusted returns are statistically significant at approximately 2%.
Bradley et al also find a significant correlation between the number and visibility of IPO underwriters and increased share prices near the conclusion of the quiet period. This could be an important factor, given MBLY's impressive list of underwriters.
Our own studies, performed on a sample of 2014 IPOs, show above-market returns of 2.3% within an 8 day (-5, +2) window (day 0 being expiration). These data are statistically significant at the 90% level. Excluding IPOs for REITs and banks, returns increase further and remain within the 90% significance level. We also found that a greater quantity of underwriters could lead to a reduction in the volatility of returns in the quiet period. We observed no significant linear relationship between market capitalization and returns or volatility of returns in the same period. We also observed no significant linear relationship between the percentage of the company floated at the time of IPO and returns or volatility of returns.
In all cases, investors' early purchases often lead to a perception of rising demand, causing an increase in share prices before the quiet period ends and creating a short-term buying opportunity.
Industry Leader in ADAS Software and Technology
MBLY is a designer and developer of software and other technology used in Advanced Driver Assistance Systems (ADAS) for motor vehicles. The company's software and computer chips analyze and interpret data from a vehicle's cameras in order to detect roadway markings like lights, signs, and lane markers, as well as other vehicles, cyclists, pedestrians, and other roadway hazards in order to predict potential collisions.
MBLY estimates that its technology had been used in some 3.3 million vehicles as of March 31, 2014; by the end of 2014, the firm's technology will be made available in 160 models manufactured by 18 different original equipment manufacturers (OEMs). The technology will be implemented in the serial production of 237 models by 2016.
MBLY's products are either used in current models or scheduled for use in future models from numerous prominent vehicle manufacturers, such as Audi, Ford (NYSE:F), BMW, Chrysler, Nissan, GM (NYSE:GM), Honda, Tesla (NASDAQ:TSLA), and Renault, among many others.
See our prior article, highlighting MBLY's IPO here.
Leading The Field of ADAS Competitors
Numerous other firms are attempting develop competing ADAS systems, although MBLY is currently by far the most advanced and the most popular among vehicle manufacturers. The firm could face competition from Google (NASDAQ:GOOG) in the future, particularly given the massive media coverage that has surrounded Google's development of autonomously driving cars.
Management Highlights
President and CEO Ziv Aviram co-founded MBLY, and is also the co-founder, president and CEO of OrCam, a firm engaged in the development of artificial vision devices to aid the visually impaired. He previously served as the CEO of retail chains Gali and Keter. Mr. Aviram received a B.A. in Industrial Engineering and Management from Ben-Gurion University.
Co-founder Professor Amnon Shashua serves as MBLY's chairman and chief technology officer. Prof. Shashua holds the Sachs Chair in computer science at the Hebrew University of Jerusalem. He also co-founded OrCam and serves as its chairman and chief technology officer.
Conclusion: Strong Buying Opportunity
We like this stock moving forward.
As demand for and awareness of ADAS and other driver safety technologies on the part of consumers continue to increase and regulatory and consumer groups continue to encourage vehicle safety technologies like ADAS, MBLY will be positioned to take advantage of significant market opportunities.
Though the stock may continue to slide in the very short term as a result of some commentators' concerns about the company's high valuation, the firm's significant technological lead and established relationships with numerous vehicle manufacturers can't be ignored.
The upcoming quiet period expiration will likely create a strong buying opportunity for those interested in getting a piece of this rising company.
We invite readers wishing to join the discussion on IPO quiet period expirations to click the +FOLLOW button above the title of this article -- and those looking for the latest development to click +Get real time alerts.
Disclosure: The author is long MBLY. The author wrote this article themselves, and it expresses their own opinions. The author is not receiving compensation for it (other than from Seeking Alpha). The author has no business relationship with any company whose stock is mentioned in this article.