Last week's reports of surging sales of Sony's (NYSE:SNE) PlayStation 4 are a great sign for the video game industry. Pessimism about the new generation of hardware is a distant memory now, with PlayStation 4 selling 10 million units worldwide faster than its predecessors.
That's good news for Sony, but its better news for GameStop Corp. (NYSE:GME), which is finding stronger demand than predicted, coming in 2 cents above estimates in the normally weak Q1. Strong interest in the new hardware means they should continue to come in on the high side of estimates for the rest of the year.
GameStop: The sell, buy, and sell again model
GameStop controls a huge portion of the US retail market for video games, with 4,249 stores in America. They also have significant presences in Canada, Australia, and Europe.
In addition to the straight-forward retail model, GameStop employs a buyback program, where they will repurchase used games and hardware at a substantial discount, and then resell those products again. It's a model other retailers, like Best Buy and Wal-Mart, are desperately trying to duplicate, but no one else has managed to make resells such a meaningful part of their revenue.
GameStop's pre-owned sales are 25.8% as of FY2013, and have a margin of 47%, more than double that of their new game sales.
Pre-owned sales inevitably drop early in a new generation, as there simply isn't the inventory of used products for the newest systems. The earlier-than-expected adoption of the PlayStation 4 and its competitors means not only higher new sales, but a quicker influx of resells that can be resold for higher margins.
Returning value to shareholders
GameStop is trading at a comparatively low PE of only 13.2 on trailing earnings, while the current year should be just over 10, and the FY2015 PE would be about 9.1. That, along with their success in keeping long-term debt close to zero, is reason enough to consider them, but the good news doesn't end there.
GameStop pays a healthy, and growing, dividend. The current fiscal year dividend will be $1.32, meaning a 3.3% yield. That's a nice start, and GameStop also has one of the most consistent share repurchase programs out there, regularly lowering the number of shares outstanding.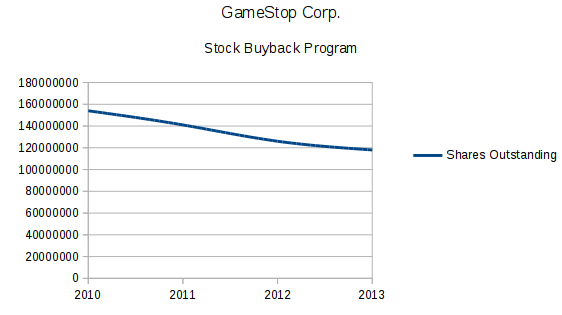 The FY2013 buybacks saw another 6.3 million shares purchased at $41.12 on average. That's somewhat above its current price, and should portend an even more aggressive buyback in FY2014. Indeed, they've already trimmed several million more shares from the outstanding numbers in Q1.
The dividend yield was already nice, but look at it this way - in addition to the $102.5 million paid out in dividends, the company invested another $259 million in the buybacks, putting the overall return to shareholders around 7.7%. It also amounted to virtually all of the net income the company generated. With those earnings projected to grow significantly, that return will grow with it.
The myth of the death of gaming retail
People have been bidding down GameStop for years now on the idea that we are fast approaching the era where digital sales will replace physical media. GameStop has moved slowly into the digital segment as well, and is seeing some really nice margins, albeit on a small scale.
The idea that digital downloads will replace media sales though is unlikely any time soon. Every new generation sees storage media grow in capacity dramatically, and the dual-layer discs on the PlayStation 4 weigh in at 50 GB. Even assuming we don't start seeing games that span multiple discs, and we have on every other optical disc platform, that's a massive download.
Bandwidth speeds are growing, but only the highest of the high-end broadband services would allow you to even think about downloading something that large. Even for those who have that, bandwidth caps, now ubiquitous in the United States, would severely limit the number of games a player could reasonably download in a month.
No, like it or not, physical media is here to stay, and that means GameStop will continue to sell, and resell, those discs for years to come.
Does GameStop have a future beyond games?
While video games remain the bread and butter of GameStop to the point it is irrelevant to look at the rest of their business right now, the company isn't resting on its laurels, and is slowly dipping its toes into other waters.
In November 2013, GameStop saw two significant purchases to that effect, the $97.1 million purchase of Spring Mobile, a cell phone retailer, and the $9.5 million purchase of Simply Mac. The company also founded Aio Wireless, a prepaid phone business.
Spring Mobile and Aio should fit well together, and GameStop is touting its experience with small, standalone retail as something they can leverage in this new market. It's likely to be a reliable income earner in the future, albeit a small one.
Simply Mac is a more fascinating choice, giving its miniscule size. Only 23 stores when GameStop bought it, Simply Mac is a retailer of all things Apple Computer. They're along the same line as Apple Stores, but smaller, and located in cities and towns that Apple has considered too small to bother with. That's a non-trivial market in the United States, as Apple has clustered their stores mostly around major cities. A $9.5 million purchase isn't even a blip to a company with $9 billion in sales, but shows an eye for untapped markets.
Conclusion
The quick adoption of PlayStation 4 should mean bigger than anticipated sales for GameStop in FY2014, and particularly in Q4. Last year's Q4, the quarter when GameStop made 41% of its sales and 64% of its operating earnings, was dragged down by the new hardware being scarce during the holidays. Systems sold out quickly, and even if GameStop doubtless picked up some sales of the last generation hardware, the bottom line suffered for it. This Christmas will doubtless be the year of the new systems, and subsequently the year when new releases for those new systems will stay around $60 longer, instead of quickly falling into the discount bin.
GameStop is still trading at a remarkable bargain for its growing earnings, and the market has yet to fully appreciate the company's penchant for increasing shareholder value with buybacks.
Brick and mortar retail may seem remarkably 20th century for the high-tech world of video games, but GameStop has carved itself out an indelible place, and one which continues to show big profits.
Disclosure: The author has no positions in any stocks mentioned, and no plans to initiate any positions within the next 72 hours. The author wrote this article themselves, and it expresses their own opinions. The author is not receiving compensation for it (other than from Seeking Alpha). The author has no business relationship with any company whose stock is mentioned in this article.