Inogen Inc. (NASDAQ:INGN) - SELL RECOMMENDATION - PT $18.50
Summary
The 180-day lockup period following the February 13, 2014 IPO of Inogen Inc. originally was set to conclude August 12; however, due to INGN's earnings release in this time frame, the date is now set for August 29. On August 29, INGN's major pre-IPO shareholders in the medical technology firm to sell their outstanding shares.
These shareholders primarily consist of venture capital firms. The expiration of the lockup period will also allow INGN's executives and directors to sell their shares in the firm.
The sudden increase in INGN shares available for public sale will likely lead to at least a temporary decrease in share prices, potentially creating a short opportunity for aggressive investors.
Early Market Performance
INGN's IPO priced at the low end of its expected range at $16 per share and posted a loss of 5.3% in its first day on the market. The stock climbed above $20 per share in March before sliding below $14 per share in early May; however, the price rallied to a close of $23.58 per share on July 1. INGN closed at $18.93 per share on August 15.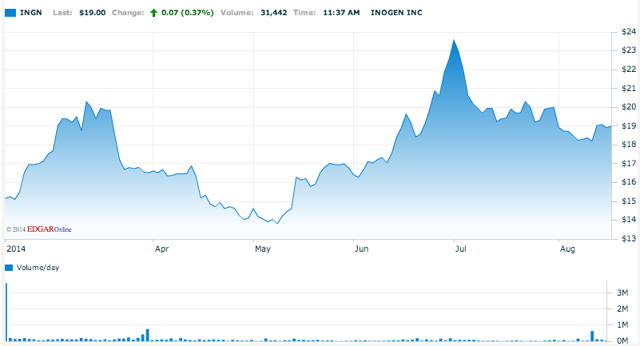 (Nasdaq.com)
Share Unlocking
The lockup period expiration on August 29 will unlock some 14.6 million shares of INGN for sale, over three times the 4.4 million shares offered in the February IPO.
These shares are mostly held by venture capital firms. Novo A/S holds the largest stake with 5.4 million shares, followed by Versant Ventures with 3.8 million shares, Arboretum Ventures with 2.2 million shares, AMV Partners I with 580,000 shares, and Avalon Ventures VII with 418,000 shares. These firms will likely elect to sell at least some of their INGN shares in order to return capital to their investors.
INGN's executives and directors may also take advantage of their first opportunity to sell shares since the IPO, especially given the wide variability that the stock has shown since its market debut.
Evidence That Lockup Expirations Offer Short Opportunities
The results of our three years of research, along with published empirical studies by Professors at the University of South Florida, University of Kentucky, and additional institutions (Bradley, Jordan, Roten, and Ha-Chin Yi) have found that, on average, lockup expirations are associated with significant, negative abnormal returns as the sudden increase in public shares (a potential tripling, according to a 2001 NYU study) usually causes a price decline. A joint study by Duke's Fuqua School of Business and Harvard Business School finds this price drop is 2%.
Thus, the lockup expiration event often opens a short window for aggressive investors.
Losses are often most concentrated in firms with venture capital (NYSE:VC) backing, such as INGN. In the Journal of Finance (2001) Professors Laura Casares Field and Gordon Hanka find the losses described above as three times larger in VC-backed firms.
Business Summary
INGN develops, manufactures, and markets portable oxygen concentrators for use in oxygen therapy for chronic respiratory patients. INGN's concentrators allow patients far more freedom than stationary oxygen concentrator systems, which force patients to use a limited oxygen supply when they leave their homes. The firm's devices weigh only 4.8 or 7.0 pounds and do not restrict patients' movements nearly so much as heavier products.
INGN markets its products directly to consumers rather than through home medical equipment providers, providing the company with a significant advantage over other portable device manufacturers. Medical equipment providers have invested heavily in the infrastructure needed for stationary systems, and are thus incentivized to promote the stationary systems over portable devices. Since INGN adopted its direct-to-consumer sales strategy in 2009, the firm has directly sold or rented its flagship Inogen One systems to over 40,000 patients.
See our previous article on INGN here for additional details.
Industry Competition
INGN competes with manufacturers and distributors of both portable oxygen concentrators and providers of other oxygen therapy solutions, including home delivery of oxygen tanks or cylinders.
Significant manufacturing competitors include Respironics, Invacare Corporation (NYSE:IVC), Inova Labs Inc., and DeVilbiss Healthcare. Oxygen therapy provider competitors include Lincare Inc., Inc. Rotech Healthcare, Inc., Apria Healthcare, and American HomePatient, Inc. Some of INGN's competitors have access to greater financial or marketing resources than INGN.
Management
Raymond Huggenberger has served as the president and CEO of INGN since 2008. He previously worked in various management positions with Sunrise Medical Inc. and McDermott and Bull Inc.
Mr. Huggenberger graduated from AKAD University in Rendsburg, Germany in Economics and completed the Advanced Marketing Strategies Program at INSEAD, Fontainebleau, France.
Conclusion: Despite Long-Term Promise, Current Short Opportunity
While we like INGN moving forward, with its so-far effective direct-to-consumer sales strategy and advantages over competitors, given the firm's significant venture backing, we believe the upcoming lockup expiration is likely to create a viable short opportunity.
We invite readers wishing to join the discussion on IPO lockup expirations to click the +FOLLOW button above the title of this article-- and those looking for the latest developments to click +Get real-time alerts.
Disclosure: The author is short INGN. The author wrote this article themselves, and it expresses their own opinions. The author is not receiving compensation for it (other than from Seeking Alpha). The author has no business relationship with any company whose stock is mentioned in this article.