The market tends to view stocks through a myopic lens. Negative short-term vagaries often lead to an excessive discount in share prices. Rite Aid (NYSE:RAD) certainly falls under this categorization. Despite being in an industry poised for substantial growth and improving business fundamentals, the stock has taken a beating over the past couple months, falling from the mid $8 range to the low $6 level today.
Brief History
Rite Aid was a victim of the Great Recession and faced a steep reduction in sales, and compressing margins. The stock eventually bottomed out in 2009 at $0.22 per share, and has been rebounding ever since. Management has successfully executed a turnaround that has entailed growing the top-line prodigiously, improving profitability, deleveraging, and positioning the company to outperform for years to come.
Company Specific Positives
From a fundamental business perspective, RAD is performing exceptionally. In the most recent quarter, revenue grew 2.7% y/y, buoyed by pharmacy sales growing 4.6%, despite a 1.43% negative impact from new generic introductions. Moreover, in the third quarter, margins will begin to expand as the new partnership with the drug distributor, Mckesson, cuts their costs.
Furthermore, the company has been remodeling stores at a breakneck pace. With the remodeled stores increasing front end sales by 2.65% and RX sales by 1.2%, on average, RAD is set to benefit greatly. The company expects to complete 180 remodels in 2014, and 225 in 2015.
Finally, RAD is improving profitability by becoming a more efficient enterprise. First, one of the ancillary benefits of the McKesson agreement is an improvement in working capital. The partnership will allow RAD to receive drug deliveries five days a week and reduce inventory levels. Secondly, RAD is becoming more 'lean' by deleveraging. Amid the Great Recession, it leveraged itself in order to weather the storm. However, RAD has been swiftly deleveraging,which will have immediate positive impacts on the bottom-line. Interest expenses have fallen precipitously in recent quarters.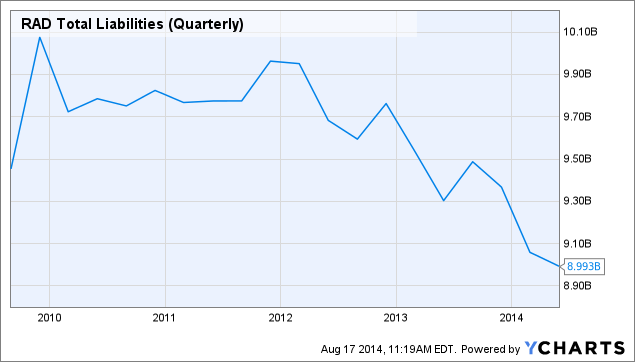 More recently, the acceleration of sales points to RAD's turnaround progressing. In July same store sales growth increased 4.6% y/y. Furthermore, exceptional growth was derived from pharmacy sales experiencing a 6% expansion, despite the figure including a 2.03% negative impact from generic introductions. During the first quarter, same store sales increased 3.1% y/y, and during June increased 3.9% y/y. Therefore, RAD's sales growth is accelerating and its novel initiatives such as the remodels, Health Alliance initiative, Wellness 65+ program, and integration of Rediclinics are clearly working.
Industry Tailwinds
Not only is Rite Aid's business fundamentals greatly improving, but the industry is set to benefit overall. All of the companies in the industry such as Walgreen (WAG) and CVS Caremark (NYSE:CVS) will see revenue expansion, as the passage of the Affordable Care Act will be a boon to the industry. Millions of Americans that were previously unable to afford health insurance, will now be able to obtain it. Additionally, the shift of drugs will move towards generics. With drug stores seeing wider margins on generic proscriptions, this is certainly a benefit. Finally, the baby-boomers demographic is rapidly entering senior age. With the elderly having a much higher dependence on pharmaceuticals, sales will rise.
Why The PullBack?
Now, after outlining all of the positive catalysts on the horizon, you are certainly asking yourself, why the recent pullback? The answer to this question is more complicated than one news event. A slew of short-term negative developments has combined to depress RAD's stock price.
First, RAD revised its guidance on June 5th. Previous estimates were that earnings would be between $0.31 and $0.43 per share, but they revised it lower slightly to $0.30 and $0.40 per share. However, the reduced guidance was due to the slower than expected integration of McKesson, after its renewed partnership. Lower reimbursement rates were not offset with reductions in generic costs. With generic costs set to benefit slightly in Q3 and fully in Q4, this short-term negative should not have a long-term impact on the company.
Then, RAD slipped 5% on July 28th, amid news that David Einhorn's Green Light Capital announced that they sold their stake. However, institutional selling is not a statistically significant event on the future prospects of a company. Moreover, RAD traded as high as $8.50 during the quarter, so Einhorn may have unloaded at much higher level than today's current price.
Finally, the announcement of Walgreen reaching a deal with Alliance Boots resulted in RAD falling 6%. The reason for the decline is two-fold. First, investors believe the merger, which will give Walgreen a tremendous footprint, will allow it to benefit from buying power and undercut RAD. However, with RAD set to improve its buying power under the McKesson agreement, this thesis is unfounded. Secondly, the sell-off was also due to RAD and WAG being correlated to each other. WAG saw a sell-off after the deal as well, because it announced that it would not be doing a tax inversion that many investors were already pricing into the stock. Thus, RAD saw increased selling pressure just because WAG fell.
A series of unfortunate developments with negative short-term impacts has resulted in RAD facing an unwarranted sell-off. The confluence of events within a short period of time, gives investors an opportunity to accumulate shares at a temporarily depressed level. The market rarely gives such compelling buying opportunities, and I suggested that you prudently capitalize on it.
Disclosure: The author is long RAD. The author wrote this article themselves, and it expresses their own opinions. The author is not receiving compensation for it (other than from Seeking Alpha). The author has no business relationship with any company whose stock is mentioned in this article.