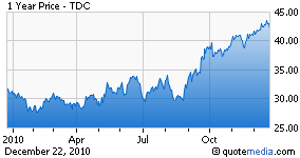 By Brenon Daly
Announcing its first major acquisition since it was spun off into a stand-alone company more than three years ago, Teradata (NYSE:TDC) said it will pay $525 million in cash for Aprimo. The deal marks a significant bet by the data-warehousing giant on the application market. Specifically, Aprimo brings a marketing automation offering to run on top of Teradata's existing business analytics offering. Aprimo products will continue to be marketed and sold under the company's name once the transaction closes, which is expected in the first quarter.
According to a conference call discussing the acquisition, Aprimo is expected to generate about $80m in annual sales. (We understand that roughly $60m of that is recurring revenue.) That means Teradata is paying a healthy 6.5 times revenue for Aprimo. That's slightly ahead of the valuation that IBM (NYSE:IBM) paid in its big marketing automation play four months ago. Big Blue handed over $523 million in cash for Unica, valuing the publicly traded company at 4.8 times trailing revenue.
Part of Aprimo's premium could likely be attributed to the fact that it was steadily moving its business from a license model to a subscription basis. In fact, Aprimo's SaaS offering accounted for a majority of its revenue. IBM's move was important in the Aprimo process, as we gather that Teradata and Aprimo started talking only after Big Blue had closed its acquisition.
Disclosure: No position