On August 6th, Keurig Green Mountain (NASDAQ:GMCR) released its Q3 2014 Earnings report which was met with a mixed reaction from investors as the stock quickly dove after hours, but quickly rebounded the next trading day to remain relatively unchanged. The company managed to beat analysts' expectations on the bottom line with earnings growing roughly 21% year-over-year. The results are as follows:
Net sales of $1.02 billion, up 6% from year ago
GAAP diluted EPS of $0.94, up 24% from prior year period; Non-GAAP diluted EPS of $0.99, up 21% from prior year period
Free cash flow of $127 million in the quarter and $602 million year to date with 132% free cash flow productivity as a percent of GAAP net income
The 10% increase in portion pack-related net sales in the quarter over the prior year period was driven by an increase of approximately 15 percentage points due to sales volume partially offset by an approximately 3 percentage point decrease due to portion pack product mix and a roughly 2 percentage point decrease due to net price realization and the impact of foreign currency exchange.
For the quarter, 1.7 million Keurig® system brewers were sold including 1.6 million sold by Keurig with 0.1 million reported sold by Keurig's licensed brewer partners. This brewer shipment number does not account for consumer returns.
Obviously, Keurig reported another strong quarter and showed that as demand continued to increase for the company's single-serve product line the firm could also expand gross margins. In the third quarter of fiscal year 2014, gross profit increased 9% and gross margin improved 140 basis points to 43.5% from 42.1% in the prior year period. The company is still lapping relatively low green coffee costs and productivity gains which helped to expand margins during the quarter, however, future quarters may not see similar gross margin performance as green coffee costs have risen substantially in the last several months. During its conference call with analysts and investors, the company stated that it has secured coffee prices for 75% of its 2015 needs at higher prices than 2014.
In addition to the company's strong YOY results during Q3 2014, Keurig repurchased a total of 1.1 million shares from the open market at a cost of $117 million. From the inception of its Board authorized share repurchases through the end of the company's third fiscal quarter of 2014, the company has repurchased a total of 16.5 million shares at a total cost of $1,052 million and an average price of $63.91. This was achieved through a combination of the ASR, open market purchases and 10(b)5-1 plans, including $490 million of ASR repurchases subject to final price adjustment. From the end of the third quarter through August 5, 2014 the company has repurchased an additional approximately 210,000 shares at a total cost of $25 million through its 10(b)5-1 plan.
The outlook for Keurig and its shareholders remain positive with current trends firmly in place although headwinds still persist as they do for all companies. During the 3rd quarter, Keurig managed to mitigate the potential headwinds for the company going forward by commencing new partnerships with formerly unlicensed brands such as Target Corp.'s (NYSE:TGT) Archer Farms brand coffee, BJ's Wholesale Club and its Wellsley Farms brand, Harris Teeter and its store brand as well as Nestlé coffee-mate K-Cup packs. Keurig plans to add more brands to its licensed portfolio during the 4th quarter of 2014 as well.
Keurig brewer sales increased double digits, although a reduction in sale price realization of greater than 20% reduced net sales during the quarter. Total net sales for brewers fell by 4% during the quarter as the company sought to alleviate inventory of older brewer systems ahead of the Keurig 2.0 launch. Another factor impacting brewer sales during the quarter was due to a difficult year-over-year comparison from a reduction in brewer sales return reserve in the third quarter of fiscal 2013 to reflect improved brewer return rates. Investors should notice this used to be noted as a line item within the gross margin mix, however it was removed from the 3rd quarter gross margin accounting break out as there was no benefit from warranty claims during the quarter.
Keurig Green Mountain will soon be launching the highly anticipated new Keurig 2.0 brewer system at Bed Bath & Beyond (NASDAQ:BBBY). The retailer has been the launching pad for the company since 2003 and was previously the designated retailer that launched the infamous Vue brewer system for Keurig in 2012.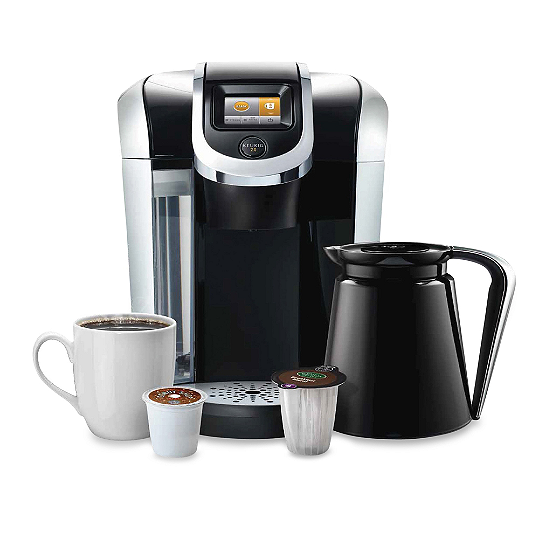 In distinguishing the Keurig 2.0 from its predecessors, the system will only operate with the implementation of "read-only" portion packs developed by the company and the system will be able to brew a full carafe of coffee if desired. Specifically for the introduction of the Keurig 2.0, Keurig included a K-carafe and sample starter carafe pack in every brewer box. Three versions of the Keurig 2.0 will be in production and offered to consumers in the near future. The mass-market version of the system launching at BBBY will be priced at $169.99 and available in the most popular color, black. Keurig has taken many steps prior to launching the Keurig 2.0 brewer system including and most importantly distributing the new read-only portion packs to a variety of retailers across North America. Since July of this year, 100% of Keurig's at-home K-Cup pack inventory has been 2.0-enabled with the company's proprietary technology.
While the goal of the Keurig 2.0 system is to maintain consistent performance, add choice and taste for the consumer while locking out private label portion pack usage within the Keurig system, Tree House Foods (NYSE:THS) has identified this as an anticompetitive act to unlawfully maintain a monopoly over the cups used in single-serve brewers. Tree House Foods has filed a suit against Keurig under this premise early this year. Although Tree House Foods may not see much come from the lawsuit in spite of the letter of the law, which dictates the combination of technologies impacting competition negatively in the marketplace, the firm has moved forward in another way in order to compete with Keurig products.
On August 7th, Tree House Foods Chairman and CEO Sam Reed announced the company had cracked the Keurig 2.0 "code". In the official statement the CEO stated his company has developed an unlicensed single-serve coffee pod that is compatible with Keurig Green Mountain's 2.0 system.
Five weeks ago, shortly after the Fourth of July holiday, we declared our coffee independence to our customers in successfully developing prototype single-serve cups that are 2.0 compatible. We have now initiated commercialization of our prototypes and will convert them to scale production for retail distribution before year's end. This massive undertaking involving more than 300 s.k.u.s. (stock-keeping units) is yet another example of the close cooperation between our grocery customers, their custom products and our unmatched commitment to their private labels.
Keurig will continue to battle private label portion pack products as it grows the single-serve product category regardless of how it develops the technology surrounding its platform. Additionally, the company will also face steep competition from a variety of brewer platforms at substantially lower prices. Most of the competing platforms have an open system whereby the consumer can use any such portion pack they desire, including Keurig 2.0 portion packs. It's important to keep in mind that while the Keurig 2.0 brewer won't allow competing portion packs to be used in the system, the Keurig 2.0 portion packs can still be used in competing brewers. It remains to be seen whether or not a closed Keurig system will impact sales of its new brewers.
In closing out the Keurig Green Mountain Q3 2014 Recap we come to disseminate the company's updated full year guidance which witnesses the company raising earnings expectations once again. For the fourth quarter of fiscal year 2014, the company expects net sales growth in the high single-digit to low double-digit range. For the full-year guidance, Keurig is raising its outlook for the full fiscal year. The firm continues to expect net sales growth in the high single digits over fiscal year 2013. Additionally, the firm estimate non-GAAP earnings per diluted share of $3.71 to $3.78, up from its prior guidance of $3.63 to $3.73, including an annual effective tax rate of approximately 35.6%.
As stated earlier, it remains to be seen how well the Keurig 2.0 performs over the next several months and whether or not the adoption rate will match the company's expectation. We do expect to see the brewer carry a higher cost than Keurig 1.0 platforms as evidenced in this Quarterly Recap. Moreover, it remains to be seen how the new pricing increase for portion packs, set to commence in November 2014, will impact Keurig's attachment rate going forward. With this stated, Capital Ladder Advisory Group will publicly display the early cycle sales of the Keurig 2.0 system in the coming months and as sales data is achieved through the sales channel.
Disclosure: The author is long BBBY. The author wrote this article themselves, and it expresses their own opinions. The author is not receiving compensation for it (other than from Seeking Alpha). The author has no business relationship with any company whose stock is mentioned in this article.