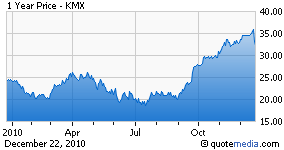 CarMax Inc. (NYSE:KMX) posted a profit of $82.4 million or 36 cents per share in the third quarter of its fiscal 2011, barely surpassing the Zacks Consensus Estimate of 34 cents per share. The profit was higher than $74.6 million or 33 cents per share in the prior-year quarter.
CarMax's results were positively driven by a rebound in customer traffic and sales execution along with a favorable year-over-year comparison. This is also reflected by a 16% improvement in comparable store sales for the quarter. Net sales and operating revenues in the quarter went up 23% to $2.12 billion, higher than the Zacks Consensus Estimate of $1.97 billion.
Used vehicle sales escalated 20% to $1.69 billion. This can be attributable to continued rebound in customer traffic and an improvement in sales conversion, reflecting better availability of consumer credit.
However, new vehicle sales rose 24.9% to $47.7 million. Wholesale vehicle sales appreciated 41.1% to $320.1 million, driven by increase in appraisal traffic as well as appraisal buy rate.
Other sales and revenues increased by 16.8% to $62.9 million, driven mainly by increases in extended service plan (ESP) revenues.The 31% increase in ESP revenues reflected both the growth in used unit sales and better penetration of ESP.
Gross profit was $297.9 million in the quarter, up 23% from $242.9 million driven by increases in used and wholesale unit sales as well as an improvement in ESP revenues.
Selling, general and administrative were $219.7 million in the quarter compared with $192.1 million in second quarter of fiscal 2010. The 14% increase was attributable to increases in sales commissions and other variable costs associated with the growth in unit sales and higher advertising expense.
CarMax Auto Finance (CAF)
CAF reported a decline in income to $55.7 million from $65.8 million in the quarter. The lower income was attributable to adjustments of $31.6 million related to loans that originated in the third quarter of the previous fiscal year.
Financial Position
CarMax had cash and cash equivalent of $74.4 million as of November 30, 2010, which was significantly higher than $15.2 million in the same period a year ago. Long-term debt reduced significantly to $29.3 million as of the above date from $149.7 million as of November 30, 2009.
In the first nine months of fiscal 2011, CarMax had a cash outflow of $22.5 million compared with an inflow of $56.5 million in the same period of the prior year. The decline in cash flow was mainly attributable to increases in inventory and auto loans receivables. Meanwhile, capital expenditures increased to $38.5 million from $18.4 million in the first nine months of fiscal 2010.
Our Take
We appreciate CarMax's focus on the used-car market, which helps it to outperform the industry. The automotive retailer is among the strongest operators in its peer group, which includes AutoNation Inc. (NYSE:AN) and Penske Automotive Group (NYSE:PAG).
In the first quarter of fiscal 2011, CarMax resumed its strategy to open new used-car superstores, driven by improved economic and sales environment in the U.S. Under the strategy, the company plans to open used car superstores at an annual rate of 15%–20%. The company plans to open five stores in 2012; and five to 10 stores in 2013.
These, along with the improved results, have led the company to retain Zacks #2 Rank on its stock, which translated to a short-term (1–3 months) recommendation of Buy.