Although the economy recovers at a modest pace, consumers are not willing to spend their money. This latest report shows that July retail sales were flat versus a +0.2% consensus. This figure is in contrast to the improving unemployment rate, which indicates that consumers should have more money to spend as more people have a job (excluding people who give up their search for a job of course).
Retailers experience that consumers are cautious, for example Macy's (NYSE:M) and Wal-Mart (NYSE:WMT), two large-cap retail companies, reported worse than expected earnings in the second quarter of this year. Not surprisingly, the SPDR S&P Retail ETF (NYSEARCA:XRT) lost 3.21% year to date compared to a gain of 7% by the S&P 500 (NYSEARCA:SPY).
In this article, I will discuss three economic indicators that should explain the restraint with respect to consumer spending. These indicatores include consumer confidence, personal savings and debt repayments.
1. Consumer confidence
Consumer sentiment in August was a bit disappointing, as the sentiment level dropped to 79.2 versus a consensus of 82.3 (see graph below). The decline was caused by a steep fall in expectations. The expectations component fell 5.6 points to 66.2, the lowest level since the government shutdown in October last year.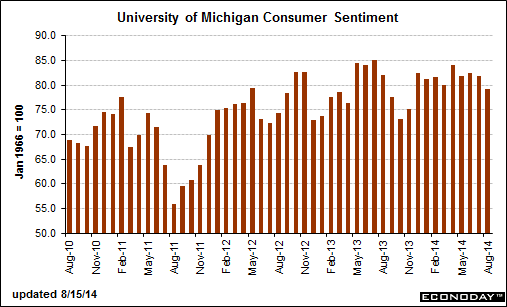 Source: mam.econoday.com
Researchers could not provide a logical explanation. One reading could be that consumers fear that the geopolitical tensions escalate even further. The conflict in Ukraine could eventually lead to a full scale trade war with Russia and that would be damaging for the global economy.
Lower consumer sentiment could be one of the explanations for the disappointing retail sales, because consumers are willing to spend less money when they fear that the economy will suffer in the near future. People rather worry about keeping their job in the near term than the new car or television they would like to buy.
2. Personal savings
As an result of lower consumer sentiment, consumers start saving more money instead of spending money. This is confirmed by the personal savings rate in the U.S. This rate corresponds to the ratio of total personal income saved to total personal net disposable income during a certain period of time.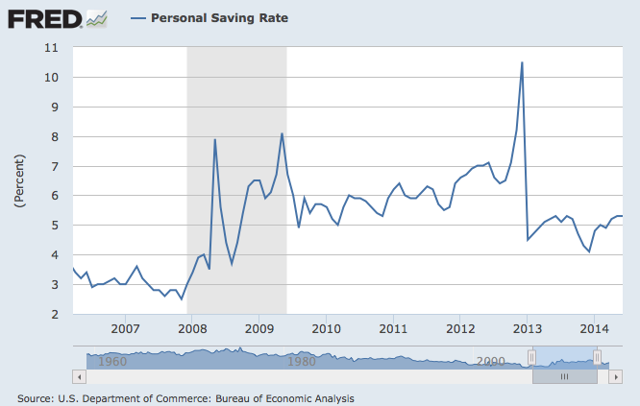 Source: research.stlouisfed.org
The graph above shows the personal savings rate in the U.S. over the past eight years. By the end of last year, personal savings dropped to 4.1%, the lowest level since 2008. Since the beginning of this year, U.S. consumers started to save more money again and the personal savings rate rose to 5.3% in May and June.
Increased personal savings could be an explanation for the slow retail sales, because these savings cannot be used to make retail purchases. Data regarding the personal savings rate in July is not available yet. I expect that the personal savings rate did not improve in July compared to June, because July retail sales were flat.
3. Debt repayments
Another explanation for the slow retail sales in July could be higher repayments of privately held debt, for example credit cards, personal loans and mortgage loans. Like increased personal savings, money used for (additional) debt repayments cannot be used for other consumer purposes.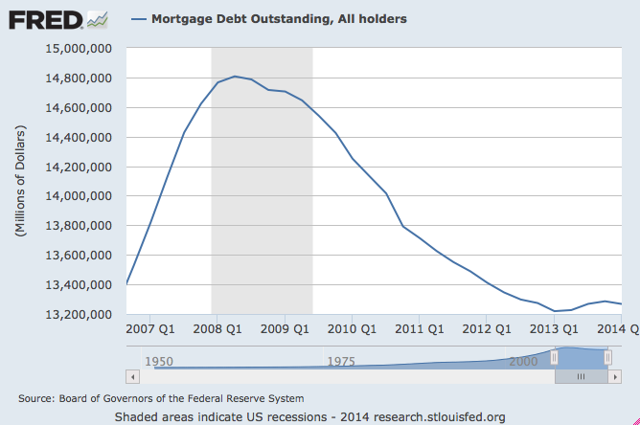 Source: research.stlouisfed.org
I analyzed the mortgage debt outstanding, because this is by far the largest amount of privately held debt. As a result of the financial crisis, mortgage debt decrease significantly since 2008. Since 2013, mortgage debt started to rise again. However, in the first quarter of 2014, mortgage debt outstanding declined slightly.
The information in the graph above indicates that more debt was repaid and/or less mortgage loans were lend to home owners. It is clear that both exsisting home sales and new home sales (see graph below) slowed in the first months of this year. Still, this is not the only reason for the total mortgage outstanding to decline.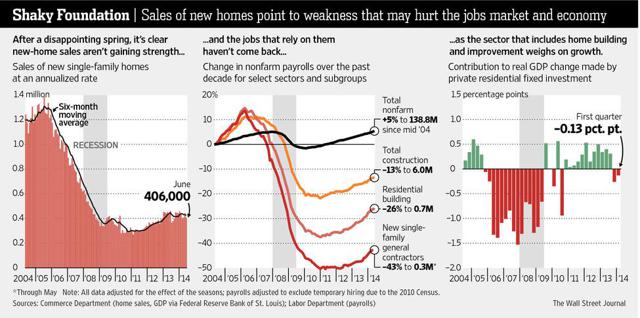 Source: online.wsj.com
It makes sense that home owners in the U.S. are repaying debt early. This trend occurs in other western countries as well, for example: Ireland and Australia. Together with slowing home sales, this reduces the total mortgage debt outstanding. As a result, home owners have less money to consume.
Conclusion
Consumers are not spending money, despite the fact that the unemployment rate is recovering. In this article I analyzed why consumers are not spending money and where their money surplus is hiding? I find that last week's low retail sales can be explained by the following three economic indicators:
First of all, consumer confidence is low. Especially the long-term consumer confidence, caused by geopolitical tensions and fear regarding the effects of a trade war with Russia on the global economy. Fear is never a good catalyst for higher consumer spending.
As a result of the lower consumer confidence, people start saving more money instead of spending money. The personal savings rate confirms that people are indeed saving more money since the start of this year. Net income used for personal savings cannot be used for consumer purposes.
Finally, I find it likely that home owners are repaying privately held debt early. This causes total mortgage debt outstanding to decline in the first months of this year. Like increasing personal savings, money used to repay debt cannot be used for consumer purposes.
So, investors should not be surprised that retail sales are slowing. Several important economic data indicates that consumer spending was likely to remain slow. Without better consumer confidence, less personal savings and less early debt repayments, retail sales growth will not accelerate in the upcoming months.
Disclosure: The author has no positions in any stocks mentioned, and no plans to initiate any positions within the next 72 hours. The author wrote this article themselves, and it expresses their own opinions. The author is not receiving compensation for it (other than from Seeking Alpha). The author has no business relationship with any company whose stock is mentioned in this article.