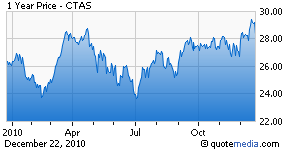 Cintas Corporation (NASDAQ:CTAS) announced its second-quarter fiscal 2011 results with operating earnings of 38 cents per share, in line with the Zacks Consensus Estimate but a cent below the operating earnings of 39 cents per share in the year-ago quarter.
The year-ago quarter excluded a legal settlement, net of insurance proceeds, of 2 cents per share. Including this, earnings per share in the year-ago quarter were 37 cents.
Total Revenue
Cintas' total operating revenue for second-quarter fiscal 2011 was $936.6 million versus $884.5 million reported in the year-ago period, reflecting a growth of 6% and above the Zacks Consensus Estimate of $916 million. Organic revenue growth was 4.2% in the quarter.
The year-over-year increase was driven by better performance across all its segments. The company was able to add new consumers on top of accruing increased sales from its existing client base. Customer retention also showed an improvement in the quarter.
Operational Update
Cost of rental uniforms and ancillary products increased 4% year over year to $377.5 million. However, as a percentage of revenue, it contracted 80 basis points from the comparable period in the previous year. Cost of services increased 12% year over year to $168.4 million and, as a percentage of revenues, increased 90 basis points to 18%. Gross profit increased 6% to $390.6 million whereas gross margin dipped 10 basis points to 41.7%.
Selling and administrative expenses during the quarter increased by 11% year over year to $288.3 million. Operating income in the quarter was $102.3 million, a 7% drop from an adjusted $110.4 million in the year-ago quarter. The second quarter 2010 results were negatively impacted by legal settlement charges of $4 million, which was missing in second quarter fiscal 2011. Including this charge, operating income in the year-ago quarter was $106.4 million.
Financial Update
Cintas ended the second quarter of fiscal 2011 with $260.9 million in cash and cash equivalents versus $290 million at the end of the first quarter of fiscal 2011. Free cash flow for the first six months of fiscal 2011 was $21.1 million compared with $246.1 million in the comparable year-ago period.
Cash flow from operating activities for the six months ended November 30, 2010 was $109.2 million versus $294.2 million in the comparable year-ago period.
Cintas ended the second quarter of fiscal 2011 with a long-term debt of $785.2 million, flat with $785.7 million at the end of the first quarter 2010. The debt-to-capitalization ratio of the company at the end of the reported quarter was 24.7% compared with 24% a year ago.
Outlook
Cintas reiterated its total revenue guidance for fiscal 2011 in the range of $3.55 billion to $3.75 billion. The earnings per share guidance range was also maintained at $1.55 to $1.63.
Our Take
Cintas repurchased shares for $203 million without incurring any additional debt, leveraging its strong cash position. Cintas Corporation is also making a steady recovery through consistent increases in revenue. With a sound financial position and strong cash flow, the company is looking for opportunities to improve its long-term profitability.
However, Cintas' revenue stream, largely dependant upon the service industry, would be threatened by a lack of substantial recovery in the employment rate. Cintas currently retains a Zacks #3 Rank (short-term Hold rating).
Cincinnati, Ohio-based Cintas Corporation designs, manufactures and implements corporate identity uniform programs, and provides entrance mats, restroom supplies, promotional products, and first aid and safety products for approximately 800,000 businesses. Cintas competes with G&K Services Inc. (GKSR) and privately held Alsco, Inc. and Aramark Corporation.