Late last week, my colleague Michael Carter argued that Procter & Gamble (NYSE:PG)'s long-term future faces significant problems. I wholeheartedly disagree. Long-term investors in this component of both the Dow Jones Industrial Average and the S&P 500 can remain calm. Examining Michael's claims, I am not convinced of the merits of the long-term bearish conclusion he reaches.
For the uninitiated, PG and its subsidiaries and related entities manufacture and sell branded consumer packaged goods in five operating segments: beauty, grooming, healthcare, fabric care and home care, and baby care and family care. The Cincinnati, Ohio-based company operates across more than 180 countries globally. PG was founded in 1837 and despite critics' bearishness, I posit that the company is not going anywhere anytime soon.
Market Valuation and Expectations
PG's market capitalization is just over $221 billion, and the company has income of about $11.6 billion from a top line of just over $83 billion. Profit margin is 22% with gross margin of nearly 50%, and the shares currently trade at just 17 times forward earnings, less than 3 times sales, 3.3 times book value and just over 20 times cash. In addition, the company pays a healthy dividend and yields over 3% to equity investors. In fact, critics claim that PG's current alleged overvaluation is a function of "yield chasers" investing in the name and that once rates go up, PG will be subject to share price drops greater than the broader market.
Prospective or current investors, however, should keep in mind that most sell-side equity research analysts have been holding or upgrading their positive price targets on PG, which have increased into the high $80s and low $90s in recent weeks. Buying PG in the low $80s today could, in my opinion, be supported by upcoming earnings results and the relatively safe blue-chip yield of the name, even disregarding the several investor touch points and earnings reports catalysts scheduled in the next few months.
Flaws of the Bearish Case
Claims that PG management may struggle with managing the company's brand portfolio and innovation are not major concerns. The managers of PG are highly regarded as among the best brand managers in the world, to the point where their example in brand management and innovation is used as a case study of how to execute properly in this arena. The brand portfolio has grown tremendously in recent years, but if any company management is to be trusted with such a complex task, it is this one. The company, moreover, is cutting half of its brands, making this complex task dramatically more manageable. Michael contends that the remaining "huge portfolio of mostly unrelated brands" is a negative; I would argue that for conservative, long-term investors focused on income and capital appreciation, diversification in brands is a positive in order to mitigate the impact of cyclicality in the consumer economy. The immediate cash flow generation potential of brand divestiture into the future to resolve short-term cash necessity issues is also a large positive mark in PG's favor.
Pointing to PG's shift to adult diapers in light of the recession-induced slowing birth rate is also an easily vulnerable contention. First of all, birth rates in the United States are actually seeing recovery and increases as the economy recovers, and PG's baby products are better positioned than most competitors to reach the end consumer. The company is also making larger, more adventurous bets on particular markets and shows no lack of risk-taking and innovation to capture new customers and prop up organic sales growth. For defensive blue-chip investors, PG still represents as good an opportunity as any.
On this note of organic sales growth, Michael argues without offering very much evidence that "developed countries have actually started to see declines in organic sales growth. There is a good chance this situation foreshadows what will also occur at some point in developing countries." In fact, I believe this claim has very little merit since the global market for PG brands is still far from saturated and there remain decades of growth required to reach full saturation or even saturation to the point organic sales growth starts to decline. The bullish case on PG in fact points to these developing markets as one of the largest drivers of company growth in the next few years.
One final counterargument: I strongly believe that PG's earnings multiple expansion is largely the result of broader market re-rating, not primarily single-name expectations growth. The Federal Reserve's actions and the corresponding upward movement in the bond markets have expanded multiples across equity markets, partially driven by investors in search of yield, yes, but also by general optimism and higher expectations of equity returns. These expectations are driven by fundamentals, with corporate earnings rising to near historical highs and the broader market justifying multiple expansion to great extent. This phenomenon is illustrated in the below chart, showing the P/E ratios of both PG and the S&P 500 (NYSEARCA:SPY) on both a trailing twelve-month and forward basis.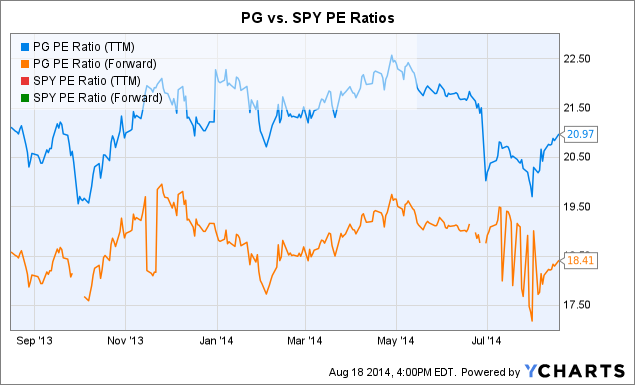 PG PE Ratio (TTM) data by YCharts
Even if you don't buy this, PG being an "effectively bond-like" investment is not necessarily a bad thing for income investors, who might even look to PG competitors Kimberly-Clark (NYSE:KMB) and Johnson & Johnson (NYSE:JNJ) for similar yield risk profiles.
PG's long-term future is fine. While concerns regarding a margin of safety are perhaps warranted given the company's current trading price and multiples, a margin of safety can be achieved easily by more creative investors by utilizing equity derivatives. Specifically, the company's current valuation may even merit a short out-of-the-money put option play today. Of course, as with any investment, this one carries the potential for significant downside, and Michael and others have outlined the downside risk of a long position in PG extensively. Only time will tell, but in the meantime, there is plenty for current investors to take solace in and for prospective investors to be excited about. Best of luck.
Disclosure: The author has no positions in any stocks mentioned, but may initiate a long position in PG, JNJ over the next 72 hours. The author wrote this article themselves, and it expresses their own opinions. The author is not receiving compensation for it (other than from Seeking Alpha). The author has no business relationship with any company whose stock is mentioned in this article.