In my recent SM Energy (NYSE:SM) note (SA PRO: SM Energy: Overlooked And Undervalued), I argued that SM Energy is on track to substantially beat its current 2014 production guidance and that the company's well productivity improvements in the Eagle Ford and Bakken/Three Forks set the stage for continued growth momentum in 2015 and thereafter. I also highlighted that the company's production growth is being achieved while spending essentially within its EBITDAX.
This morning, the company announced that it is increasing its production growth guidance for 2014 from 16% previously to 20%. 2015 production guidance is also being increased, from 15% to 20%.
Given SM's reputation for being conservative in investor communications, I interpret the company's preliminary 2016 guidance - which is being initiated at 15% - as an assurance to the market that the solid growth will continue in the medium term (and not as an indication of a relative slow-down in 2016).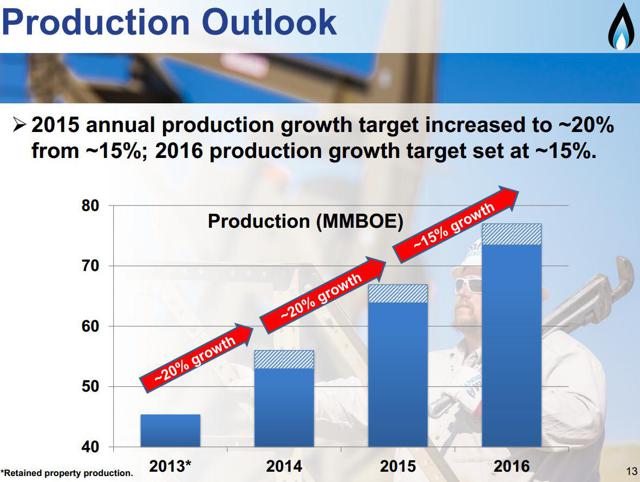 (Source: SM Energy, August 18, 2014 Investor Presentation)
The disconnect between the company's impressive growth rate and trading multiples - the stock trades at 3.9x multiple of 2014E EBITDAX (my estimate) - remains surprising and, in my opinion, is unsustainable.
Guidance Analysis
While SM Energy's full-year 2014 production guidance is being increased and is now set in the 146-150 Mboe/d range, the company's Q3 guidance is a bit disappointing.
SM's press release includes a warning about downtime expected in its operated Eagle Ford asset in the 3rd quarter due to well shut-ins during offset completion work. The Q3 production is expected to be in the 143-150 Mboe/d range, which is essentially flat relative to Q2 2014, using the midpoint. As a reminder, SM's average daily production in the recently reported second quarter 2014 reached 147 Mboe/d, which exceeded the guidance range of 136-143 Mboe/d. The quarter's production mix was 53% liquids/47% natural gas.
While the Q3 guidance may come across as a bit "light," it should be viewed in the context of the company typically leaning towards being conservative in its guidance.
SM's new full-year guidance also reflects improvements in operating costs per unit. As a reminder, SM demonstrated an impressive across-the-board beat on operating unit costs in its recently reported Q2 2014 results.

(Source: SM Energy, August 18, 2014 Press Release)
Along with the production guidance, SM Energy provided its updated 2014 capital expenditure budget. The "organic" component of the budget (which relates pre-acquisition asset base) is increased by $30 million. This increase reflects higher-than-expected levels of activity on SM's non-operated Eagle Ford acreage, which is operated by Anadarko (NYSE:APC). The SM-controlled portion of the budget is essentially unchanged.
Additional increases of $60 million relate to drilling and completion activity on the company's recently acquired acreage in the Bakken and Powder River Basin. The Bakken acquisition in the Gooseneck area (Divide County, North Dakota) is expected to close during the third quarter of 2014 and is estimated to add $30 million in incremental drilling capex before year end. In the Powder River Basin, the Company is increasing capital by $30 million which reflects accelerated activity in the second half of 2014 due to strong results from its Frontier program.
The company's total Drilling and Completion-related spending in 2014 is now expected to be $1,750 million, $90 million above the previous guidance. As a result, the company's D&C spending will likely slightly exceed EBITDAX for the year which I now estimate at $1,700 million.
The increase in New Ventures and non-drilling category is primarily due to construction of a gathering system in the company's East Texas program. The company's total budget, including acquisitions and non-D&C spending, is expected to be $2.5 billion in 2014.
Changes from the original 2014 budget are summarized in the table below: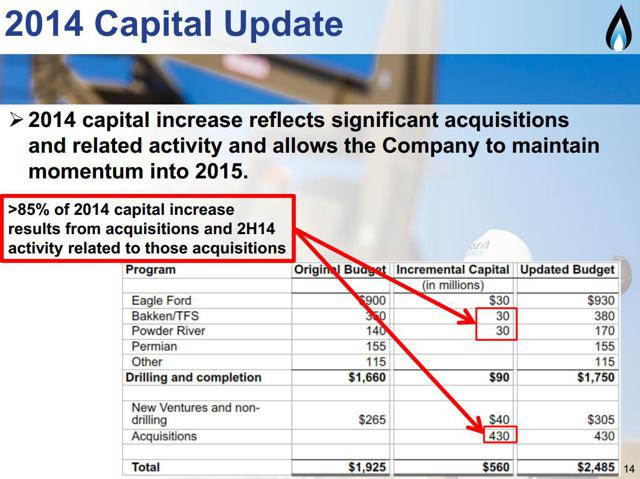 (Source: SM Energy, August 18, 2014 Investor Presentation)
The aggregate annual capital investment program for each 2015 and 2016 is expected to be similar to the revised 2014 program, excluding the impact of 2014 acquisitions and non-operated Eagle Ford carried capital.
Balance Sheet Remains Very Strong
Based on current commodity prices, the Company expects its year-end 2014 net debt to trailing twelve month adjusted EBITDAX to be approximately 1.2 times. This represents a slight increase from the second quarter end when the ratio stood at 1.0x. The increase is due to the Gooseneck acquisition.
SM's balance sheet remains one of the strongest in the peer group and positions the company well to pursue additional growth opportunities.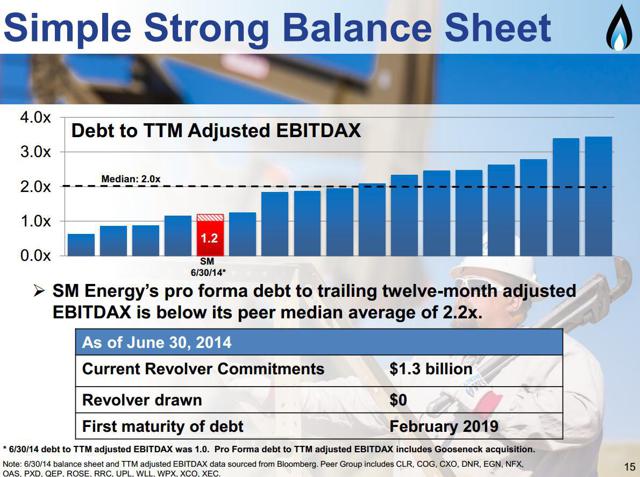 (Source: SM Energy, August 18, 2014 Investor Presentation)
In Conclusion…
This morning's announcement is unlikely to be a surprise to investors who have followed SM Energy's numbers and commentary closely. Still, the increase in production guidance is a comforting assurance to investors that the company's current organic growth rate should be sustainable for the foreseeable future.
Even without outperformance relative to the guidance, the company is effectively a "20% production grower" while its spending only slightly exceeds estimated EBITDAX. This compares favorably to the growth rates of many highly regarded operators in the sector.
The stock's current valuation represents an unjustified gap to the peer group, in my opinion.
Disclaimer: Opinions expressed herein by the author are not an investment recommendation and are not meant to be relied upon in investment decisions. The author is not acting in an investment advisor capacity. This is not an investment research report. The author's opinions expressed herein address only select aspects of potential investment in securities of the companies mentioned and cannot be a substitute for comprehensive investment analysis. Any analysis presented herein is illustrative in nature, limited in scope, based on an incomplete set of information, and has limitations to its accuracy. The author recommends that potential and existing investors conduct thorough investment research of their own, including detailed review of the companies' SEC filings, and consult a qualified investment advisor. The information upon which this material is based was obtained from sources believed to be reliable, but has not been independently verified. Therefore, the author cannot guarantee its accuracy. Any opinions or estimates constitute the author's best judgment as of the date of publication, and are subject to change without notice.
Disclosure: The author has no positions in any stocks mentioned, and no plans to initiate any positions within the next 72 hours.
The author wrote this article themselves, and it expresses their own opinions. The author is not receiving compensation for it (other than from Seeking Alpha). The author has no business relationship with any company whose stock is mentioned in this article.