I have substantially cut the amount of allocation I have geared toward my income portfolio over the past couple of months. With domestic economic growth set to perform better in the second half of the year and the Federal Reserve finally ending quantitative easing in October, interest rates should head up from here. Of course, pundits have been saying this all year so this has been a very incremental move for me.
However, I'm still finding some good high-yield opportunities every time the market provides a bit of a dip to add a few shares to. I tend to like high-yield plays with attractive valuations and recent insider buying as I believe the market is in slightly overvalued territory. Here are a couple of these income plays I have added to in recent weeks.
I added some Resource Capital Corporation (NYSE:RSO) today. This mortgage real estate investment trust purchases and manages a diversified portfolio of commercial real estate-related and commercial finance assets in the United States. The shares trade roughly in line with book value per share.
The shares are offering a solid entry point after declining some 10% from recent highs. Insiders have purchased over $400K in new shares in recent months. Resource offers a huge dividend yield (13.8%) and makes payments quarterly. The shares are not expensive at eight times projected AFFO (Adjusted Funds from Operations) for 2014. I do not expect much if any capital appreciation for this play, but the dividend by itself makes Resource worth owning. Finally, the stock has good long-term technical support at current levels (see chart).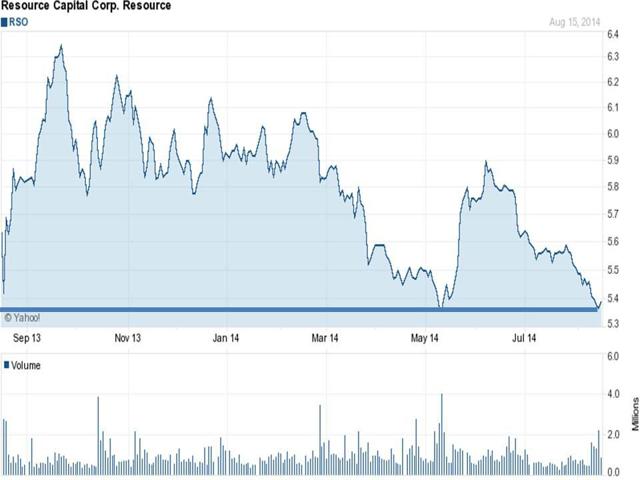 Chatham Lodging Trust (NYSE:CLDT) has been a core holding within my income portfolio for several years. I considered it one of the best managed real estate investment trusts in the lodging space. The company recently made a huge acquisition that will add some 50 hotels with some 6,800 rooms to Chatham's portfolio.
This purchase should substantially increase earnings in coming years. Earnings should go from ~$1.50 a share in 2013 to over $1.90 a share this year. The consensus has Chatham earning approximately $2.50 a share. Impressively, two insiders bought over $250,000 in new shares last week, following up on other purchases in March of this year. The shares go for just over nine times next year's projected earnings, too cheap given the company's growth prospects. Chatham only yields 4.2% but dividend hikes should be significant in coming years as earnings ramp up.
Disclosure: The author is long CLDT, RSO.
The author wrote this article themselves, and it expresses their own opinions. The author is not receiving compensation for it (other than from Seeking Alpha). The author has no business relationship with any company whose stock is mentioned in this article.