An optimal strategy for speculating in financial markets is comparing views regarding the likely course of economic events with those already priced in the market. If a divergence exists there is a profit opportunity. It seems the future holds higher inflation, a positive for gold prices, while the market is not recognizing this.
The case for gold can be summarized in one statement; the deleveraging process in the United States is nearing completion. The Federal Reserve adjusts the Federal Funds Rate to either increase or decrease borrowing, investing and economic activity in general. A higher interest rate creates an expensive environment for borrowing and investing. A lower interest rate encourages investment and borrowing. Effective monetary policy rests on one key assumption. This is the assumption that an adequate number of borrowers are available in order for policy objectives to be accomplished. In a deleveraging, debt levels for households and corporations have become excessive and there are simply not enough willing or capable borrowers regardless of the interest rate for optimal economic growth, employment and inflation.
In a normal recession, the Federal Reserve decreases interest rates and this promotes economic growth. If the Federal Funds Rate is already at zero percent and sufficient private sector borrowing for economic improvement is not achieved, monetary policy has reached its maximum effectiveness. The Federal Reserve will then begin unconventional ways of conducting monetary policy, such as quantitative easing.
Once private sector debt reaches reasonable levels in line with historical norms, the economy becomes set for a boom because the inexpensive nature of borrowing creates increased demand for new loans. Household debt service as a percentage of personal income is a key economic indicator. This link illuminates many of the above ideas and presents an encouraging picture for future economic growth.
In The Holy Grail of Macroeconomics, Richard Koo, compares the current economic scenario in the United States and that of Japan in the 1990s. In the book, he references the process as a balance-sheet recession. He states "For each defaulting borrower, there were probably a thousand others who were rushing to pay down debt to avoid that fate. And it was debt repayment by the latter group that devastated the economy and the money supply". For further information, I recommend reading the Bridgewater Associates' documents "An In-Depth Look at Deleveragings" and "How the Economic Machine Works".
The Fed is perfectly content with the current state of the economy and the status quo of falling unemployment and inflation nearing the target. Eventually though and likely soon, borrowing will increase given the current private sector debt and interest rate environment. This will generate a strong economy and higher inflation.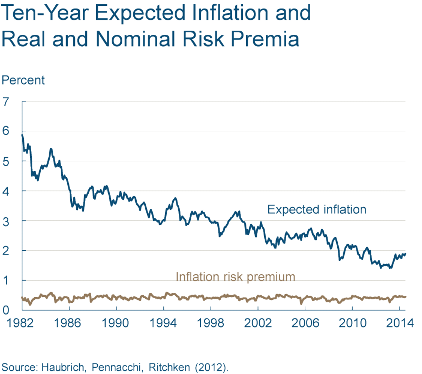 Inflationary expectations are also key and watched closely by economists and the Federal Open Market Committee. The data is positive. Expectations of inflation can precipitate actual inflation. The reason is if one expects interests rates and prices to rise, he or she will not defer borrowing and purchasing. This boosts lending activity and aggregate demand.
One may ask; well, if interest rates rise won't the price of gold fall? And the answer is there are many times in history where interest rates and gold prices increased at the same time. Gold prices are not a function of interest rates, especially if the increase in interest rates is because of inflation. From 2004 through 2007, the Federal Reserve increased the Federal Funds Rate seventeen times, and during this same timeframe the price of gold doubled because of increasing inflation.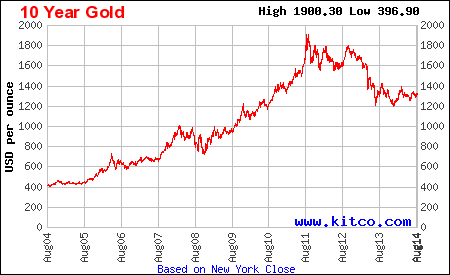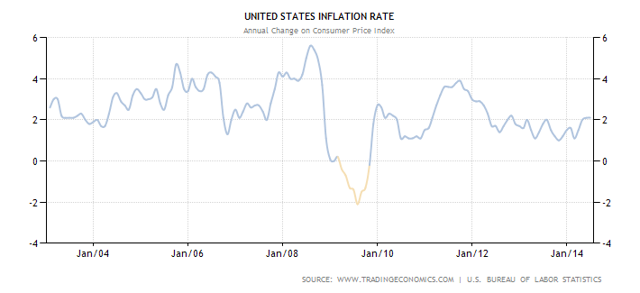 I expect the inflation rate will be at 4% within three years. There will be a general rebound in the commodity sector and gold prices will see a repeat of the 2011 price increase. Any of the large gold or silver mining companies would qualify as an appropriate purchase. Some specific names are AngloGold Ashanti (NYSE:AU), Gold Fields (NYSE:GFI) and Barrick Gold (NYSE:ABX). Pan American Silver (NASDAQ:PAAS) is a top silver producer. Another way for speculating in precious metals is buying an exchange-traded fund such as Market Vectors Gold Miners ETF (NYSEARCA:GDX), Market Vectors Junior Gold Miners ETF (NYSEARCA:GDXJ), SPDR Gold Trust ETF (NYSEARCA:GLD) or iShares Silver Trust ETF (NYSEARCA:SLV).
Disclosure: The author has no positions in any stocks mentioned, and no plans to initiate any positions within the next 72 hours. The author wrote this article themselves, and it expresses their own opinions. The author is not receiving compensation for it (other than from Seeking Alpha). The author has no business relationship with any company whose stock is mentioned in this article.