Dick's Sporting Goods (NYSE:DKS) is set to report earnings for its second fiscal quarter of 2015 before the opening bell on Tuesday, August 19th.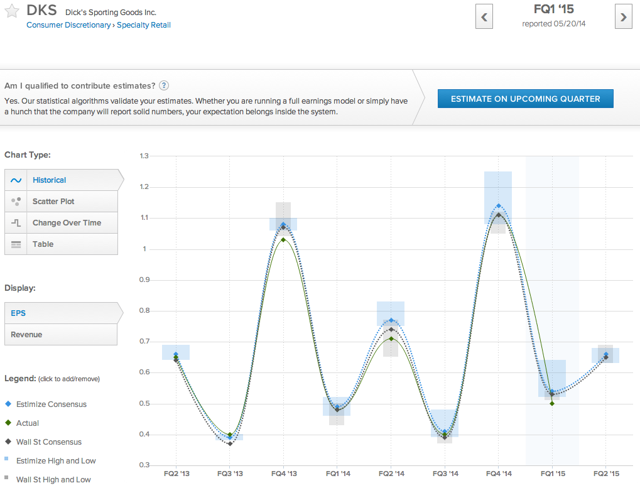 Click to enlarge
Last quarter Dick's Sporting Goods came up short of estimates, largely due to weakness in its Golf and Hunting divisions. Back in May, Dick's reported earnings of 50 cents per share. Earnings were up 2 cents compared to the same quarter of one year prior, however, profits fell 4 cents short of market expectations as represented by the consensus from Estimize.com.
This quarter, contributing buy side and independent analysts on Estimize.com are looking for earnings of 66 cents per share and revenue of $1.658 billion. The crowdsourced earnings expectations from Estimize are slightly ahead of Wall Street, which is forecasting 65 cents in EPS and $1.655 billion in sales.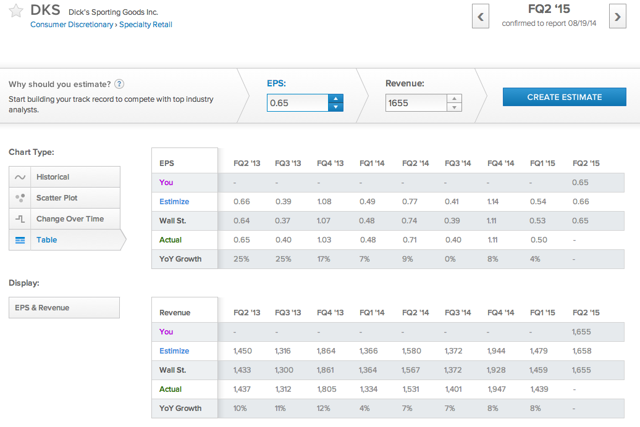 Click to enlarge
Expectations from Estimize this quarter may be an inch higher than Wall Street's, but investors on the platform are not expecting a particularly good from Dick's. Earnings are predicted to fall to 66 cents, down from 71 cents in the same quarter of last year. Continued weakness in golf and hunting gear is a considerable concern.
On the top line, the Estimize community is forecasting that sales will increase by 8% on a year-over-year basis, in line with growth rates over the past year, which have settled between 7% and 8% each period. Contributors on Estimize are looking for the rate of revenue growth to remain steady this quarter and do not expect much of a deviation from the Wall Street sales consensus.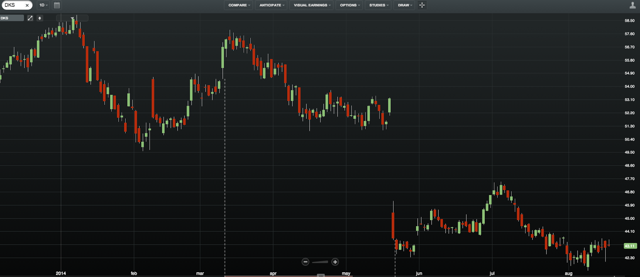 Click to enlarge
(Graph from ChartIQ Visual Earnings)
Back in May, before the sluggish sales in golf, hunting, and guns were revealed, contributing analysts on Estimize had expected Dick's to beat the Street's revenue consensus by $20 million. When the sporting goods retailer missed the Estimize forecast by $40 million, Dick's stock tumbled 18% over a two-day period.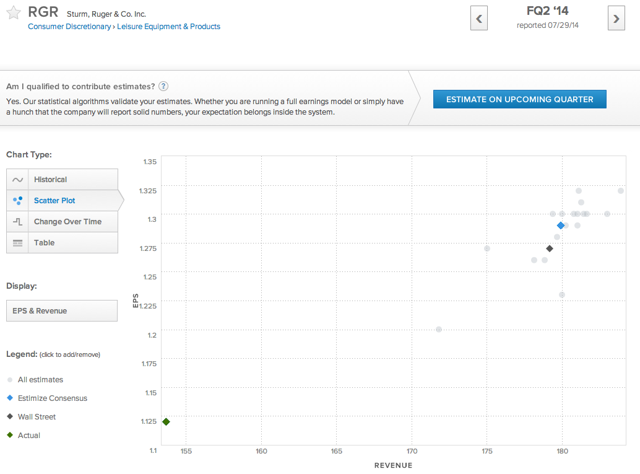 Click to enlarge
At the end of July firearms manufacturer Sturm, Ruger & Co. posted much weaker earnings than expected. This could be a sign of further weakness in the gun market, which may hold back Dick's hunting business.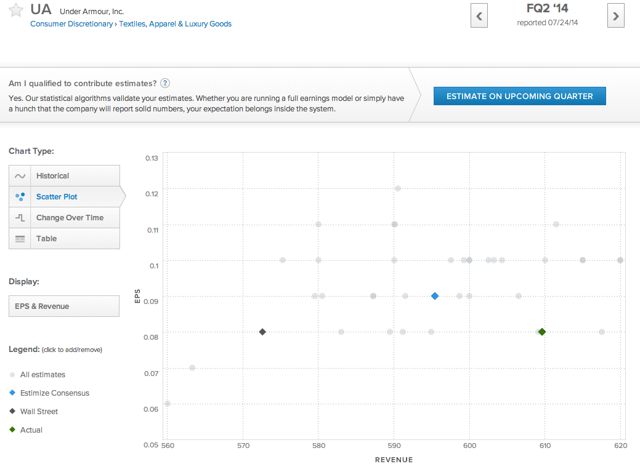 Click to enlarge
Although guns and golf may be in hot water, the World Cup represents at least one potential positive catalyst for Dick's. In the United States the World Cup received record viewership and sportswear companies such as Nike (NYSE:NKE) and Under Armour (NYSE:UA) have posted strong quarter quarterly results in the tournament's wake. Interest in the World Cup may provide a spike in soccer sales to offset declines in golf and hunting.
Last Monday, RBC Capital Markets analyst Scot Ciccarelli published a research note highlighting how declining popularity in golf and the number of rounds being played may continue to pressure Dick's quarterly earnings.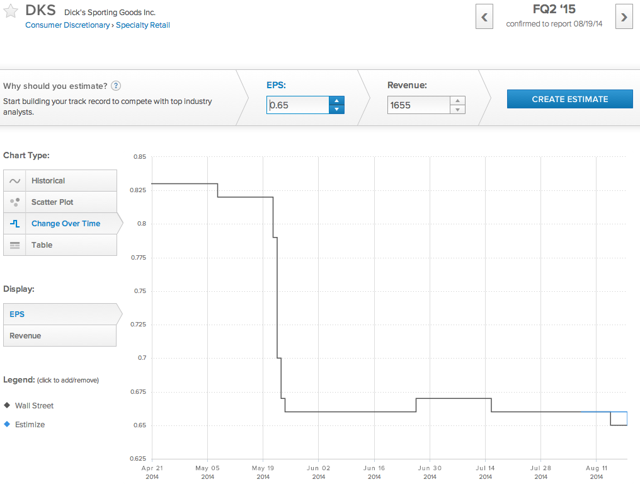 Click to enlarge
Scot Ciccarelli also noted that estimates from the sell side have been taken down significantly. The change over time graph from Estimize shows that the Wall Street consensus has fallen over the past quarter from 83 cents to 65 cents. When talking about the deflated quarterly estimates, Ciccarelli went on to point out, "there is still a downward bias to sell-side estimates," which is a problem that Estimize is trying to solve.
On average, roughly 70% of all companies beat their quarterly earnings estimates from Wall Street. To reach a consensus that is more representative of the market's actual expectations, Estimize crowdsources forward-looking estimates from hedge fund analysts, asset managers, independent research shops, students, and non-professional investors.
Although Ciccarelli did point out that sell side estimates are often too low, the consensus from Estimize is roughly in agreement with Wall Street this quarter.
Relative to recent quarters, the Estimize community is setting its expectations lower than usual when compared to the Street's numbers. Revenue expectations for Tuesday differ by only $3 million, and contributing analysts on Estimize predict that Dick's will report just a penny per share above Wall Street's EPS consensus.
Disclosure: None