There are more and more "professionals" in the mainstream media stating that they expect European defaults. What is interesting is that there is at least a minority of pundits that are facing this inevitable event. European (and American) equity markets are still chuggling the global liquidity elixir awash in the markets and moving ever higher. From Bloomberg: Shrinking Euro Union Seen by Creditors Who Cried for Argentina
Nine months before Argentina stopped paying its obligations in 2001, Jonathan Binder sold all his holdings of the nation's bonds, protecting clients from the biggest sovereign default. Now he's betting Greece, Portugal and Spain will restructure debts and leave the euro.

Binder, the former Standard Asset Management banker who is chief investment officer at Consilium Investment Management in Fort Lauderdale, Florida, has been buying credit-default swaps the past year to protect against default by those three nations as well as Italy and Belgium. He's also shorting, or betting against, subordinated bonds of banks in the European Union.

"You will probably see at least one restructuring before the end of the next year," said Binder, whose Emerging Market Absolute Return Fund gained 17.6 percent this year, compared with an average return of 10 percent for those investing in developing nations, according to Barclay Hedge, a Fairfield, Iowa-based firm that tracks hedge funds.

He's got plenty of company. Mohamed El-Erian, whose emerging-market fund at Pacific Investment Management Co. beat its peers in 2001 by avoiding Argentina, expects countries to exit the 16-nation euro zone. Gramercy, a $2.2 billion investment firm in Greenwich, Connecticut, is buying swaps in Europe to hedge holdings of emerging-market bonds, said Chief Investment Officer Robert Koenigsberger, who dumped Argentine notes more than a year before its default.
No disrespect intended to these fine gentlemen and distinguished investors, but the default of several of these states is simple math. You cannot take 8 from 10 10 from 8 and come up with a positive number. It really does boil down to being just that simple in the grand scheme of things. I actually released a complete road map of Portugal's default(see The Truth Behind Portugal's Inevitable Default – Arithmetic Evidence Available Only Through BoomBustBlog). And today, I will walk those who are not adept in the area through it with simple graphs and plain vanilla explanations.This is done as a preview for our Ireland, Spain and Greece default scenarios.
These scenarios, while still denied by most, are actually just the tip of the iceberg, for they will do much more damage together than they could ever do separately. As a group, they will make the Argentina event look like a bull rally. That is where the contagion models come into play (see Introducing The BoomBustBlog Sovereign Contagion Model: Thus far, it has been right on the money for 5 months straight).
This is what the Argentinian referenced in the article above did to investors…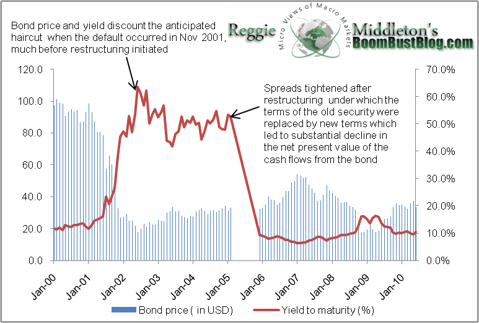 click to enlarge
Price of the bond that went under restructuring and was exchanged for the Discount bond.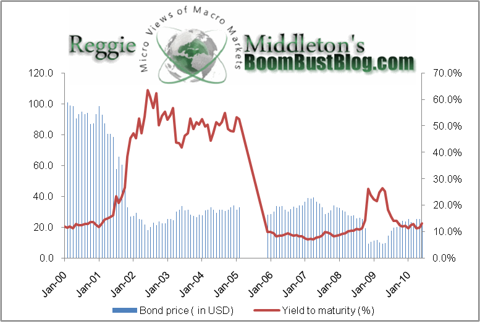 That's right. Ouch. Imagine this times 10. That is what we are looking forward to. Let's jump straight into Portugal's situation, and remember that many of these countries have deliberately mislead and misrepresented their fiscal situations for years (see Once You Catch a Few EU Countries "Stretching the Truth", Why Should You Trust the Rest? and Lies, Damn Lies, and Sovereign Truths: Why the Euro is Destined to Collapse).
This is the carnage that would occur if the same restructuring were to be applied to Portugal today.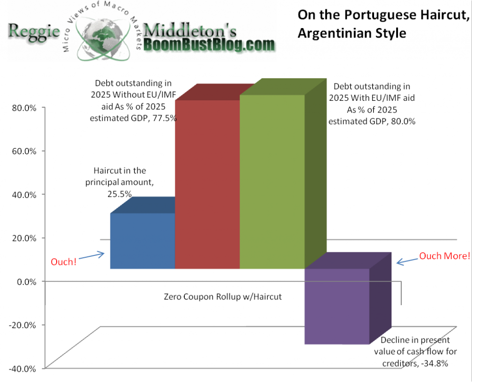 Yes, it will be nasty. That 35% decline in cash flows will be levered at least 10x, for that is how much of the investors in these bonds purchased them. A 35% drop is nasty enough, 35% x 10 starts to hurt the piggy bank. As a matter of fact, no matter which way you look at it, Portugal is destined to default/restructure. It's just a matter of time, and that time will probably not extend past 2013. Here are a plethora of scenarios to choose from…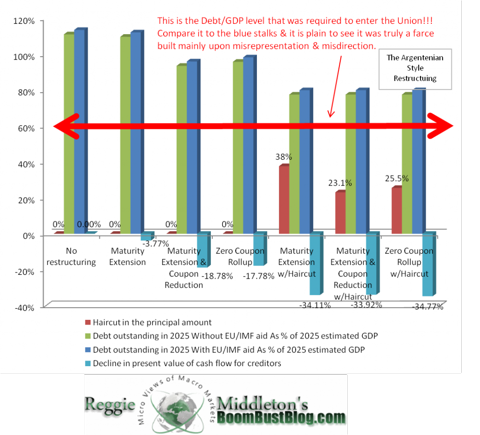 This is Portugal's path as of today.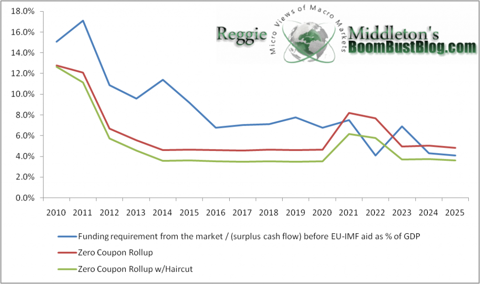 Even if we add in EU/IMF emergency funding, the inevitability of restructuring is not altered. As a matter of fact, the scenario gets worse because the debt is piled on.
Let it be known that there are larger sovereign states that are worse off. There are other states that are not in as bad a shape but are poised to do much more damage, and then there are a plethora of states that will get dragged down through contagion. Yet, the natural manner of pricing risk in the equity markets does not transmit these facts because of the unprecedented amount of liquidity stemming from central bankers around the world doing the Bernanke/Japanse QE thing.
Ireland's Bailout Is Finalized, The Indebted Gets More Debt As A Solution But The Fine Print Is Glossed Over – Caveat Emptor!

The BoomBustBlog Contagion Model: How We Predicted 9 Months Ago That The UK and Sweden Would Rush To Bail Out Ireland, and Why
Merkel Points to `Serious' Bailout Risk as Spanish Bonds Drop, Reggie Middleton says "Ya Damn Skippy" – Here's How We Called It
Erin Gone Broken Bank: The 2nd EMU Nation That Didn't Need a Bailout Get's Bailed Out Within Months, Next Up?
If the World Knew What BoomBustBlogger's Know, Would Ireland Default Today?
Disclosure: I have no positions in any stocks mentioned, and no plans to initiate any positions within the next 72 hours.