Background
Melco Crown Entertainment (NASDAQ:MPEL) is a casino company operating in Macau, China and soon in Manila, Philippines. It was formed in 2006 by Melco and Crown Resorts. MPEL has had a presence in Macau since 2008 when it opened Altira.
Melco now currently owns two casinos (City of Dreams and Altira), four hotel towers and about a 10% market share in electronic gaming machines found in Mocha Clubs. A fifth tower at the City of Dreams is expected to be completed in 2007 to accommodate increasing traffic. Melco also has a majority interest in Studio City, expected to open mid-2015. Finally, the company is constructing a Philippines casino (City of Dreams, Manila) which is expected to open very soon.
Altira caters primarily to VIP high rollers, which have made up approximately 30% of revenues for Melco in 2013. City of Dreams (Macau) is a shopping/gaming resort that caters to the mass market and premium players.
Background for Macau, China
Macau is the only territory in China where gambling is legal. The territory was owned by the Portuguese and given back to China in 1999. The law restricting gambling was lifted in 2002. By 2006, the city generated more revenue than Las Vegas. It is located south of Hong Kong, a city of over seven million people, with access by a one-hour ferry that runs 24/7 and a newly created light rail. It is considered the gaming headquarters for the Asian Pacific region, an area consisting of over two billion people within a 1,000K radius. About half of all visitors are from mainland China. Many of them only stay 24 hours.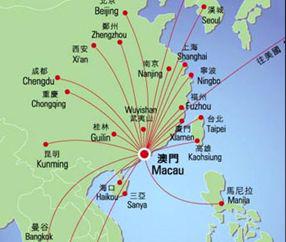 According to the World Bank, Macau is now the fourth largest GDP-per-capita territory in the world. Earlier this year Macau reported a 20% increase in GDP to $45B for 2013. This figure dwarfs revenue from Las Vegas estimated at only $6.5B, making Macau 7x bigger. Approximately 30% of all 2013 Macau revenue was generated by the mass-market, which has been exploding over the years due to the growing middle class in China.
Macau is an attractive investment in general due to a number of factors. First, land is limited. With only 12 square miles, space is very limited and very expensive. Due to the compact location, off-strip casinos are not possible like they are in Las Vegas. Secondly, there are only 6 patrons allowed to build casinos in Macau. This make barriers to entry nearly impossible. Finally, China has been experiencing increased growth in its middle class. There are many projects out there. McKinsey suggested that 4% fell within the middle class in 2000, and now 68% in 2012 (source).
Why Melco is set for success
There are a couple reasons I feel Melco is the best investment opportunity. Melco appeals to a wide variety of users. VIP users bring in about 30% of revenues, but it's also the most competitive and volatile segment. 70% of Melco's revenues come from the mass market and premium gamers and this will only increase when Studio City and City of Dreams Manila are finished. In June/July, there was a large decrease in Macau revenues from original analyst expectations. The VIP casinos took most of that hit, with EBITDA expectations for Altira down 62%.
Secondly, they have two properties directly on the Cotai Strip. Foot traffic is very important. City of Dreams might be the most important as it is the first casino visitors see once off the ferry or light rail. It is exclusively catered to this new mass-market with theater, retail shops and 3 hotel towers.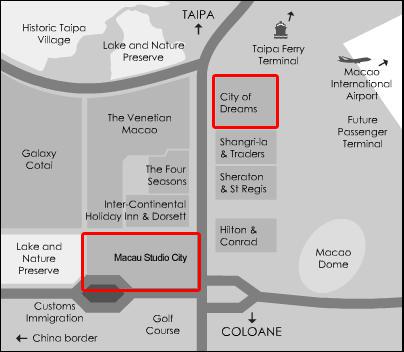 (Source: TravelMacau.net)
It's worth noting here that Las Vegas Sands currently has the vast majority of the strip. They own everything above Studio City (Venetian, Four Seasons, Holiday Inn) as well as everything below City of Dreams (Shangri, Sheraton and Hilton). Other than these two companies, nobody else is located on the main strip, which I consider a strong competitive edge.
The third big reason is that the opening of Studio City and City of Dreams Manila do not seem like they are priced into the current valuation for Melco. I projected MPEL (as currently is, excluding CoD Manila and Studio City) will increase EBIT under analyst expectations. When doing this model I'm still ending up with a share value about where the company is now.
My Valuation Model
There are a lot of assumptions that I'm making. Like I just commented on, this will exclude City of Dreams Manila and Studio City. I assume most of the things will remain constant.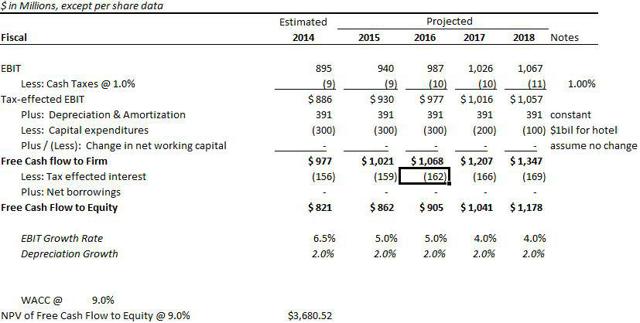 This is a hypothetical model if there were to supposedly stop everything they were doing and just run operations without expansion. I do believe Melco actually could grow double digits per year, but I'd rather remain conservative on my estimates. This does include capital expenditures for its 5th hotel tower, about $1bil in total, but not any of its new casino operations.

MPEL is currently in this model, but almost outside the high range.
My Final Thoughts on Melco
I talked about adding the two new casinos into the model earlier. The two casinos create a positive (yet subtle) impact on the implied share price. The reason behind this is that EBIT and depreciation are going to outgrow the interest payments made on the debt needed to build the casinos. The problem with forecasting is the lack of details, so it's not quite sure what side of my growth estimates I should sway toward. Could it be possible that CoD Manila will generate close to $1B as the one in Macau? It's not quite sure. One thing I can say based on my models and assumptions is that the two casinos will create a positive impact on the share value.
Melco is poised to do well, but this is a long-term holding only. As you seen by my model, the stock price is currently at the high end of the model. Month-to-month foot traffic and revenue data are making all Macau casinos extremely volatile, especially over the last couple months. The current share price is spot on and I doubt you will see any upside potential in the short-term. Once the two major projects get completed we may be in for the real surprise.
Disclosure: The author has no positions in any stocks mentioned, and no plans to initiate any positions within the next 72 hours. The author wrote this article themselves, and it expresses their own opinions. The author is not receiving compensation for it (other than from Seeking Alpha). The author has no business relationship with any company whose stock is mentioned in this article.