Since I began publishing opinions on Chinese stocks several months ago, one of my picks China Ritar Power (OTC:CRTP) is underperforming, while my other picks Orient Paper (NYSEMKT:ONP), Gushan (NYSE:GU) and China Wind Systems (NYSEARCA:CWS) are trading between 15% and 50% higher. In an environment where many Chinese small cap stocks have taken huge beatings over the last few months, I am pleased with the performance of my portfolio. Even so, I can't help but sit puzzled by CRTP's price action and current valuation.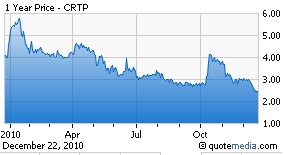 I would like to now refresh the analytics that I presented on CRTP in early October and present additional insight on the Chinese small cap sector.
I am fully aware of the current environment involving Chinese small cap stocks, especially those that came to market via the reverse merger process. My opinion is that a very small minority of bad apples has seemed to bring down valuations across the board on a large number of good companies. After speaking with a few industry experts, I believe the result will be that many of these Chinese companies will undergo steps to improve transparency and instill confidence. The ways I believe this will happen will be retaining better-known auditors and investing in PR/IR.
With that said, CRTP seems to have taken an early proactive lead in this arena. In July of this year, CRTP upgraded its auditor. Management expressly communicated that they made the move of retaining the 9th largest accounting network in the world and upgrading to an auditor with a stronger reputation in order to build confidence with investors.
CRTP also communicates more frequently with investors than many of its peers. Management discusses its business outlook, gives updates on contract signings and provides updates to its negotiations to supply batteries for the Chinese Telecom industry. Of the many Chinese companies I have closely watched, CRTP does well in communicating and now recently has a stronger auditor to bless its books.
So, now let's take a look at some fundamentals.
Today's share price and market cap are $2.36 and $51.6MN respectively.
Through the first three quarters of 2010 alone, CRTP has reported $90MN in sales.
The fiscal year is only 75% done and CRTP has already reported nearly double the sales of its current market cap. On top of this, CRTP had a disappointing third quarter due to delivery of a few large contracts being pushed back. If those contracts come to fruition in the fourth quarter, there is potential for a large upside to earnings.
But, let's just say for now that Q4 sales will be equal to the average of Q1, Q2, and Q3. This would conservatively put full year 2010 sales at $120MN. With today's market cap of $51.6MN, this means that the current price to sales ratio is an alarming .43x. Global Hunter Research believes sales will be $128MN this year, and so my .43x is conservative and unfathomably and unsustainably low.
Shareholder's equity, as of the latest filing stands at $62.3MM. Remember that today's market cap is only $51.6MN, which means CRTP is currently trading well below its book value.
CRTP is consistently profitable. My last article on the company outlines the quarterly margins dating back to 2008. There has not been a negative quarter in the last three years.
So, in summary CRTP is consistently profitable, has grown sales at an annual rate of 41% since 2005, and you can buy it at well below its book value, and less than half of the value of its current full year sales.
In my opinion, this company is being unfairly punished by the sentiment of the Chinese small cap world and is soon due for a price correction. Let me also point out that I am aware of no rumors regarding CRTP's integrity. Yet it seems to have been punished more so than companies for which rumors exist. Additionally, two big things that make CRTP even more compelling to me are that it has recently upgraded its auditor and also the fact that it announces the names of the companies from which it has received contracts. It seems implausible that CRTP could be able to do anything dubious with its revenue figures given these facts.
Beyond that, the company is growing rapidly. It is nearly doubling its production capacity over the next year from 19 to 29 production lines. It is also consistently profitable and makes a product that has proven demand in one of the fastest growing countries in the world.
Given all that has been discussed here, I believe that the conservative fair value of CRTP to now be 1.5x 2010 sales, or roughly $8 per share. The average price target reported by cnanalyst.com is $7.
Disclosure: I am long OTC:CRTP.