May 18, 2012 was an epic day. This date, which is set in stone, represents the day that Facebook (NASDAQ:FB) debuted as a public company. There was a tremendous buzz surrounding the IPO and it seemed that everyone and their brother wanted a piece, but by the end of the first week of trading, heads were being scratched and blood was boiling.
Facebook has always been clear in regards to risk factors. The biggest risk associated with FB was the company's ability to make money in the mobile market -- the company said this was "unproven." Fine, right?
However, nine days prior to the IPO's launch, Facebook casually dropped a bombshell and decided to change the language around its risk factors. Some said, "no big deal" but others, specifically law experts, argued that it was a big deal and they went so far to say that the company misled investors.
What happened was, nine days before the IPO (Facebook had already gone through the investor road show) the company issued an amended S-1. In this amended filing, the company stated that "an increased usage of Facebook on mobile devices has contributed to the recent trend of our daily active users increasing more rapidly than the increase in the number of ads delivered."
Boiling this down, the company basically said that because of the rapid rise of the smart phone and tablet technology, ads were not getting viewed very often. Why? Because back then, Facebook didn't have an ad technology for mobile applications.
The disclosure led a bunch of analysts to revise their estimates on the company. One of the analysts was Susquehanna's Herman Leung, who released a statement saying he was slashing his revenue targets for Facebook. He said, "Simply put, this means lower ad coverage for higher usage on the platform."
Wedbush analyst, Michael Pachter, said that with the disclosure, the company "merely clarified the obvious." "It was patently obvious that mobile cannot monetize as well as desktop, so the update was not surprising at all. I thought they did it because of something they said in their road-show video, and assumed that their lawyers required them to make it clear that mobile-ad revenues would not grow as rapidly as desktop," he said.
This was a major problem for Facebook and as a result, the IPO flopped out of the gate and left a lot of investors very, very angry and ultimately ended up spawning multiple class action lawsuits.
Moving along, the stock debuted at $38.23 and quickly dropped and held in a pattern between $18- $32 per share. It wasn't until August of 2013 that the company started to pull through and capitalize on mobile. From there on out, FB proved it was "here to stay" and wasn't going to take "no" for an answer.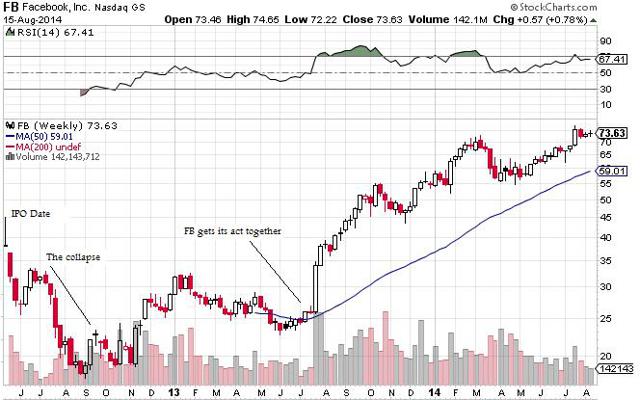 Click to enlarge
On July 24th of 2014, the company reaffirmed its status as a titan of social media and reported earnings that blew away the numbers from the year prior. The company said that the number of users on the site continued to grow rapidly during the quarter and advertising revenue grew even faster.
Facebook's Q2 earnings were $791 million, up 138% from the same quarter, last year. The company said the number of active daily users was 829 million on average in June, up nearly 20%. In the mobile sub-category, Facebook's main focus of late, growth came in at 39% (654 million).
Here's the big news: Ad revenue jumped 67% to $2.68 billion compared to the same quarter last year.
Facebook Chief Executive Mark Zuckerberg said, "We had a good second quarter. Our community has continued to grow, and we see a lot of opportunity ahead as we connect the rest of the world."
Facebook is on track to take about 8% of the digital ads market worldwide by the end of 2014, second only to Google, according to eMarketer.
This is a big deal for the company and is what we like to call a success story. Facebook had a shaky start last year, but with a solid business plan and the foresight to see what was wrong and address it, they have come out on top. If early investors had stuck around (and we're sure some definitely have) they would have seen a very solid ~100% gain.
Facebook Stats
Worldwide, there are over 1.28 billion monthly active Facebook users (MAUs) which is a 15 percent increase year over year. (Source: Facebook)
4.5 billion likes generated daily as of May 2013 which is a 67 percent increase from August 2012 (Source: Facebook)
802 million people log onto Facebook daily (DAU), which represents a 21% increase year over year (Source: Facebook as 4/23/14)
There are 1.01 billion mobile active users (MAU) (Source: Facebook) an increase of 34 percent year-over-year.
Five new profiles are created every second. (Source: ALLFacebook 2012)
Photo uploads total 300 million per day. (Source: Gizmodo)
Every 60 seconds on Facebook: 510 comments are posted, 293,000 statuses are updated, and 136,000 photos are uploaded. (Source: The Social Skinny)
42% of marketers report that Facebook is critical or important to their business. (Source: State of Inbound Marketing)
Disclosure: The author has no positions in any stocks mentioned, and no plans to initiate any positions within the next 72 hours.
The author wrote this article themselves, and it expresses their own opinions. The author is not receiving compensation for it (other than from Seeking Alpha). The author has no business relationship with any company whose stock is mentioned in this article.