Verizon (NYSE:VZ) is a company that comes high up on any list of stable dividend paying companies and currently offers investors a nice dividend yield of 4.3%.
According to David Fish, the company has increased its dividend for nine years straight. As the company is not exactly struggling at the moment, this trend looks likely to continue.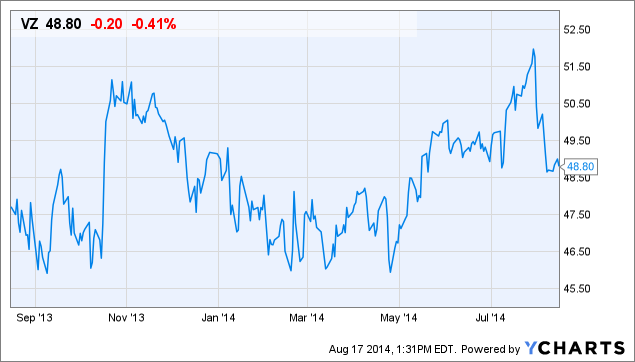 VZ data by YCharts
The stock price had a nice run from May to late July, but has since fallen back to $48.80. Overall, though, the stock is sitting pretty much where it was a year ago.
Historical Dividend Growth
Verizon historically has announced an increase in its dividend every September. The increases have been reliable, but their size has not been too impressive. Over the last ten years, the dividend has risen from $0.385 to $0.53 currently for a CAGR of 3.2%.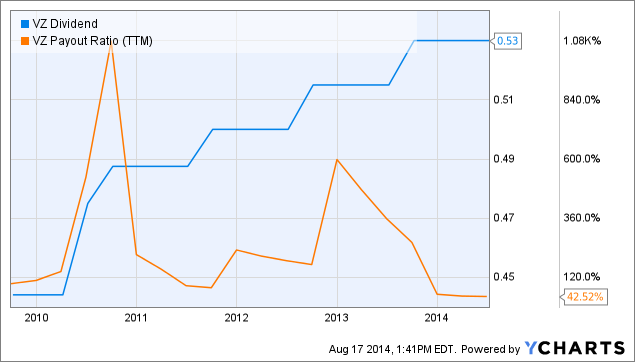 VZ Dividend data by YCharts
Over the last five years, the payout-ratio has varied quite substantially, though I believe that predominantly has to do with one-time charges and other accounting issues. It currently has a conservative payout-ratio of 42.5%.
The dividend has been rising slowly but surely every year with the last increase from $0.515 to $0.53 for a percentage rise of 2.9% and rising by 3% the year before that.
September Dividend Hike
In early August, investors received their last of four consecutive $0.53 dividend checks. We are fast approaching the early days of September and that means a declaration of the September dividend, which is all but certain to be higher than $0.53.
The average analyst expects Verizon to make $3.55 per share in the current fiscal year and $3.88 the year after -- an expected growth rate of 9.3%. This means the current annual dividend of $2.12 is well covered and that expected EPS growth makes room for the Board to hike the dividend.
It seems the Board doesn't have a very aggressive attitude toward maximizing the dividend, judging by its history of modest dividend growth. On the other hand, things have been going well at the company for a while, most recently demonstrated by good Q2 numbers. So it is not at all impossible that the Board would add a couple of percentage points to its regular increase in order for shareholders to participate more directly in the company's success.
The Board has been quite consistent in increasing the dividend by 2.5%-3% per year, so this would be my base assumption. For the reasons mentioned above, the Board might feel confident enough to go a little, but not much higher. So a hike of 3%-4% would also be possible. A 3% increase would put the new quarterly dividend at $0.546 and a 4% rise would put it at $0.551. I think the most realistic new dividend would be $0.55. Such a hike would be in line with what the Board has done historically, but just a little more aggressive.
Risk Factors
The company is fortunate enough to operate in an oligopoly with just a few large competitors. Still, T-Mobile (NASDAQ:TMUS) has been a tough competitor in the market. It remains to be seen what happens to T-Mobile and the way they compete in the event of a takeover, but Verizon must be prepared for harder competition going forward no matter the outcome. Over time the wireless market will be saturated, which will drive up competition for market share among the established companies. The potential for rising interest rates going forward will put pressure on margins. Lastly, people using Wi-Fi networks to surf the web, call and text is obviously a threat to Verizon's revenue going forward.
Current Valuation
Before we conclude what investors should do about the stock, we must consider its valuation both as compared to its closest competitors and compared to the overall market. The two largest competitors are AT&T (NYSE:T) and Sprint (NYSE:S), so they will make up the peer group comparison.
| | | | |
| --- | --- | --- | --- |
| | Verizon | AT&T | Sprint |
| Price/Sales | 1.3x | 1.4x | 1.2x |
| Price/Earnings | 10.5x | 10.2x | N/A |
| Yield | 4.3% | 5.3% | N/A |
Source: Morningstar
The first thing that pops into my mind when I see the table above is that Sprint is probably not the best investment within the telecom space. Sure, it is cheapest by Price/Sales, but it loses money and pays no dividend.
Against AT&T -- Verizon beats it on Price/Sales but loses marginally on Price/Earnings and more substantially on the dividend yield. That said, both companies offer a nice yield to their investors. Additionally, both companies are priced far below the market as a whole, as represented by the S&P 500, which currently is trading at a P/E of 18.2x.
Looking ahead, the analyst community expects Verizon to post an annual EPS growth over the next five years of 6.4%. Assuming no change in the earnings multiple and adding in the dividend yield, investors can expect a total annual return over the next five years of 10.7%. With the multiple as low as it is now, that assumption is, quite frankly, a conservative one. I do not think investors would regret adding Verizon to a conservative dividend growth portfolio ahead of the dividend hike announcement.
Conclusion
Verizon currently offers investors a nice yield of 4.3%. Historically, this dividend has been hiked every September, so this yield is just about to rise. Investors can likely expect a dividend raise of 3%-4% with my best estimate at a new quarterly dividend of $0.55. At these levels, this stock should be a nice addition to a dividend growth portfolio.
Disclosure: The author has no positions in any stocks mentioned, and no plans to initiate any positions within the next 72 hours. The author wrote this article themselves, and it expresses their own opinions. The author is not receiving compensation for it (other than from Seeking Alpha). The author has no business relationship with any company whose stock is mentioned in this article.