The water shortages in the South West include most of the area in which Vail Resorts (NYSE:MTN) operates. California is the scariest, since there is no reason to believe that the drought in California is going to end soon. I have lived for more than a decade in a wonderful environmentally aware community in Northern California. Reliable friends are reporting how low or dry streams and rivers are [Peter Lynch's "local knowledge" at work]. Since the present and foreseeable lack of water throughout most of California is fully verifiable online, and since people are experiencing unprecedented degrees of dryness, I am urging my friends to bail out while people are still willing to pay good prices for real estate. If the scientists are right, as all the evidence confirms, the land will soon be useless for growing anything, including California's cash crop, medicinal marijuana. "Buyer beware" applies not only to the drying soil beneath the visible surface but also to those who want you to feel utterly confident that the snows will return and the slopes of Vail Resorts, from Lake Tahoe eastwards, will echo with the shouts of happy customers skiing their hearts out.
A picture is worth a thousand words, whether it is a literary description or an actual picture. This verbal picture struck me so vividly that I think it is worth repeating.
"Michael Simpson, who has skied the area for more than a decade, arrived at Alpine Meadows at Lake Tahoe earlier this month [January] and found little more than dirt. Except for one ski run maintained by machines, the drought-parched California mountain was devoid of snow. 'It's about as bad as I've ever seen it,' Simpson said after his trip to the resort owned by KSL Capital Partners LLC. 'We parked right at the entrance every single day. The lot was never full.' Music producer Simpson, who leased a condominium at Alpine Meadows through the end of April, cancelled a second visit he had planned for this month and has put on hold any further trips until there's more snow. 'There was a long run open, which was surprisingly good for the first couple of hours each day,' Simpson said. 'But otherwise there was literally no snow at all. If you somehow fell off the lift, you'd land on dirt and on top of jagged rocks.'"
You can't paint a picture of a long-term drought. But the changes in drought maps provide an illustration worth a million words: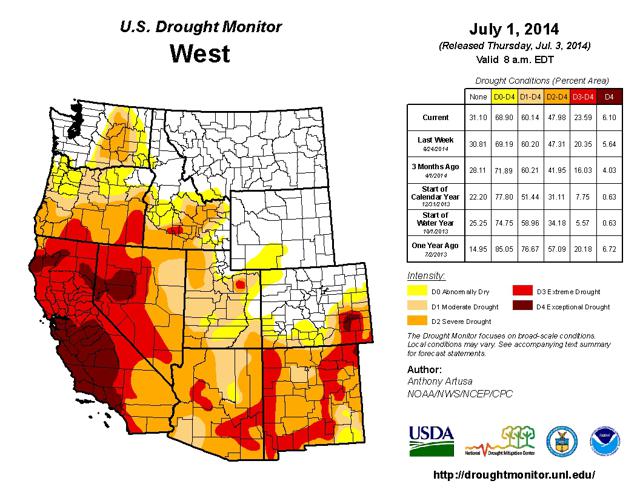 The above map is roughly a month old. Notice that almost half of California is in "extreme drought." That drought seems to be creeping east to fully encompass all of Lake Tahoe and also seems to be moving upwards into Oregon.
The map below is the most recent available drought map [August 5th, 2014]. The drought isn't quitting in California or Oregon: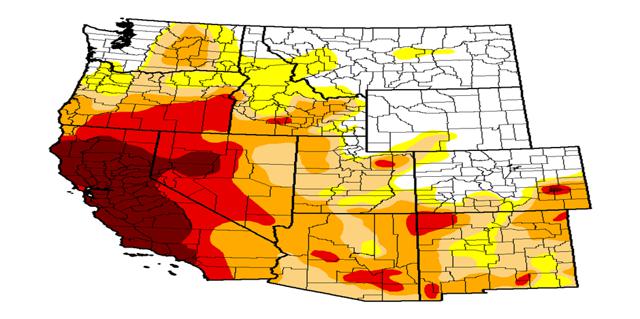 If you remember earlier versions of the map of this area, you'll also see that the drought is lessening up in the northern Midwestern States. These two maps are from a larger map (below) on a site that has a number of tools relevant to the changing conditions that provide useful information to help us do due diligence on our investments.
Many put ecological] sustainability in front of investors. The utility of the Morgan Stanley Research …is the fact that they thought to undertake ecological concerns at all.
Many readers have suggested that I am some kind of pinheaded, mossy-brained, spaced-out, environmentalist who smokes too much marijuana and needs to dry out. Those of you who adopt similar stances on climate-change might appreciate knowing that I am not the only analyst presenting the facts about climate change to investors. Here's a Bloomberg report about Morgan Stanley:
"Morgan Stanley Research… asked its equity research analysts to pick stocks from companies that are either girding themselves for or trying somehow to forestall at least one of these seven 'sustainability themes,' as they call them [climate change, water scarcity, vast urban waste, food insecurity, public health burdens, economic inequality, and demographic cliffs]. In many cases, the companies selected fall outside the familiar lists of consumer-product, car or industrial companies who are anticipating these trends in their long-term strategies. (Think: Unilever, Ford or General Electric.) …..Many thoughtful reports put sustainability in front of investors. The utility of the Morgan Stanley Research piece might not be transformational results of the effort, but the fact that they thought to undertake it at all."
For those of you who are still reading, the larger maps from which the maps above are taken initially appear as follows. This map and the site where it appears offers a warehouse of free information on the global warming-induced drought: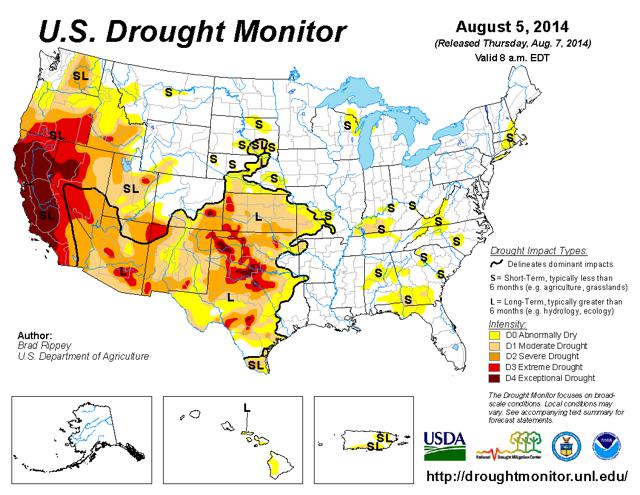 Even with all the bells and whistles available on this site, there are still important avenues for research.
I spoke earlier today to a financial contact in Salt Lake City. He confirmed earlier reports from other contacts: Salt Lake City is drying up quickly. (This is yet another application of Peter Lynch's "local knowledge" at work.) You might say, so what? But looking at the larger picture, when the Great Salt Lake dries up, numerous species of aquatic animals and birds will literally be left high and dry. Worse for Vail Resorts is that this diminishes the expectation that snow is just around the corner. This, of course, is deeply relevant to the expectations which drive the stock.
Since I want to get this to press as quickly as possible, I want to point out that these considerations do not change, for me, my former conclusion about Vail Resorts Inc. These reflections also reinforce what I wrote in that first article, i.e., that we small-time investors can get a "leg up" on the professional financier working in a large commercial firm. It's not that professional investors are not extremely smart and it's not that many of them are not geniuses. In fact, most of them are smart and many are geniuses. But they face some serious barriers not faced by the retail investor. One barrier these fine folks face is that they do not understand the issues because given sixty or seventy hour work weeks under high stress, these folks don't really have the time to research beyond "all the news that's fit to print" about global warming and climate change. Since the denial of climate change seems more common as one climbs the corporate ladder, there's really no point for a lower-level employee to challenge the boss to expand the firm's thinking on such a basic issue. Why try to swim against the tsunami?
Those of us who do know that climate change is not a political issue but rather a scientific one, again have another advantage over the professional investor.
The crowd is prone to cognitive dissonance, especially when old beliefs and expectations are challenged and most particularly when money is on the side of denial.
Since the evidence of what's likely to unfold seems to direct us to conclusions often at odds with the analyses of the top sell-side firms (see Bank of America on MTN), there's a lot of pressure to follow the crowd. But the crowd is prone to cognitive dissonance, especially when old beliefs and expectations are challenged and most particularly when money is on the side of denial. BUT denial isn't going to work to save your portfolio
An excellent example of the cognitive dissonance involved in the climate change debate are the foolish real estate practices on display in Miami. The most vulnerable state in the country to the effects of global warming is Florida. "I don't think people realize how vulnerable Florida is," Harold R. Wanless, the chairman of the geological sciences department at the University of Miami, said in an interview last week. "We're going to get four or five or six feet of water, or more, by the end of the century. You have to wake up to the reality of what's coming." Ben Strauss, the director of the Program on Sea Level Rise at Climate Central, an independent organization of scientists, wrote that "Miami is a boom town now, but in the future that I'm very confident will come, it will be obvious to everyone that the sea is marching inland and it's not going to stop." So what's the response to mitigate the coming disaster in Miami?
Professor Wanless insists that no amount of engineering proposals will stop the onslaught of the seas. "At two to three feet, we start to lose everything," he said. But local officials say they are doing what will help. Jason King, a consultant for the Seven50 Southeast Florida Prosperity Plan, an economic blueprint for seven southeastern counties over the next half-century, has proposed further replenishing of the beaches and mangrove forests, raising roads, and building flood-control gates, backflow preventers and higher sea walls.
It seems like the Seven50 Southeast Florida Prosperity Plan is doing what it would do after a storm that eroded the coastline. None of these storm-related steps will have any positive effect on the damages from the rising seas caused by global warming. "At two to three feet, we start to lose everything." It's as difficult to stop the flow of lava from an active volcano as it is to stop a tsunami or "the sea marching inland."
If you want to benefit from the most up-to-date science, give at least a cursory look at the relevant ecological changes that are relevant to your investment strategy
Returning to Vail Resorts and any other relevant investments, If you want to benefit from the most up-to-date science, put climate change/global warming on your list of issues requiring due diligence. Don't get caught high and dry when you can foresee conditions that will affect your investments and adopt a strategy to minimize any damage to your wallet.
As for Vail Resorts, the above reflections are not intended as recommendations on how to invest. They are only reflections: I am simply bringing them into the conversation so an intelligent investor who wants to do due diligence will not omit relevant conditions brought on by climate change or global warming.
An ordinary due diligence concern
There is a final consideration relevant to Vail Resorts that has nothing to do with ecological processes. Vail Resorts has taken an aggressive stance with Park City, suggesting the only solution to the standoff between the companies is for the longtime operator of the Park City ski area to surrender and sell its base operation to Vail. Once again a picture is worth a thousand words: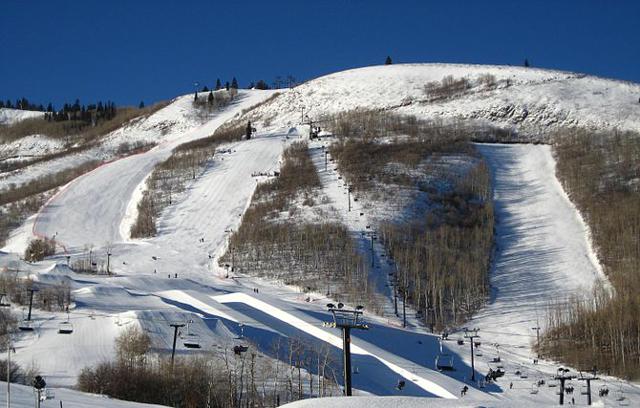 Is this view worth a couple hundred grand? (Photo credit: Wikipedia)
In its filing today, Vail Resorts didn't raise its offer much, arguing the land doesn't have a lot of intrinsic value since Talisker stripped it of development rights in 2007 and Park City controls access to the mountain as well as the water rights for making snow. It said the court should consider only the fair market value of the land itself, not its value to Park City as owner of the base area or the improvements added by Park City. On that basis it's worth $226,000 a year, Park City said, although as a ski area it might be worth as much as $1 million.
Vail's value includes improvements that Park City has put on the land including ski lifts that Park City says belong to it and Vail maintains reverted to the landowner upon expiration of the lease. Park City says after removing the value of improvements like ski lifts it maintains it owns, the rent, even by Vail's valuation, should be between $404,000 and $578,000 a year. The total bond should be between $1 million and $6 million, Park City said.
Vail and Talisker say they're entitled to a bond equivalent to the damages they have suffered, including the profits Park City has made by illegally occupying its land. But Park City said Vail hasn't suffered any losses because it will only take possession of the land under its lease with Talisker if Park City loses its appeal of the eviction ruling.
"Presumably Vail took this risk because it saw an opportunity to take over Park City Mountain Resort," the company said. "Thus, Vail's `damages' (if any) are a result of its own doing."
Earlier, the parties asked Judge Ryan Harris to extend mediation over the dispute until Aug. 24. Those deliberations are being conducted in court-ordered silence.
This legal dispute could be very expensive for Vail Resorts and, of course, should also be included in investors' due diligence. Stay tuned.
Disclosure: The author is short MTN.
The author wrote this article themselves, and it expresses their own opinions. The author is not receiving compensation for it (other than from Seeking Alpha). The author has no business relationship with any company whose stock is mentioned in this article.