As I noted in a recent article, Kinder Morgan (NYSE:KMI), (NYSE:KMP), (NYSE:KMR), (NYSE:EPB) is merging its various holdings into a single corporate entity. This consolidation is in my opinion an extremely positive event for the company. Not only will the resulting Kinder Morgan be one of the largest energy companies by enterprise value, but the stock will be a top tier dividend payer, with a robust 4% yield plus 10% projected dividend growth.
Transaction overview and rationale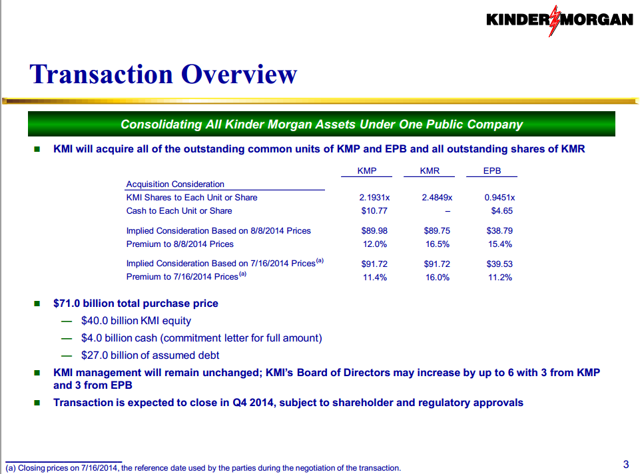 I have long argued that the Kinder Morgan complex was vastly undervalued compared to its large-cap midstream peers. The reasons for this discount were largely due to IDRs and the impact on growth.
Furthermore, there were concerns raised regarding the allocation of growth capex compared to maintenance, a tricky issue due to the language present in Kinder Morgan's original partnership agreement.
Growth outlook much improved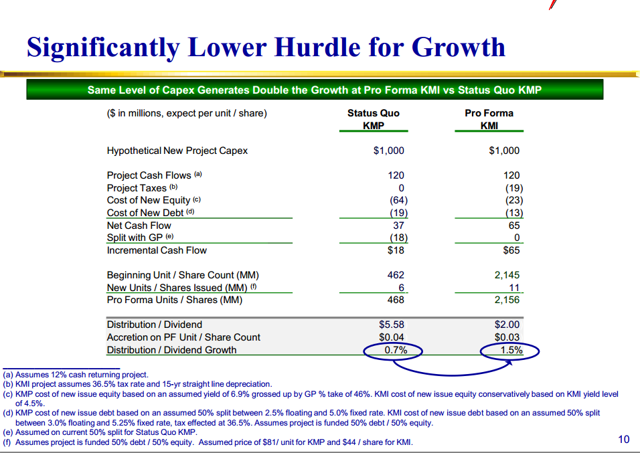 In this quick and simple example given by the company, a hypothetical $1.0 billion growth capex project was shown to produce more than double the cash flow accretion (0.7% vs. 1.5%) under the new corporate structure compared to the previous MLP/GP model.
The main factor here has to do with the cost of the new equity being issued, with that metric under KMP ($64 million) more than the combined impact ($55 million) of new equity, new debt, and taxes, under the new KMI. Or in other words, KMP's high yield on equity made financing projects much more expensive.
I cannot stress enough the importance of cost of capital to MLPs. With KMP's unit price constantly under pressure, it made it nigh on impossible to see much meaningful accretion.
The resulting KMI is now a "must-have" dividend growth stock
To put it simply, KMI now appears to be one of the more attractive options out there for dividend growth investors. The company is now projecting its 2015 dividend to come in at $2.00 per share, up 16% from 2014. Furthermore, KMI is expecting an annual dividend growth rate of 10% or more for the next five years thereafter.
Double-digit annual dividend growth is not unheard of. However, what is not typical is to see this kind of growth coupled with KMI's current yield at over 4.0%. You would expect this sort of a growth rate matched with a much smaller yield, generally in the 2% to 3% range. Indeed, the company itself highlighted this point by comparing itself to many other large-cap stocks in various other industries as shown below.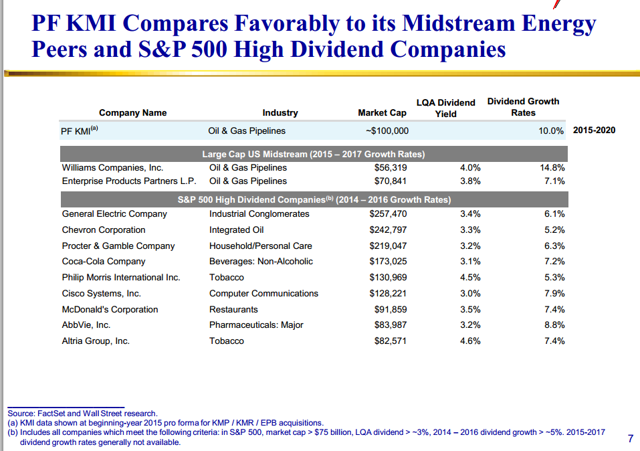 Conclusion
Basically, with Kinder Morgan buying out its various MLPs, the new Kinder Morgan becomes a much easier to understand enterprise, with a unified shareholder base and much better growth outlook. When you also factor in the current yield and projected dividend growth, it is easy to see why these stocks have been rallying.
Disclaimer: The opinions in this article are for informational purposes only and should not be construed as a recommendation to buy or sell the stocks mentioned. Please do your own due diligence before making any investment decision.
Disclosure: The author is long KMI.
The author wrote this article themselves, and it expresses their own opinions. The author is not receiving compensation for it (other than from Seeking Alpha). The author has no business relationship with any company whose stock is mentioned in this article.