Staples (NASDAQ:SPLS), the leading office supply retailer, hasn't been having a great year. The stock is down significantly since the beginning of the year, and disappointing earnings for both the fourth quarter of 2013 and the first quarter of 2014 led to steep declines.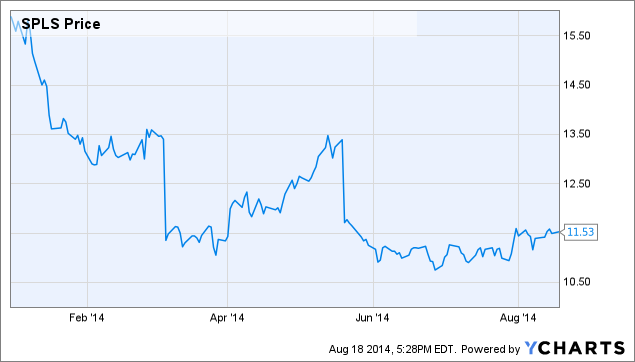 The company is struggling with declining comparable store sales, and Staples along with rival Office Depot (NYSE:ODP) are planning to close hundreds of stores over the next few years. With Staples set to report its second quarter earnings before the market opens on August 20, here are a few things that investors should be looking for.
Analyst expectations
Analysts aren't expecting much from Staples. Revenue is expected to decline by 2.9%, a slight improvement over the 3% decline during the first quarter, although store closings make these numbers less relevant. EPS is expected to fall to $0.11, down from $0.16 during the second quarter of 2013, a 31% decline. During the first quarter, EPS declined by 42% year-over-year.
Retail is in trouble
During the first quarter, comparable store sales at Staples' retail stores declined by 4%, excluding online sales. Operating income from both the retail stores and online sales fell to $93 million, down from $172 million during the first quarter of 2013, and operating margin for the segment fell to just 3.5%.
Lower demand for core office supplies was partially offset by growth in newer categories like breakroom supplies and copy and print, but it's clear that Staple's core products are not selling well in its stores.
It's unlikely that the second quarter will be much better than the first. Comparable store sales will likely decline further, although cost cutting efforts could help boost the operating margin. During the first quarter, Staples secured $100 million in annualized cost savings, part of a plan to slash $500 million in annualized costs over the next two years.
Staples closed 16 stores during the first quarter, and its guidance was for an additional 80 store closings during the second quarter. This means that revenue from the stores will likely decline at a greater rate during the second quarter, but the elimination of unproductive stores could have a positive effect on margins.
Office Depot plans to close around 400 stores over the next couple of years, about 20% of its total store count, and these closings along with Staples planned 225 store closings should help profitability at remaining stores. But this process will take time, and we're unlikely to see much of a positive impact in the second quarter earnings report.
Look for commercial and online strength
One relative bright spot for Staples has been its commercial delivery business. During the first quarter, the commercial segment grew revenue by 0.7% year-over-year, and while operating profit declined slightly, it seems as though demand for core office products from businesses is not suffering as much compared to consumers. About 80% of Staples sales are to businesses, either through the stores or through the commercial delivery business, and this makes Staples different from many other consumer-focused struggling retailers.
Staples has been diversifying beyond core office supplies, and as of the end of the first quarter about half of the company's total volume was in categories beyond office supplies. Part of the resilience of the commercial segment has been the result of Staples being able to offer new categories of products to existing customers, and the strength of Staples commercial business during the second quarter will offer a good indication of whether the strategy is working.
Online sales on staples.com grew by 6% year-over-year during the first quarter, and the biggest driver has been the vast expansion of available products. At the end of the first quarter, Staples offered over 850,000 products online, adding about 300,000 during the quarter in categories like education supplies and office décor.
Staples' online business, which includes both staples.com and its commercial business, has annual revenue of about $10 billion, a little less than half of the company's total revenue. Staples is increasingly focusing on the e-commerce channel, and continuing to grow online sales is critical as the retail stores continue to underperform.
Conclusion
I own shares of Staples, and I bought more after the most recent earnings collapse, because Staples is a business-orientated company. While the retail side of things is struggling, Staples' commercial and online businesses are stronger than many people seem to think, and by expanding its product offerings Staples can act as a one-stop-shop for businesses, particularly large ones.
I don't expect Staples' results to be good, but the company is in a far better position than Office Depot, particular with its vast online business. Once all of the store closings are completed, profitability at the stores should improve as costs are cut and some of the lost sales at closed stores are picked up at remaining stores. Staples trades at around 11.5 times earnings and pays a 4.2% dividend, and while profitability will be depressed in the short-term, the long-term story looks a lot better.
Disclosure: The author is long SPLS.
The author wrote this article themselves, and it expresses their own opinions. The author is not receiving compensation for it (other than from Seeking Alpha). The author has no business relationship with any company whose stock is mentioned in this article.