Orchid Island Capital Inc. (NYSE:ORC) is a mortgage REIT. It invests in traditional pass through Agency RMBS and structured Agency RMBS such as CMOs (collateralized mortgage obligations), IOs (interest only securities), IIOs (inverse interest only securities), POs (principal only securities), and other types of structured Agency RMBS. ORC is externally managed by Bimini Advisors LLC, a wholly-owned subsidiary of Bimini Capital Management Inc. (OTCQB:BMNM). It was founded in 2010. It is growing quickly as evidenced by the recent secondary offerings:
On January 23, 2014, ORC completed a secondary offering of 1,800,000 common shares at $12.50 per share. The underwriters exercised their option for an additional 270,000 shares on January 29, 2014. The net proceeds were $24.2 million to ORC.
On March 24, 2014, ORC completed a secondary offering of 3,200,000 shares at $12.55 per share. On April 11, 2014, the underwriters exercised their option for an additional 480,000 shares. The net proceeds were $44.0 million to ORC.
On June 17, 2014, ORC entered into an equity distribution agreement with two sales agents to sell an aggregate $35 million in shares of ORC stock in "at the market" offerings. Through June 30, 2014 ORC had issued a total of 537,499 shares under this agreement for net proceeds of approximately $6.9 million. This offering again seems to be finding good demand.
With all of this new stock issuance, investors might expect that the stock price might decline or at most be flat. However, as the two year chart of ORC below shows, this has not happened.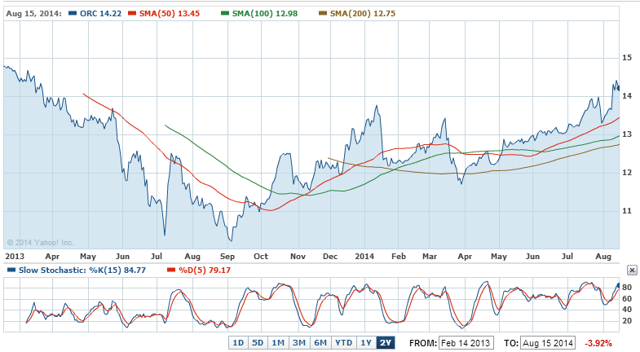 ORC is in a strong uptrend. I believe a good part of this has been fueled by the solid dividend and the nice rise in book value in Q2 2014. ORC's dividend is $0.18 per common share per month. This amounts to $2.16 per common share per year. At the August 15, 2014 closing price of $14.22, this is a 15.19% annual dividend; and it makes ORC one of the highest dividend paying mortgage REITs. The book value as of June 30, 2014 was $13.05 per common share. This was up $0.58 per share from the March 31, 2014 book value of $12.47. By itself, this was a +4.65% gain on the quarter. Together these two made up a total economic return for Q2 2014 of $1.12 per common share (or about 9% for Q2 alone). The growth in earnings was likely a factor too. Net Income for Q2 2014 was $10.6 million compared to -$1.5 million in Q2 2014. Hence this stock may still be in its Cinderella phase, where growth is a major factor in investor valuation.
This seems great when you only look at Q2 2014. However, the book value of ORC as of December 31, 2013 was $13.40, which was higher than the current book value. Of course, it is hard to appraise the changes in book value well for a stock that had only 3,341,665 shares outstanding as of December 31, 2014. It now has 9.75 million shares outstanding according to Yahoo Finance.
To put this in perspective, ORC estimated that the book value was $12.76 on January 31, 2014 after the first of the stock offerings mentioned above (down from $13.40 on December 31, 2014). Since then ORC has sold a lot more stock, and that has been highly dilutive. It is hard to guess what the book value would be if the number of shares had been constant year to date. Clearly all of the monies gained from the stock sales did not get invested immediately. Therefore they did not always earn the money ORC needed to pay the dividend. This would tend to make one believe the dividend is stronger than one might think.
Many investors will now want to look at the portfolio both on June 31, 2014 and on December 31, 2013 (see below).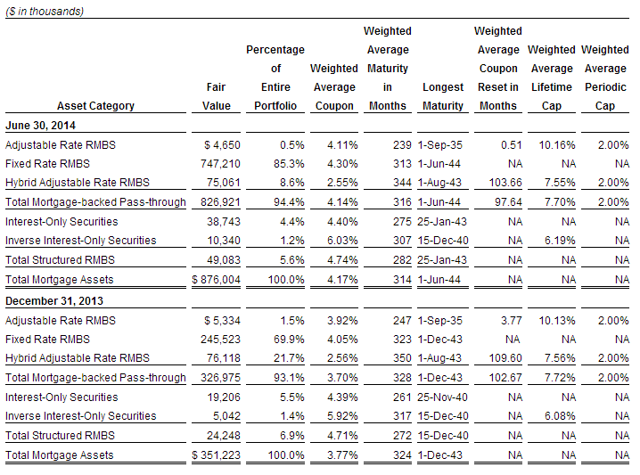 The above Agency securities are mostly Fannie Mae and Freddie Mac, but there are a small amount of Ginnie Mae securities. About 91% of the pass through Agency securities are fixed rate securities. They are 85.3% of the total portfolio. They have a weighted average coupon rate of 4.30% and an average maturity of 313 months (about 26.1 years) as of June 30, 2014. Let us then say that the bulk of the investments are in 30 year fixed rate Agency RMBS for the sake of analysis.
It is then instructive to see how ORC did in the tough period for mortgage REITs that was FY2013. ORC's book value as of March 31, 2012 was $14.98 per common share. By December 31, 2013 the book value per common share had fallen to $13.40. ORC still managed to roughly triple the investment holdings; but that was seemingly by selling more shares.
It is now appropriate to look at the hedging. The company as of June 30, 2014 had Eurodollar futures contracts with an average contract notional amount of $480.0 million and a weighted average fixed LIBOR rate of 1.71%, and an interest rate swaption agreement. This gave ORC the right to enter into a pay fixed rate interest rate swap of notional amount $100 million. This is only about 66% hedging coverage of the total portfolio. If you only consider the pass through Agency RMBS, then it is about 70% coverage. To my mind, this is too light coverage for the current situation. However, ORC is not the only mortgage REIT that is electing to have light hedging at this time. Further the 10 year US Treasury Note yield has gone down consistently year to date. It was 3.03% on December 31, 2014. On August 18, 2014 it is 2.38%, which is -65 bps from the December 31, 2013 yield. It is easy to make book value money in Agency RMBS when interest rates are going down in this manner.
I always like to give the new guy a chance, but that loss of book value from March 31, 2102 to December 31, 2013 from $14.98 to $13.40 per common share is worrisome. Plus ORC's management is clearly gambling on falling or continued low interest rates with its portfolio investments selections. Further even in this environment of declining interest rates, which it appears to be banking on, it is not outperforming other more stable mortgage REITs. The following articles contain the recent performances of American Capital Agency (NASDAQ:AGNC), ARMOUR Residential REIT (NYSE:ARR), and Western Asset Mortgage Capital (NYSE:WMC):
In my mind, all of these are safer bets than ORC, and WMC has a higher dividend at almost 18%. I have more faith in each of them. Their book value performances from December 31, 2012 and from June 30, 2014 are in the table below along with the current dividend of each.
| | | | | |
| --- | --- | --- | --- | --- |
| Stock | ORC | AGNC | ARR | WMC |
| Dividend as of August 17, 2014 | 15.19% | 11.10% | 14.29% | 18.21% |
| Book Value as of December 31, 2012 (March 31, 2013 for ORC) | | | | |
| Book Value as of June 30, 2014 | | | | |
| %Loss | -12.88% | -17.00% | -32.78% | -29.35% |
In other words, ORC's book value loss from March 31, 2012 was smaller than that of many other mortgage REITs. From the above table, it is easy to see why AGNC is considered a "blue chip" mortgage REIT; but ORC seems to have outperformed that blue chip.
ORC gained a good amount of book value in Q2 2014. However, it still has me worried. Its portfolio is geared toward interest rates falling. They may do this. Italy went back into recession recently. The EU Q2 GDP Growth was 0.0%. Russia is in recession. The growing sanctions due to the trouble in the Ukraine are hurting the Russian, the EU, and the US economies. If there is a world economic slowdown, interest rates may well fall further; and ORC's management may look good.
On the other hand, the Fed is expected to end QE3 in October 2014. It is expected to start raising the Fed Funds rate about 6 months after that. These factors and others are expected to push interest rates up in the not too distant future. They could even spike upward, although a slower progression upward is a more likely scenario at this time.
If interest rates do rise, ORC is not overly well positioned to weather the storm. It has too many 30-year fixed rate Agency RMBS. It has been exchanging the lower coupon rate RMBS for higher coupon rate RMBS. This may buy it a little time to deal with the inevitable extension risk problems as interest rates rise; but that is not enough in my mind. Still it is hard to argue with apparent outperformance in most aspects. It is a bit of a gamble to go with a new company. However, the management team of Bimini Capital Management Inc. is experienced. However, "blue chip" mortgage REITs like AGNC are thought to be "blue chip" for a reason. I would rather give up some dividend gain to be able to think that my book value will survive well. Further high dividend WMC outperformed ORC handily in the latest quarter. Why not choose it?
ORC is probably a buy or a hold at the current time. Its small size works against it. Its stock price ($14.22 at the close on August 15, 2014) is above its book value ($13.05 on June 30, 2014). I don't think the book value risk is worth it when comparable stocks such as the ones above can be bought at discounts to their book values. Still some people have to have the hot new stock. For them ORC may be a choice.
NOTE: Some of the fundamental fiscal data above is from Yahoo Finance.
Good Luck Trading.
Disclosure: The author has no positions in any stocks mentioned, and no plans to initiate any positions within the next 72 hours.
The author wrote this article themselves, and it expresses their own opinions. The author is not receiving compensation for it (other than from Seeking Alpha). The author has no business relationship with any company whose stock is mentioned in this article.
Editor's Note: This article discusses one or more securities that do not trade on a major U.S. exchange. Please be aware of the risks associated with these stocks.