National Presto Industries (NYSE:NPK) is an extremely diversified company currently operating in 3 different sectors, housewares and small appliances, absorbent products, and defence products. The great thing about these sectors is that they are completely different from one another. I believe this diversification was one of the main reasons why the stock rallied in the financial crisis of 2008 as shown in the chart below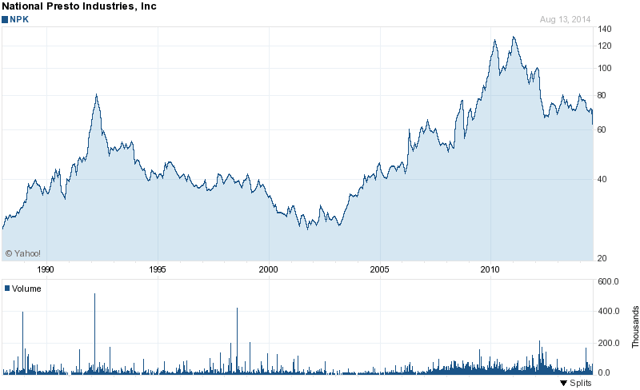 Click to enlarge
The first reason to own Presto is because the company has very high inside ownership. Companies with high inside ownership ensure that the interests are better aligned between owners and shareholders. National Presto Industries CEO for example is Maryjo Cowen. Presently she owns over 2 million shares of the company's stock which equates to nearly 30% of the company's outstanding shares, so this company definitely is a stock with high inside ownership. This company has been passed down to Cowen, so she will want to keep the company in safe hands until she passes over the reins. With a market cap of $450 million and with average volume of only 24,000 shares a day, she can't sell her shares because the stock would drop sharply. The CEO wants to protect her investment (more than $100 million of stock) so the share price will be of the utmost importance to her going forward.
The second reason to own Presto is because of the secret dividend that is paid to shareholders. Last March Cowen earned just over $600,000 as a salary. Cowen actually earns far more annually because the reported dividend is not the actual paid dividend. In fact, this company has been hiding its secret dividend from the average investor for over a decade now. Many financial websites do not report this separate dividend. Yahoo finance for example only reports a 1.4% dividend yield for Presto. Nevertheless, Presto has been averaging a special dividend of over 7% for the last 10 years and it will stay hidden for a reason. When dividend stocks report high dividends, they attract a lot of income investors looking for high yields. This would dilute Cowen's holdings and over time, she would have less control over the company which is not something she would want. Presto has been a family run company for generations and Cowen wants to keep it that way. Last March, the Board of Directors announced the 2014 dividend, which consisted of the regular dividend of $1.00 per share, plus an extra of $4.05. This equated to almost an 8% annual dividend yield and between the two dividends, the CEO pocketed more than 10 million dollars in 2014. Therefore when smart investors see a CEO who wants to enrich herself in the form of dividends, they align themselves with her.
Finally, let's run through the numbers which look very promising. Currently Presto is sitting on $60 million of cash. This is roughly 11% of its market cap in cash. This is huge as the company also has zero debt. The company's cash position has already attracted attention from the US government in the past. To cut a long story short, Presto had to file as an investment company in 2005 (due to the massive pile of cash the company was hoarding) but in 2007 they appealed against the SEC and won in the end. Its PE ratio is 12.89 which is about 6% below its 10 year average so now is a good time to invest in Presto as it's cheap. Moreover in the last five years, the pay-out ratio has exceeded 85% which illustrates just how much of the earnings are going towards dividends (and special dividends) at the moment. The payout ratio is the proportion of earnings paid out to shareholders in the form of dividends. The risk here is that if earnings drop per share, then also dividend payments will drop. Also since dividend payments are practically maxing out earnings, one could extrapolate that the dividend yield doesn't have much room to grow from here. Nevertheless, I like the aggressive nature of the dividend payout in this company and as long as the company's earnings don't suffer a sharp decline, I am confident the company will continue to succeed in giving shareholders an 8%+ yield on their holdings.
So if you are an investor looking for a safe investment with a high annual yield, Presto ticks all the boxes. It has no debt, high inside ownership and is currently valued at 6% below its average PE ratio.
Disclosure: The author has no positions in any stocks mentioned, but may initiate a long position in NPK over the next 72 hours. The author wrote this article themselves, and it expresses their own opinions. The author is not receiving compensation for it (other than from Seeking Alpha). The author has no business relationship with any company whose stock is mentioned in this article.