In present times, women are turning more and more career oriented. The ratio of women leaving home for work is increasing day by day. This has lead to an increase in the demand for packaged food items due to their ease of usage and reduced preparation time for time-constrained consumers. Also, the gradual economic recovery that has already begun will raise the demand for natural food items as the disposable income of the consumers increase. Foreseeing this trend, companies like General Mills, Inc. (NYSE:GIS) are trying their best to come up with products to diversify their offerings and boost their turnover and profits.
Grappling Through Hard Times
General Mills reported a negative earnings surprise as it was unable to meet investor expectations in the fiscal year 2014. Top line shrinked by 1% on the back of lower pound volume and adverse foreign currency movements continued to nullify the positive pricing and mix impacts, particularly on the international front. While the company had undertaken increased promotional spending, it was unable to bring in higher demand for its products.
Future Growth Drivers
As a result, the company plans to primarily focus on accelerating top line growth in the fiscal year 2015. General Mills aims to achieve its objective by launching a new range of products, renovating its current brands and undertaking other marketing initiatives.
New Product Launches
Recently, the company made it to the news that it will enhance the product range offered under its Progresso brand by adding a new flavor, Progresso Chilli, during the current year. The addition will provide a different chilli taste and the preparation time is 5.5 minutes, which is less than home-made chilli.
Lately, General Mills has also come up with six more flavors to add to its broad ready-to-eat soup line to cater to the taste preferences of the majority during all day. The company's product line also meets the requirements of weight conscious customers. Under the Progresso brand name, 40 soups being sold add 100 calories at the most. The Progresso Vegetables Classic soups have also been added to fulfill the daily intake requirement of adults. The company offers 20 flavors under this category with half cup of vegetables included in every serving.
Key Emerging Markets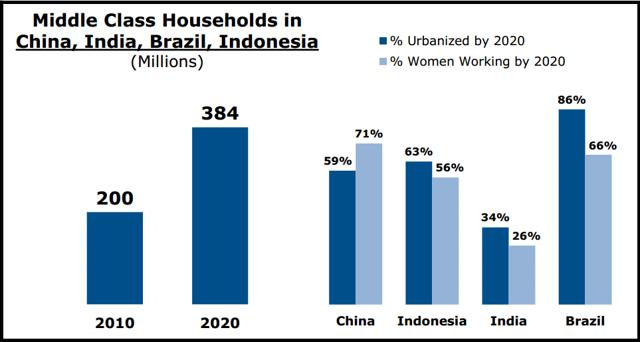 Click to enlarge
Source: 2015 Investor Day Presentation
Emerging markets provide an active opportunity for mature companies like General Mills to accelerate their top line growth that had stagnated due to the saturation level (refer to table below) reached in its main market, US. The increasing urbanization will result in higher percentage of women leaving home for work in the developing countries like China, India, Brazil and Indonesia which is likely to drive the demand for ready-made cereals, snacks and convenient meals higher due to their ease of usage and reduced preparation time. The company aims to increase its international presence in these markets to capture a portion of this upcoming demand to drive future growth in its financial returns.

Click to enlarge
Source: General Mills Sec Filings - 10-K
Additional Week
Further, some sales growth will also be added by the inclusion of an additional (53rd) week in the upcoming fiscal year. The company plans to use this incremental revenue to cover up higher advertising expenses and project costs to introduce more products in 2016 in the market.
Cost Cutting Initiatives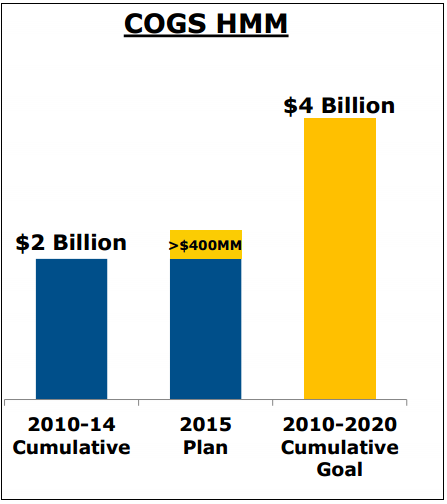 Source: 2015 Investor Day Presentation
Apart from expanding its revenue base, the company also intends to work on squeezing operating costs under its Holistic Margin Management "HMM" program. It is estimated that the savings achieved in 2015 will be greater than $400 million which will help in absorbing the input cost inflation predicted at 3%. The company plans to increase its digital investment to 20% in 2015 as the consumers turn technology savvy. Other than HMM, the company is also undertaking other cost cutting initiatives in an attempt to improve its operational efficiency while streamlining its business. The company is assessing its North American manufacturing plant for any capacity reduction due to lower demand in the region. These cost cutting plans, apart from HMM, are projected to elevate pretax income by $40 million in 2015 followed by more savings showing up in 2016.
Conclusion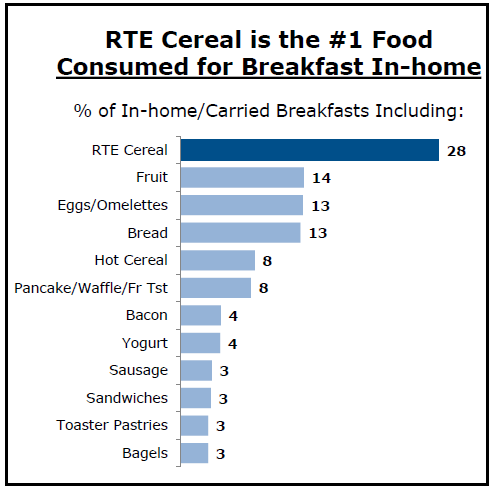 Source: 2015 Investor Day Presentation
In the wake of the shifting market dynamics towards consuming more RTE cereals in developing markets along with the company's increasing focus on these high growth markets like China and its cost reduction plan, is likely to provide growth in the future. Based on the industry P/E "ttm" of 23.76 and consensus analyst EPS estimate of 3.01, the scrip has an intrinsic value of $71.52 while it is currently trading in the market for $52.48, representing an upside potential of 36%.
Disclosure: The author has no positions in any stocks mentioned, and no plans to initiate any positions within the next 72 hours. The author wrote this article themselves, and it expresses their own opinions. The author is not receiving compensation for it (other than from Seeking Alpha). The author has no business relationship with any company whose stock is mentioned in this article.