Starbucks (NASDAQ:SBUX) is one of the best coffee makers out there, slightly above the Dunkin' Brands (NASDAQ:DNKN), despite its high prices. Both companies in particular, have a high flow of customer traffic. Apparently 54% of people in the United States have coffee to start their day and one third of these individuals go to premium outlets, such as Starbucks. Like tea and water, coffee is practically a necessity for most and that's why I believe revenue for this business is recurring and rapid growing.
Starbucks' Rival:
In the recently completed quarter, Dunkin' Brands generated 1.8% growth in same-restaurant sales in the United States. Total revenue increased by 4.6% and mainly because of new store openings. Management attributed the lazy sales growth to its hesitant consumers.
By contrast, Starbucks had nothing but great things to say about its own customer base. Its U.S. comparable-store sales and total net sales increased 6% and 7%, respectively. Starbucks performed extremely well in the U.S. market in the third quarter of 2014, matching the performance of its international markets. In all, Starbucks produced $4.2 billion in revenue which set a record for the third quarter of 2014.
Although, both the restaurant chains are quite famous around the globe, one of the main differences between both competitors is their pricing strategy. Price cutting is widely accepted as the best way to keep customers during tough times, but Starbucks' doesn't believe in cutting prices to keep customers loyal. However, this is not first time that Starbucks revised the prices on several of its in-store beverages. Starbucks' last revision was an increase of $0.05-$0.20 and an additional $1 increase to the prices of its packaged coffee sold in grocery stores.
When the company initially made the announcement it became a hot topic in financial media; the majority believed that the company would suffer from negative consumer reaction. But when it comes to quality and taste this luxury coffee brand has never disappointed its customers. So this price increase should not adversely impact its customer traffic. In fact, establishing itself as a high-end name allows Starbucks to maintain high prices and fat margins.
Starbucks' Pricing Strategy:
1. Study your customer: As a premium roaster, Starbucks understands that the majority of their customer base is fairly insensitive to price and small price increases would barely impact the customers' preferences. Quantify your buyer and the demand for your product or service will help you choose a price that captures the maximum amount your customers are willing to pay.

2. Justify the price for your product. Communicating price increases effectively is not that simple but Starbucks's successful justifies its price increase. Starbucks justified its price increase using changes in the market such as higher commodity costs. Starbucks's management said their beverage prices were increasing by an average of 1% in response to soaring agricultural commodity prices over the past several months.

3. Starbucks use product differentiation to segregate its products. Starbucks's product differentiation is one of the reasons behind its large customer base. However, if customers stop valuing its differentiation then they will not welcome any increase in price. Thus if the company builds a service or product that consumers can't live without it will be able to implement price hikes without turning off its customers.

4. Don't increase the prices of the products with the highest margins. Raise the prices of the products surrounding them. Starbucks raised the price of the tall sized brew exclusively in order to encourage customers to purchase larger sizes. Price hikes for its lower-margin products attract customers to upgrade to more expensive options. So the products with increased prices guide the customer towards its more profitable product.
Investor Return:
It is quite interesting that the company is offering high dividends while growing the top line. The company recently decided to distribute profits to shareholders via dividends versus a massive share repurchase program. Over the last four and half years, it has grown dividends at a 30% rate and more recently at 23.6%. This is pretty outstanding despite the weak yield compared to other Fortune 500 businesses that offer returns closer to 3%. This is still a nice add-on for the dividend seeking shareholder.

Source: Dividend.com
Starbucks has maintained a strong upward trend over the last several years, but the price action has become a little rough over the last year, fluctuating in the range between $70 and $80. In my opinion the fair value of this stock is around $90 so it contains great potential.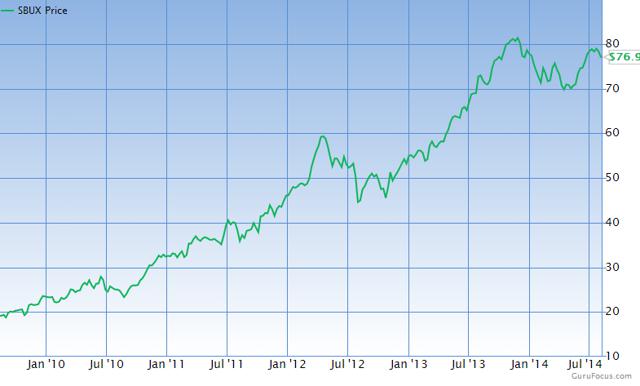 Conclusion:
I believe Starbucks is an outstanding company and has good prospects for the foreseeable future. Despite what the media suggests, I don't think that sales will be impacted by the recent price increase, considering their high quality and impressive price strategy. The company can modestly adjust prices to deal with fluctuations in commodity pricing.
Starbucks' reported earnings were good in the recent quarter after the depressed results in 2013 caused by a litigation charge. It is forecasted that the company will deliver strong earning numbers in the next year. These are set to be followed by impressive EPS growth of 22.5% next year. Starbucks' growth rate is behind that of Chipotle (NYSE:CMG) because of the wide gap between the two companies' value. I believe that Starbucks could outperform its sector peer once the market realizes that the stock is undervalued. Considering the reasons highlighted above, I will rate Starbucks as a buy.
Disclosure: The author has no positions in any stocks mentioned, and no plans to initiate any positions within the next 72 hours.
Business relationship disclosure: The article has been written by a Gemstone Equity Research research analyst. Gemstone Equity Research is not receiving compensation for it (other than from Seeking Alpha). Gemstone Equity Research has no business relationship with any company whose stock is mentioned in this article.