Home builder confidence is still down year-over-year since June, but the continued momentum off recent lows is potentially encouraging. The National Association of Home Builders/Wells Fargo Housing Market Index (HMI) delivered an increase in confidence in August to 55 from a revised 53 in July. This small increase occurred despite a recent rough patch of economic data and earnings reports from home builders.
I have updated my chart of the three components of the HMI. Note that confidence about present conditions is no longer lagging the forward-looking indicators in pace of growth.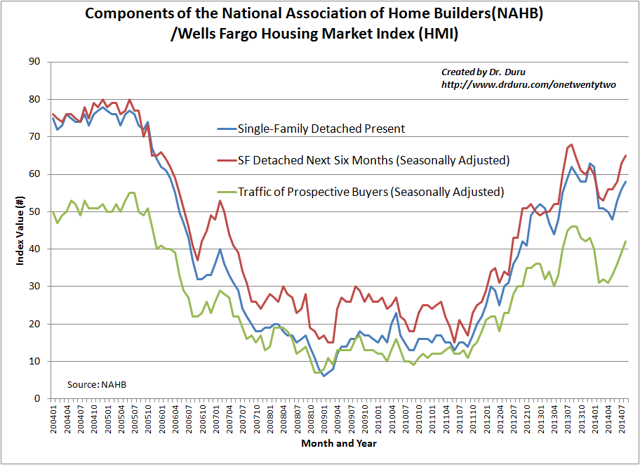 Click to enlarge
Source: National Association of Home Builders (NAHB)
The NAHB's explanation of the increase in HMI despite current headwinds was not useful, especially since even this small increase in confidence was likely a huge surprise to many observers…
"As the employment picture brightens, builders are seeing a noticeable increase in the number of serious buyers entering the market…However, builders still face a number of challenges, including tight credit conditions for borrowers and shortages of finished lots and labor."
"Each of the three components of the HMI registered consecutive gains for the past three months, which is a positive sign that builder confidence appears to be firming following an uneven spring…Factors contributing to this rise include sustained job growth, historically low mortgage rates and affordable home prices, which are helping to unleash pent-up demand."
My issue with these boilerplate statements is similar to the last round: the employment picture has steadily improved for several years, but this momentum did not stop housing data from disappointing this past spring. The same goes for mortgage rates. Rates were supposed to increase this year. Instead, financing a home has gotten cheaper since last year's surge in rates: bond yields have trended down throughout 2014. Again, this did not stop housing from hitting a speed bump in the spring.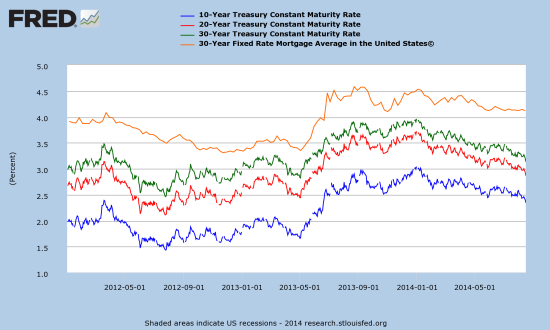 Mortgage rates have trend downward for most of the year
Source: St. Louis Federal Reserve
Moreover, in some of America's strongest housing markets, like in the greater San Francisco Bay Area and in Texas, affordability has increasingly become a hot issue for low and middle-income households. In fact, as of June, the national aggregated affordability index is at a post-recession low even though it remains well above recent norms.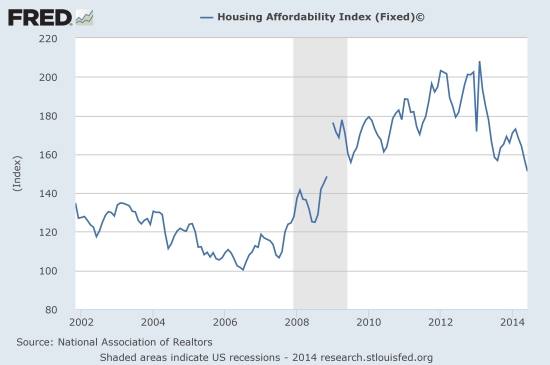 Housing affordability is at a post-recession low
Source: St. Louis Federal Reserve
I agree that there is a lot of pent up demand, especially once the leading edge of millennials start forming their own households. So now low inventories, lack of credit, AND price are all combining to limit home buying to a higher-income clientele that is being well-served by many of the publicly traded builders. Burned by over-exuberance in the last housing bubble, they are understandably much more cautious, managing inventories and absorption rates closely, and, most importantly, doing everything they can to continue pushing margins higher. In other words, the growing confidence in home builders is likely well-correlated to the on-going improving fortunes of a select and influential segment of the market in America's strongest housing markets. (Granted, Kb Home (NYSE:KBH), for example, did indicate in its last earnings conference call that first-time buyers are starting to show up in greater numbers. See "KB Home: First Time Home Buyers And Margins Deliver A Sustained Post-Earnings Kick.")
The market had a strong response to the HMI. The iShares US Home Construction (NYSEARCA:ITB) closed with a healthy 2.0% gain on the day as sellers were finally unable to fade the index after good news. A stock market experiencing a healthy bounce from oversold conditions is also providing a healthy tailwind.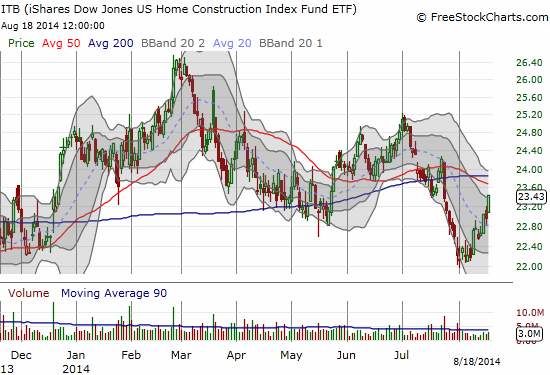 Momentum continues from recent lows for ITB, but it is still down year-to-date
Source: FreeStockCharts.com
Next up, housing starts and building permits…
Be careful out there!
Disclosure: The author is long ITB, KBH.
The author wrote this article themselves, and it expresses their own opinions. The author is not receiving compensation for it (other than from Seeking Alpha). The author has no business relationship with any company whose stock is mentioned in this article.
Additional disclosure: Long ITB through call options