As an investor, I like to spot opportunities when stocks are mispriced. I would classify Einstein Noah (NASDAQ:BAGL) as a potential opportunity that I feel you should keep on your watch list. Einstein is a bagel-focused restaurant company that operates under the brands Einstein Bros. Bagels, Noah, and Manhattan Bagels. The company has 857 stores currently. About 82% of sales come from the Einstein Bros. brand. The restaurant company has a small store base, which has the potential to grow. The company also has some initiatives that can help grow the same-store sales rate, which was up 1.6% last quarter. That being said, the age of the stores, on average, is 15 years. This means that although this company is small, it actually is very mature, which is why it has experienced low-single digit same-store sales recently. The reason why I am classifying this stock as a hold is because of the management uncertainty within the company. The company expects to name a new CEO within the time frame of September to the end of the year. I believe that investors should watch this company in the fall to see who it picks. If the new management has great ideas to expand the company, then it may become a buying opportunity, given the low valuation that it currently has.
The fact that there are 7,500 Dunkin' Donuts (NASDAQ:DNKN) store in America makes the store count of Einstein Bagels seem like it has the potential to have many years of growth in its store count ahead of it. The main competitive advantage that the company has is that the bagels are made fresh in the stores every day. Bagels that are two days old are never sold. The company actually spends $2 million per year throwing them out. Management is looking into ways to donate these bagels to a local food bank to save costs and have a tax benefit. Einstein Noah makes 9% of its revenues from hot beverages (mainly coffee), and about 20% from the whole beverages category. This compares to about 60%-70% of sales at Dunkin' Donuts and Starbucks coming from beverages. The company has stores divided between company-owned, franchised, licensed. It had 459 company-owned stores, 115 franchised, and 288 licensed as of April 1st. The company operates licensed stores in airports, college campuses, healthcare, and business institutions. The company makes 4% royalties from these licensed stores. Some of the licensed partners include Sodexo, Aramark, and Compass. It earns 5% royalties from franchised stores.
In my opinion, the management's tone in the two conferences that they attended with Piper Jaffray and Jefferies seemed to be defensive and hesitant, instead of assertive. The team is likely waiting for new leadership before it pursues new initiatives. An example of this tone is when management stated that it didn't have a digital advertisement footprint or a loyalty program. It said that these could be opportunities, but it didn't really propose how or when that they could be implemented. These strategies would definitely help increase same-store sales. The temporary CEO is likely leaving these types of measures up to the new one. The new CEO must help the company figure out pricing, as management said that the lack of price increases hurt sales last year. They said that the discounting seems to only make existing customers pay less instead of bringing in new customers.
Customer traffic is certainly a problem for this company. It had a 3.8% decrease in traffic in Q2 from the same time period last year. This was counteracted by a 4.7% increase in average prices because of the lack of discounting (.8%), price increases (2%), and shift in product mix (2.2%). The 3.8% decrease is not as dreadful as it seems, because of the increases in catering, which is one of the most important growth prospects that the company has. Last quarter, the catering business had 17.3% growth in Q2 from the same quarter last year, and represented 10.0% of sales. The catering that serves an average of 30 people only counts as one transaction; this negatively affects traffic growth. The company stated that it had a 9% increase in bagel sales from last quarter. This number adds some context to the effect that catering has on traffic in stores. Catering mostly goes to offices which serve the bagels for breakfast. Management expects the catering business to reach 15% of sales, and the company is very focused on this area of the business. It is expected to grow 15%-20% per year.
One way to quantify the company's competitive advantage is to look at customer satisfaction. The company has 74% satisfaction, versus 71% for the fast casual industry average. Einstein Noah is working on improving this metric by focusing on guest interaction measurement, order accuracy, and store condition. The main way in which the company is improving its store conditions is through its store revitalization effort. The company goes from market to market and fixes up the stores in each area at once. The company plans to revitalize about 75 stores per year. The revitalization efforts of 12 stores in Orlando have seen favorable returns that more than cover the cost of capital. The next cities to get refreshed stores are San Diego and Detroit.
Einstein Noah Restaurants has a manufacturing facility that sells to wholesalers such as Costco. The sales from its Whittier facility last quarter grew 11.2% to $9.2 million, as Costco increased its orders to have Einstein product in a greater number of locations. The sales in Costco stores give the company a small international presence in countries such as Japan and Australia. This could help the company expand in the future to other countries.
The two main growth opportunities that the new CEO will hope to realize is growth in store count and growth in the lunch day part, which is sales from 11 am to 2 pm. As I stated before, the company has a much lower store count compared to Dunkin' Doughnuts. It has stores in 42 states. It has a facility where it makes dough, which goes to 60% of stores which are close to it on the west coast. This helps the company by adding about 80 basis points in margins. The firm may add a facility to the east coast when in adds a few more stores there. As of today, the company sources the dough from a third-party for these stores. The company plans to open about 75-85 stores this year. The breakdown between types of stores is the following: 20-25 franchised stores, 15-18 company owned stores, and 40-42 licensed stores. The process of picking store locations has been improved, which has helped the company have a 12% increase in sales in these new stores in the first 6 months, compared to before the company started going after higher-end locations. It is certainly an option that the new CEO could accelerate the growth in store count if he/she takes a more aggressive stance on profit growth than what the company is currently taking. He/she can also make an acquisition to accelerate growth. It has $75 million in revolving loan capacity, most of which is untapped.
The lunch day part definitely is certainly an area that can be exploited in the future. In an average store, there are 200 transactions done in the breakfast time period, 75 in the lunch time period, and 25 for dinner. In order to gain some ground in the lunch day part, the company is going back to its tastier past. It had recently tried to go a healthier route by eliminating some of the unhealthy, tasty food items. This year, the company is bringing back some of these items, because it feels that it can have both healthy options and popular, tasty options. This is why the company is adding bagel dogs and hot pastrami bagels back to its menu. It added gourmet paninis for breakfast and lunch in May. It plans to add two hot lunch offerings this month. The new ingredient in its sandwiches is spinach, which will help beef up the healthy foods category.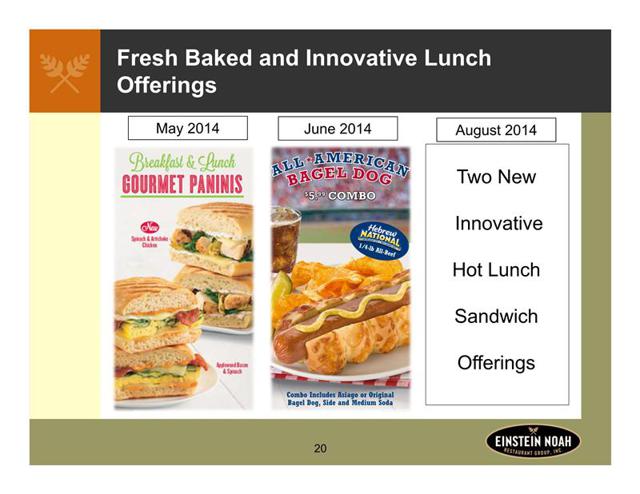 Source: wsw.com/webcast/jeff83/bagl/
Looking at the stock, it is currently oversold, as the 14-day RSI is at 29. This is likely because the company missed earnings estimates last quarter by 5 cents; it reported 18 cents of adjusted earnings per share, compared to the 23 cents that was expected. This is compared to 19 cents of earnings per share in the quarter last year. The earnings were adjusted by 4 cents, because of $1.2 million in costs that occurred due to management transition costs. The stock has a 3.6% dividend yield, and is trading at its 52-week low. I would rate this stock as a hold. The company is expected to earn 91 cents per share this year, giving it a 15.7 PE multiple. This compares to a 24.7 PE multiple that Dunkin' Donuts trades at. Dunkin' Donuts has a 2.1% dividend yield, and almost an identical revenue growth rate (4.6% at Dunkin' vs. 4.1% at Einstein) and same-store sales growth rate (1.8% at Dunkin' vs. 1.6% at Einstein) in the most recent quarter. However, Dunkin' Donuts had diluted EPS growth of 14.6%, which is much better than Einstein, which had negative EPS growth. I believe that Dunkin' Donuts should trade at a higher multiple than Einstein because of the consistency in making analysts' earnings estimates; it has missed twice in the past 6 quarters. Einstein has missed estimates in 5 of the past 6 quarters. The price that you are willing to pay for Einstein should be based on what you think the growth potential and execution of that growth rate will be. In my opinion, you should wait and see the plan that the new management lays out, and see what growth rates we will likely see in the coming few years. I will be analyzing the resume of the new CEO to predict how well he/she will execute on the company's future plans. The company also has a $20 million buyback in place, of which it used $1.7 million last quarter.
There are three main risks to this company's stock in the future. They are competition, inflation, and the decision of the new CEO. I have already discussed at length about the importance of leadership at Einstein. The company has stated that competition is fierce. This is why it is not putting a disproportionate amount of ad dollars into the lunch day part; the company must defend its market share in the breakfast category. The company sells 6%-7% of the bagels in America. The healthy eating trend makes competition difficult for Einstein in the breakfast category, as bagels are clearly not the healthiest food to have for breakfast. It has diversified into the healthy eating category, but this certainly is out of the company's main focus, hurting its competitive advantage. Inflation is a very low risk for the company. It has guidance for about 1%-2% per year. It raises prices to counteract this.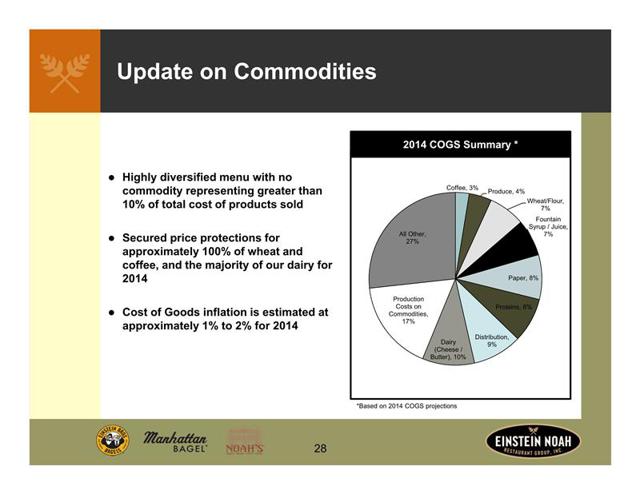 Source: wsw.com/webcast/jeff83/bagl/
As you can see in this chart, the company is very well-diversified among commodities. No one commodity represents greater than 10% of costs. This puts the company in excellent position to fight inflation.
Disclosure: The author has no positions in any stocks mentioned, and no plans to initiate any positions within the next 72 hours. The author wrote this article themselves, and it expresses their own opinions. The author is not receiving compensation for it (other than from Seeking Alpha). The author has no business relationship with any company whose stock is mentioned in this article.