Intro note:
Firstly, I need to state that this article is not a full analysis of Transocean (NYSE:RIG). The article is only intended to highlight several points about Transocean and the company's outlook, all of which are backed up with reputable sources.
The offshore drilling market is a complex market to understand. With many of the sector's largest players, including Transocean now trading at near ten-year lows (lower than both 2008 and Macondo), value hunters are starting to sniff around.
The trouble is, there is much speculation that these drillers could become a value trap. Wall Street analysts are in particular warning that as a slowdown in the offshore drilling market continues, earnings will continue to decline and assets will be written down - resulting in drastic reductions of shareholder equity.
But while there are concerns, and rightly so, about the state of the offshore drilling market, Transocean is well-positioned. The company has a diversified and mixed fleet, which ensures that the company is not overly exposed to one rig market.
Mixed fleet
As I've explained within a previous article, Transocean has the largest current fleet of all the offshore drillers. As seen in the chart below, taken from the company's investor presentation, this large fleet is well-diversified, and unlike peers such as Ensco (NYSE:ESV), Rowan Companies (NYSE:RDC) and Seadrill (NYSE:SDRL), the company has no real over-reliance on one type of rig.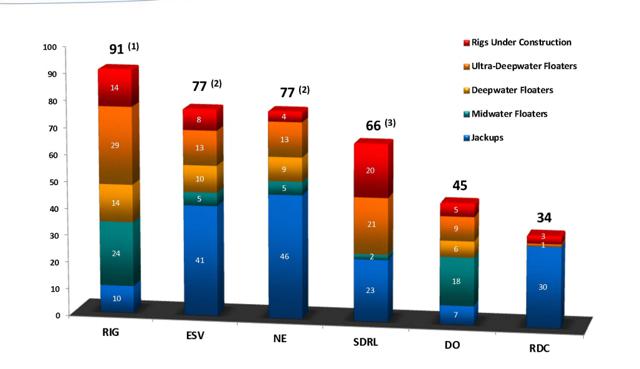 Chart taken from Transocean's Investor Presentation
It is believed that the floater market in particular will come under the most pressure over the next few years. The key driver here will be the rising level of supply within the market, a further 26% increase in the global floater fleet expected by 2017; this, in addition to the 38% increase the market has already seen since the beginning of the current cycle. There are just not enough wells being drilled to justify this capacity.
Nevertheless, the key here is the drilling of deep water and ultra-deepwater wells, (UDW). UDW and deepwater drilling activity, after a brief slowdown, is expected to recover rapidly over the next few years - as the chart from Transocean's investor presentation shows below.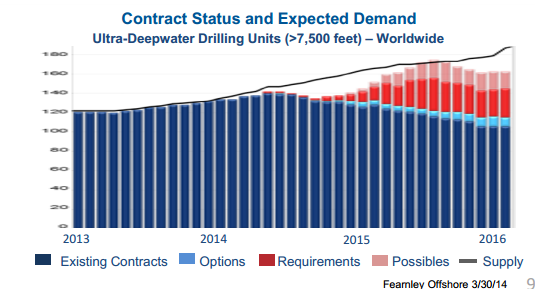 Chart taken from Transocean's Investor Presentation
There is also significant concern about the state of the jackup drilling market, as this excerpt from Rowan's second-quarter earnings call explains:
"… Worldwide jack-up utilization is currently at 86%, down from 89% at our last call. After a steady 3-year increase, we believe the market has reached an inflection point in global utilization. With influx of new supply, we're seeing downward pressure on both day rates and length of term in some operating regions…"
And, as I've previously written in an article concerning Rowan's outlook:
"… 141 newbuild jackups are currently in the process of construction, only 18 of which are already committed. That leaves 123 jackups that need a contract. Management believes that around 27 of these units are intended for captive markets and will not be competitive with Rowan rigs. A further 73 of the remaining 96 uncontracted newbuilds are considered to be speculative and could be cancelled before completion. Even if all of these 73 units were cancelled, there would be 23 units remaining that needed a contract…"
This excerpt from a report put out by analysts at Deutsche Bank explains further:
"… In order to absorb the 27% capacity growth expected over this time period, the industry would have to experience record demand growth. We think this scenario is highly unlikely and expect to see pressure on rates and utilization begin to materialize in 2H '14 and continue well into 2015…"
As a result, Deutsche believes that:
"… The current re-capitalization of the fleet means that any older generation rig that goes out of service for an extended period of time is unlikely to return. Owners of these rigs will therefore seek to maximize cash flow and we would not be surprised to see these rigs eventually reach cash-breakeven before ultimately leaving the market for good…"
This is possibly the biggest risk facing Transocean going forward. Indeed, while the company has avoided much of the risk associated with the jackup downturn, due to UDW exposure, Transocean has one of the oldest fleets around, as seen in this chart I've used before: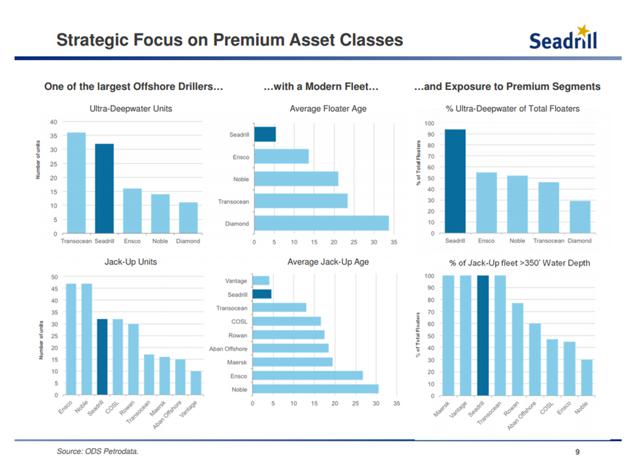 Click to enlarge
From a presentation given by Seadrill at the Howard Weil 42nd Annual Energy Conference during March of this year
Making progress
Transocean is making real progress both slimming itself down, realigning its fleet, spinning off older units, as covered below, and cutting corporate fat.
The consensus on both Wall Street and with investors is that Transocean has become a victim of general negative pressure surrounding the conditions within the float market. Whether or not these concerns are overdone is something we will have to wait to find out.
However, the company's creation of spin-offs to reduce exposure and unlock cash appears to be a good decision right now, while there has also been talk of the sale of up to 21 floater units. Of course, these actions, while proactive, still leave Transocean at the mercy of wider market conditions.
Unfortunately, Transocean may need to take even more aggressive action. The company's fleet is old, and this will be a problem going forward. Indeed, on the second-quarter conference call, Transocean's management stated that:
"… in previous oversupply cycles most capable rigs will compete down and displace lower specification [and older units without modernization] units. We expect this displacement will result in some units being permanently retired as continued investment in this fleet may not yield the necessary economic returns over the remaining life of the asset… however the large influx of uncontracted newbuilds will challenge the less capable units and we are likely to see pricing pressure in the future from the increasing competition…"
Spinning away
To slim down its corporate structure, unlock value for investors and reduce exposure to some regions, Transocean has announced two spin-offs this year.
The first was Caledonia Offshore, created for the purpose of divesting its North Sea semi-submersile rigs - the Sedco 704, Sedco 711, Sedco 712, Sedco 714, Transocean John Shaw, Transocean Prospect, GSF Artic III and the J.W. McLean. These rigs, with an average age of over 30 years old (from build, not upgrade), will all be part of the new entity.
This spin-off accomplished two aims for Transocean. The company has been able to reduce its exposure to the North Sea, a region struggling with high costs and sliding output. In addition, Transocean has been able to get rid of older rigs, the company may have been forced to sell the rigs at a low cost in the open market if a spin-off was not undertaken.
The second spin-off is more interesting. The creation of an MLP named Transocean Partners (NYSE:RIGP) gave the parent an immediate cash infusion. The IPO was expected to raise $350 million, and the partnership owns a 51% interest in 3 ultra-deepwater drilling rigs located in the U.S. Gulf of Mexico. All three units are contracted out, two to Chevron and one to BP, and all are located within the Gulf of Mexico, with an average remaining contracted life of four years. Transocean Partners will also have the first rights over the next five years to acquire stakes in four drillships that Transocean has under construction.
With both these spin-offs, Transocean has been able to slim itself down and receive an immediate infusion of cash. The MLP structure is particularly interesting; it's also been used by Seadrill, and Ocean Rig (NASDAQ:ORIG) is planning a transformation later this year or early next.
This structure essentially allows the companies to "drop down" rigs from the parent to the MLP. MLPs usually have a lower cost of capital, either through issuing more units or debt, so they borrow to buy the unit from the parent; the parent receives cash, which it then returns to investors. Of course, there are also tax advantages to be had from the parent continuing to hold an equity interest in the dropdown MLP.
A quick look at the dividend
No analysis on Transocean would be complete without a look at that impressive dividend payout, which as I write, is equal to a yield of around 7.7%. For the time being, this payout appears to be secure, as seen in the company's second-quarter financial earnings release.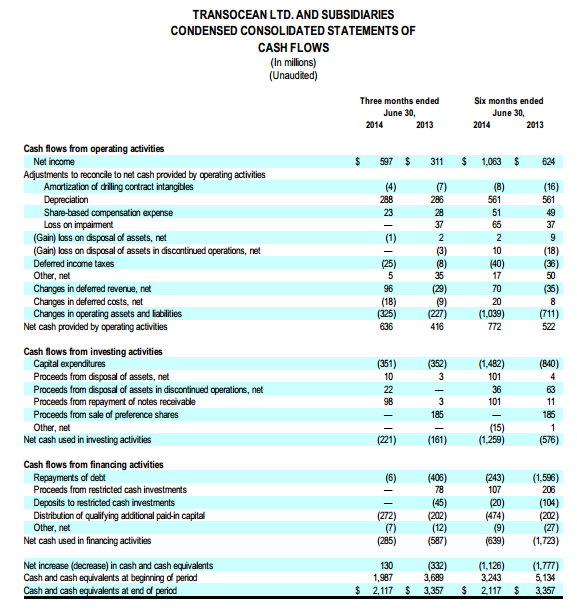 Transocean fiscal second-quarter earnings release
As shown above, cash provided by operating activities ($636 million) easily covered the dividend distribution ($272 million), and also covered capital spending ($351 million). Over the first six months of the year, however, things are a little cloudier, as Transocean's new, higher payout was introduced from the second quarter. A quick back-of-the-envelope calculation implies that Transocean's dividend for the first six months of the year would total $544 million at the higher rate, 70% of cash from operations - still sustainable, but there is little room for maneuver.
There could be further trouble ahead, according to analysts at UBS:
"… our current estimates the company will need to tap into the full $3 bil revolver in 2015-2016 and will still be drawing down cash. In 2015, we believe Transocean will have to make the decision to either reduce the dividend or increase its debt. Our earnings forecasts are not worst case scenario and assume most of the currently idle rigs return to work in 2015 and that the currently stacked rigs remain stacked… we believe dayrate pressure will persist given limited rig tenders (demand) and fierce competition, with dayrates already down 25%-40% from peak levels. Regular dropdown proceeds from the MLP should help bolster Transocean's FCF; however it will not be enough, in our view…"
Once again, Transocean is at the mercy of falling day rates; if the rates remain buoyant, then the payout is safe. If rates fall, as expected, then the sustainability of the payout will be called into question. Of course, this is only the view from one set of analysts.
Management was actually quizzed on the sustainability of the dividend payout on the Q2 call.
Analyst: "… this is a tough question, but I would really appreciate a thoughtful answer… if you had to choose between an investment grade rating and maintaining your current dividend, what do you think is more important to you and the Board?"

Steven Newman - President and CEO: "… the decision is never that simple… the Company has to pull, before we start thinking about pulling the dividend lever. So we will continue evaluate the Company's ongoing investment in new build drilling rigs… We will evaluate the strength and quality of our balance sheet and the opportunities is available to us… we'll ask the board to engage in a thoughtful review over the coming months and in anticipation of the May 2015 Annual General Meeting make a decision on the dividend… we are committed to maintaining a competitive and sustainable dividend…"
Unfortunately, this does imply that a dividend cut is on the cards, if Transocean's board believes that the company is paying out more than it can afford - which is prudent, but will not go down well with investors.
A final thought
The fact of the matter is Transocean is at the mercy of the wider industry. The company, under the watchful eye of Carl Icahn, can try to protect itself from falling day rates and oversupply, but it can only make so many adjustments before revenue and income really start to take a hit.
One final thought is this comment from analysts at Raymond James:
"On the surface, offshore drilling stocks appear inexpensive with multiples at the low end of historical ranges and many stocks trading below book values. While contrarian and deep value players are beginning to nibble, we believe the offshore floating rig companies are still in the early innings of a cyclical downturn in utilization and dayrates…"

"… the deepwater drilling rig market is facing a multi-year down-cycle. Historically, most offshore drilling cycles have been short-lived as there have usually been sudden demand shocks that tend to self correct relatively quickly. This time, it is more of a new rig supply problem compounded by a moderation in offshore spending from the suddenly "return driven" multinational major oil companies…"

"… we think the downturn will take about three years to play out with average floater day-rates falling about 25% with over 60 floating rigs needing to be stacked (either warm stacked or cold stacked). More importantly for investors, we think consensus 2016 floater estimates (on average) are still about 25% too high…"

"… While everyone loses in this environment, we are more comfortable in owning companies with higher-quality assets that also carry higher floater contract coverage, as we expect this to provide relative safety during this downturn…"
Make of that what you will.
Disclosure: The author is long RDC.
The author wrote this article themselves, and it expresses their own opinions. The author is not receiving compensation for it (other than from Seeking Alpha). The author has no business relationship with any company whose stock is mentioned in this article.