By Mike Yamamoto
As NetApp (NASDAQ:NTAP) trades near 10-year highs, option traders are positioning for downside in the data storage company.
optionMONSTER's Depth Charge system has detected more than 3,500 February 50 puts trading in a strong buying pattern against open interest of just 65 contracts, showing clearly that these are new positions. The puts went for $1.32 to $1.42 in the first hour of the session.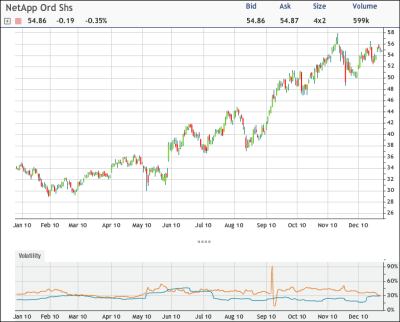 NTAP is down 0.35 percent at $54.86 this morning but is still up more than 60 percent this year and not far from its 52-week high of $57.96 reached last month. The shares have not traded at levels this high since the dot-com bubble collapsed in 2000.
The stock received three upgrades in the last 10 days, first from Barclays and Argus on Dec. 13 and then Stifel Nicolaus on Monday. NTAP has also been mentioned frequently in takeover speculation in the digital storage space, especially after high-profile deals such as Hewlett-Packard's (NYSE:HPQ) acquisition of 3Par (NYSE:PAR) and Dell's (NASDAQ:DELL) bid for Compellent (NYSE:CML) this year.
There is no obvious stock activity corresponding to the option trading today, but the put buying could have been done as protection on an existing long position. Or it could simply be a straight bet that NTAP may be reaching the end of its long run and will be ready to pull back soon.
In either case, the stock would need to drop more than 11 percent by expiration on Feb. 18 for the puts to turn a profit. So far today overall puts in the name at all strikes outnumber calls by more than 12 to 1.
The company is scheduled to release its next earnings report two days earlier, on Feb. 16.
Disclosure: No position