Jumei (NYSE:JMEI) reported Q2 earnings and revenue ahead of analyst estimates. Q2 revenue increased 42% Y/Y to $154.4 million and was $4.8 million ahead of views. Merchandise sales were down sequentially but up 31.6% Y/Y to $123.3 million, while the marketplace services revenue increased 106% to $31 million. Non-GAAP net income grew 68% Y/Y to $17.8 million. Non-GAAP EPS was up 23% to $0.16 and was $0.04 ahead of consensus. EPS growth was lower due to a significantly increased share count. Gross margin was up 480 basis points to 46.3%.
The number of active customers increased by 42.9% to approximately 5 million, while the number of total orders increased 39.2% to 11 million. The company guided full-year non-GAAP net income between $81 million and $87 million. This translates into $0.57 to $0.61 full-year EPS, which is above the current consensus for $0.56. I believe that the guidance is conservative and I feel comfortable with my $0.63 EPS estimate for 2014. The company did not provide revenue guidance, but it should be higher than the current analyst consensus given the Q2 beat and net income guidance above analyst estimates.
The Q2 report fits well into my long thesis for Jumei. I am reiterating my $47 price target, which translates into 30% upside from the current price. I expect that analysts will adjust their expectations in the next couple of days and that estimates will head higher. There is also potential for new initiations and upgrades, which might push the share price higher in the next couple of weeks. On the other hand, a pullback should be normal here since the stock is extended after rising more than 50% from its mid-June lows. But the downside should be limited and I do not expect Jumei to go down more than 10% to 20%, and the stock should get support around $30 which was the previous resistance point and a psychological support area.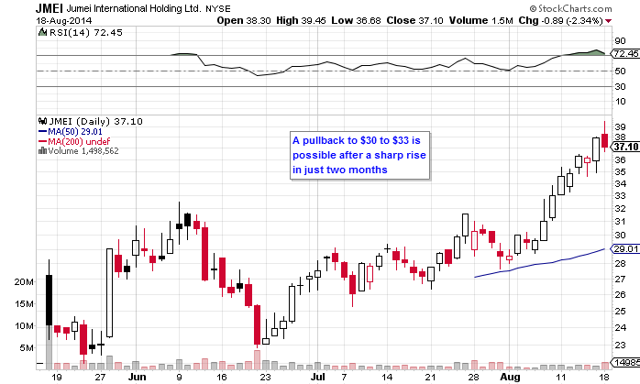 Source: Stockcharts.com
Disclosure: The author has no positions in any stocks mentioned, and no plans to initiate any positions within the next 72 hours.
The author wrote this article themselves, and it expresses their own opinions. The author is not receiving compensation for it (other than from Seeking Alpha). The author has no business relationship with any company whose stock is mentioned in this article.