Panera's (NASDAQ:PNRA) former CFO Roger Matthews is resigning; the new man for the job appears to be Bill Moreton. Currently Mr. Moreton is filling in as the interim CFO. Moreton, a former CEO, seems like a fine fit for the job. The departure is unexpected, but doesn't feel like it should really hit the stock. Mr. Moreton, pictured below, has former experience as a CFO for Potbelly Sandwich Works and is a CPA.

Source: https://www.panerabread.com/en-us/company/about-panera/management-bios.html
He may have some challenges ahead of him, as Panera bread has lowered guidance for full year EPS from $6.80 to $6.65 per share. In the current quarter they reported $1.82 in EPS, or $1.74 per share excluding a time benefit. Previously management guidance was for EPS to be in the range of $1.70 to $1.76 per share. Comparing Fiscal 2014 to Fiscal 2013, management expects the operating margins to be down by 135 to 185 basis points. The company is citing higher input costs as a driver of the low operating margins, so this problem may be impacting some of their competitors as well.
The number of shares outstanding has fallen at a decent pace. The company's diluted shares outstanding have dropped from 29,287,000 a year ago to 27,086,000 at the end of this quarter. Values are rounded to the nearest thousand. That represents a decrease of 7.52% of the company's previously outstanding shares.
Panera is joining the ranks of restaurants that are allowing people to order remotely through their smart phone. Long term, I think this will be a good thing for the company, but at the moment it may be causing some bumps. The interface, as shown below, looks simple enough.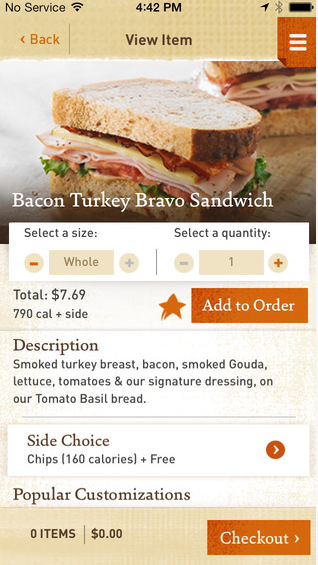 However, the customer ratings have been less than positive. Table 1 breaks out information about downloads and user ratings of several applications developed by competitors.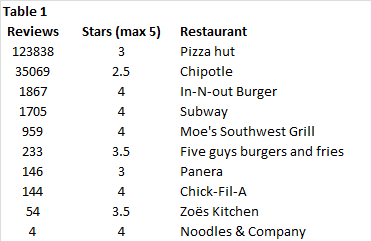 There are two quick things to observe from the table. The first is that, if reviews are correlated to downloads, which I believe they are, there aren't very many users downloading the app. The second issue is that the reviewers attempting to use the app find it to be inferior. It remains to be seen whether Panera can effectively utilize their app to increase sales or improve throughput.
Quarter 2 results
The company's EPS for Q2 improved year over year despite declining margins. Specifically margins were hit by a 16% increase in the price for butter, 23% increase for bacon, and 25% for avocados. Customer tastes favored eating dishes with the more expensive ingredients, and those dishes were a larger percentage of sales. All in all, food cost increased by 30 basis points.
Labor costs were a larger, and enduring, driver of the decline in margins. Labor expense was up 150 basis points reflecting an increase in worked hours that is predicted to continue into the fourth quarter. The extra hours began in October 2013.
The company has also been working on changing the model for customers. Beyond the app, they are also rolling out "fast lane kiosks" to allow consumers to order through the computer system. Management projects, and I agree, that there has been some "initial inefficiency". However, I also agree that those costs are temporary. While the increase in staffing may persist, that doesn't mean the higher labor costs should be considered permanent. They may trend down slightly after the next quarter, but I wouldn't count on them coming down during it.
Franchisee cafes had average weekly sales, on a year to date basis, of $53,882. This is a record for Panera and may bode well for the company's ability to expand through franchising.
Conclusion
I'm not concerned about the changes in management, and I am optimistic that they can make modifications to their app so it can help drive revenues. It'll be interesting to look back in five years and see how the introduction of these apps impacts both revenue and margins as companies may be able to improve their throughput as additional orders come into the computer without a cashier.
Overall, I'm fairly neutral on the stock. At the current price, I don't dislike it, but I also think there may be more upside in some smaller companies.
Disclosure: The author has no positions in any stocks mentioned, and no plans to initiate any positions within the next 72 hours. The author wrote this article themselves, and it expresses their own opinions. The author is not receiving compensation for it (other than from Seeking Alpha). The author has no business relationship with any company whose stock is mentioned in this article.
Additional disclosure: Information in this article represents the opinion of the analyst. All statements are represented as opinions, rather than facts, and should not be construed as advice to buy or sell a security. Ratings of "outperform" and "underperform" reflect the analyst's estimation of a divergence between the market value for a security and the price that would be appropriate given the potential for risks and returns relative to other securities. The analyst does not know your particular objectives for returns or constraints upon investing. All investors are encouraged to do their own research before making any investment decision. Information is regularly obtained from either Yahoo Finance or the SEC database. If either of these sources contained faulty information, it could be incorporated in our analysis. The analyst holds a diversified portfolio including mutual funds or index funds which may include a small long exposure to the stock.