It's been a little while since I discussed social media darling Twitter (NYSE:TWTR). In my most recent Twitter article, I had detailed how the company needed to deliver. Expectations were high, and shares had rallied strongly off their lows. The company certainly delivered with a beat and guidance raise. This time, the street actually liked the report, and shares rallied. Now that investors have had time to digest the report, it's time to look at the name again. Today, I'll discuss why things get harder for Twitter in the rest of 2014.
Estimates on the rise:
In late July, Twitter announced second-quarter results. The company reported revenues of more than $312 million, which blew away estimates of just $283 million. Revenue growth came in around 124% over the prior-year period. On a GAAP basis, the company lost nearly $145 million, more than three times the $42 million loss in the year-earlier period. On a non-GAAP basis, however, net income was more than $14 million, compared to a $16 million loss in the prior-year period. Twitter reported non-GAAP earnings per share of $0.02, while analysts were looking for a penny per share loss.
For fiscal Q3, the company guided to revenues of $330 million to $340 million. Analysts were looking for less than $324 million, so Q3 revenue guidance was better than estimates. The company also raised its 2014 revenue guidance range to a new range of $1.31 billion to $1.33 billion. Analysts were looking for just $1.27 billion. As a result of both the Q2 beat and strong Q3 and full-year guidance, analyst estimates have risen. In the table below, you can see where those estimates stood going into the Q2 report, and where they are currently.

With estimates soaring, analysts are now looking for more than 104% revenue growth in 2014 from Twitter. Like in the past, analysts are ahead of the company's forecast, so analysts will be looking for the company to raise its forecast again when it reports Q3. Additionally, a non-GAAP profit of a dime is now expected. When the year started, analysts were looking for a 4-cent loss. As we've seen with Facebook (NASDAQ:FB), analysts continue to underestimate the revenue and non-GAAP earnings potential of these social media names. In the past two quarterly reports, beats were not enough and shares sold off. Concerns over the user base were the culprit, and I'll discuss that angle in the next section.
Growth in the user base:
Twitter's average monthly active user number was about 271 million at the end of the quarter, up 24% from the prior-year period. That number is up about 16 million sequentially from Q1, where the company saw 255 million, a 25% year-over-year rise. Mobile MAUs reached 211 million, which represented 29% year-over-year growth. In Q1, mobile MAUs were 198 million, which was 31% growth.
The company did say that it got a Q2 traffic boost from the World Cup, but it was insisted that the World Cup did not impact better-than-expected new user growth. Since the global event ended early in Q3, the company will need to show continued strong growth in its user base during Q3. Especially with a stock price that is on the rise, expectations will be higher, and the company must deliver. If the World Cup did provide a boost to Q2 results, Twitter might disappoint when it comes to Q3.
An update on short interest:
One item I have tracked extensively when it comes to Twitter is short interest. After the company went public, short interest climbed at almost every single update until late April. But as shares continued to crater, shorts eventually started to cover. In the chart below, you can see how short interest has trended recently.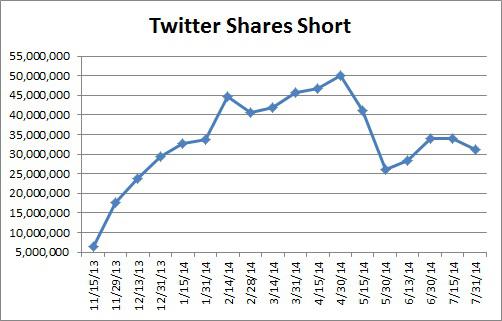 In the most recent short interest update, more than 31 million shares were short the name. That number is down about 37.56% from the high reached earlier this year. Considering how many non-believers are out there when it comes to Twitter, I would think that short interest would be a lot higher. At the end of July, only about 6% of the float was short, according to Yahoo Finance data. That's not a high number, when you consider there are a number of momentum names that have short interest well above 20% or even 30% of their float.
Comparisons in the space:
As I have in past articles, I'll compare the growth and valuations of Twitter, along with Facebook, LinkedIn (NYSE:LNKD), and Zillow (NASDAQ:Z). All of these names provide strong growth profiles, but their valuations are very high and might give some investors pause. Let's look at where 2014 growth estimates stand, and what the associated valuations are based on those numbers.

*All EPS and P/E numbers are non-GAAP
As I've detailed in the past, Twitter is expected to show the most revenue growth this year. However, it is the most expensive of the four names. Twitter is only expected to get to non-GAAP profitability this year, while the other four have already gotten to that point. For this reason, Twitter remains a highly speculative investment. The growth story is still there, but you have to pay an incredible amount for it.
Final thoughts:
Twitter announced a strong Q2, and the company delivered guidance for both Q3 and the full year that was ahead of analyst estimates. As a result, analysts have hiked their numbers, but the stock has risen as well. Twitter remains an extremely expensive stock, which means that expectations for the rest of 2014 will be sky-high. Going forward, the company needs to prove that Q2 wasn't significantly helped by the World Cup, and that the growth story is truly in place. Twitter still has potential, but investors are paying a premium for it.
Disclosure: The author has no positions in any stocks mentioned, and no plans to initiate any positions within the next 72 hours.
The author wrote this article themselves, and it expresses their own opinions. The author is not receiving compensation for it (other than from Seeking Alpha). The author has no business relationship with any company whose stock is mentioned in this article.
Additional disclosure: Investors are always reminded that before making any investment, you should do your own proper due diligence on any name directly or indirectly mentioned in this article. Investors should also consider seeking advice from a broker or financial adviser before making any investment decisions. Any material in this article should be considered general information, and not relied on as a formal investment recommendation.