RadioShack's (NYSE:RSH) turnaround prospects never looked so bleak. At the current pace, some analysts expect the company to run out of cash as early as next year. Its bonds trade at all-time lows, priced on an equal footing as other distressed companies. Its credit default swaps have soared in recent months.
Its dip has been so disastrous, more than 80% since October 2013, that any investor that thinks himself/herself as a contrarian should at least take a good look at this company.
What makes it more interesting is that some institutional investors and insiders are betting on this company's turnaround and could stand to gain handsomely if proven right, including CEO Joseph Magnaca.
This is not another article repeating everything that is wrong with the company, other SA authors already offer plenty on that topic. In this article I attempt to cover what I think is the most relevant driver of this company's prospects to avoid bankruptcy: a successful covenant re-negotiation with some of its debt holders.
A Constrained Turnaround Effort
"In an emergency room the doctor is hands on... Turnarounds [are] like an emergency room, and you can't be afraid of blood." John Chen.
John Chen, current CEO of BlackBerry (NASDAQ:BBRY) and recognized turnaround artist, likes to compare himself to a doctor trying to save his patient. As such, the first step of any turnaround is to cut the bleeding.
I believe that if RadioShack is to survive, it should cut the bleeding as quickly as possible. Magnaca, of course, knows this. One of the five points on his turnaround plan is operational efficiency, aiming to close as many as 1,100 underperforming stores as soon as possible. The problem? The closing of more than 200 stores in a single year has to be approved by its debt holders.
Some SA authors take this as definitive proof that RSH's days are numbered. Take this article, for example. The author argues that since RadioShack is constrained to close just 200 stores per year, its only option for survival is to "dramatically increase sales." Clearly this author has never seen first-hand a distressed investment play. He fails to take into account that covenants aren't set in stone.
That being said, the million dollar question is whether or not the existing debt holders will agree to a waiver and at what price. I believe the likelihood of a waiver on this particular covenant is a function of two factors: [i] the recovery for creditors in case of bankruptcy and liquidation; and [ii] whether or not a smaller more cost-efficient company could generate enough cash to repay its debts.
Recovery in Case of Liquidation
Debt holders don't necessarily want the company to be back on its feet. If they believe they can be rewarded in the case of an asset liquidation, or that they stand to lose less by liquidating the company rather than betting on a turnaround, they should have little or no incentive to agree to a waiver and allow the much needed store closures.
Not all debt holders are created equal, borrowers issue debt with many different rankings in terms of seniority. The rankings refer to the priority of payments, with most senior debt having the first claim on the company's assets in case of liquidation. Generally speaking, there is secured and unsecured debt. Whereas secure debt holders have a direct claim on the company's assets, unsecured debt has only a general claim. In the case of bankruptcy, senior creditors can obtain most of their principal back. On the other hand, unsecured bondholders would probably take a substantial haircut.
That being said, let's examine the structure of RadioShack's debt as of the latest earnings release:
| | |
| --- | --- |
| Figures in millions | May 2014 |
| Term Loan due Dec. 2018 | $250.0 |
| 2018 Credit Facility | $50.0 |
| Eight year 6.75% unsecured notes due May 2019 | $325.0 |
| Other | $1.2 |
Source: RadioShack's 10-Q for the 1Q2014
RadioShack's total debt stands at $626 million of which $300 million correspond to secured creditors and $325 million to unsecured notes registered with the SEC. Additionally, as part of the 2018 Credit Facility, the company can use a revolving credit line of $361 million which could bring total debt to a maximum of $987 million in the coming months.
It should be clear that holders of the unsecured notes stand to lose a substantial part of their investment while the rest of the creditors posses a first claim on the company's assets and could retain most of their principal.
According to the company's most recent 10-Q, only the Term Loan and 2018 Credit Facility creditors negotiated a covenant regarding a limit to store closures, which means that these creditors alone could determine RadioShack's future.
The company has to obtain the consent of the holders of a maximum of $661 million of debt ($300 million outstanding plus $361 million that could be used in the upcoming months as part of the revolving credit line) to close underperforming stores quickly enough to avoid bankruptcy.
As of May 2014, the company's balance sheet looks like this:
| | |
| --- | --- |
| Figures in mlns | May 2014 |
| Cash and Eq. | $62 |
| Receivables | $163 |
| Inventories | $792 |
| Other Current Assets | $58 |
| Total Current Assets | $1,075 |
| PPE | $181 |
| Other Assets | $71 |
| Total Assets | $1,326 |
Imagine for a second that RadioShack owed you $661 million. If you tried to collect, you will probably not have the full $1,326 million available. A few of the problems that you would encounter are as follows:
Under "Other Assets", this company usually records prepaid rent and collateral for standby and letters of credit issued to insurers and vendors.
Inventories of unsuccessful products could have a substantially lower market value than what's stated on the balance sheet.
Assuming that you can't collect on half the inventories and none of the "other assets", the real asset base would be closer to $801 million. That should be more than enough to regain your $661 million. However, as time passes by, the company's assets will diminish quickly and you could be forced to take a haircut. Unfortunately for unsecured bondholders, liquidation would mean getting back cents on the dollar.
Prospects of a Smaller RadioShack
A second, equally relevant question is whether a smaller more efficient RadioShack can survive long enough to at least repay its debts. In other words, can RadioShack start generating cash soon? This question is more difficult to answer and thus more prone to speculation. If bond holders are skeptic that a restructured company can generate cash, then they would rather take their chances with liquidation.
Given the lack of segment disclosure, any analyst would have a hard time answering this question with a high degree of certainty. Nevertheless, at least two factors should be considered regarding the potential turnaround of this company: [i] store refurbishments are experiencing strong growth; and [ii] the trend in Mexico appears to be generally more optimistic than in the US.
First, in the latest earnings conference call, the management continued to be optimistic about the growth potential of their latest initiatives. Specifically, they indicated that their revamped stores have experienced double digit growth. The downside is that they have only opened 38 of this new "concept stores," according to the earnings transcript. Nevertheless, if this revamped stores continue to show strong growth, creditors could be compelled to re-negotiate covenants to allow the company to concentrate their efforts on this and other initiatives.
Second, while the company has struggled in the US the last few years the operations in Mexico seem to be on a more optimistic trend. On a CAGR basis, while the US store count has dropped -1.2%, the stores in Mexico have grown 5.7% for the period between 2009 and May 2014.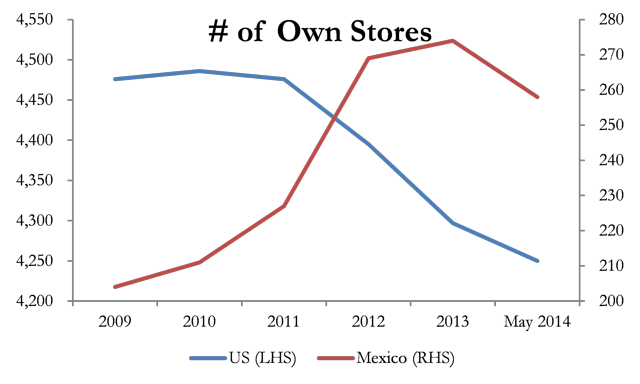 Source: RadioShack's financials available here
Mexico is a country that still lacks adequate retail penetration. This could provide companies such as RadioShack with ample room to grow.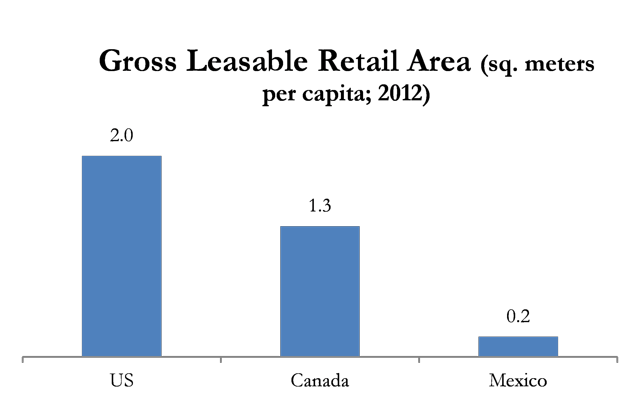 Source: Softek and Deloitte
Again, the downside is that the company's operations in Mexico comprise only a small portion of the total store count. However, bond holders could take this as a positive sign indicating that if they allow enough room for a turnaround, RadioShack can begin growing again.
Bottom Line
RadioShack is a highly speculative play. Only seasoned investors should take a look at this company on its current state.
Perhaps the most worrying reality is that the company's turnaround is not entirely dependent on itself or its market anymore. I believe that if RadioShack is unable to stop bleeding cash by closing underperforming stores, its days are certainly numbered. In order to do this, the company has to come to terms with a portion of its creditors.
The chances of the re-negotiation of covenants will depend on the recovery rate of the relevant bond holders in case of liquidation and on the credibility of a company's turnaround. Looking closely at these two factors, I don't like RadioShack's chances of survival right now.
First, if the company was to be liquidated, the relevant creditors could walk away with most or all of their money. Only bond holders who stand something to lose should be willing to negotiate.
Second, although some segments of the company look promising, the company's prospects of generating enough cash to survive without additional financing still look bleak.
Disclosure: The author has no positions in any stocks mentioned, and no plans to initiate any positions within the next 72 hours. The author wrote this article themselves, and it expresses their own opinions. The author is not receiving compensation for it (other than from Seeking Alpha). The author has no business relationship with any company whose stock is mentioned in this article.
Editor's Note: This article covers one or more stocks trading at less than $1 per share and/or with less than a $100 million market cap. Please be aware of the risks associated with these stocks.