The results of the latest Nomura survey of individual investors in Japan (August 14th) show Japanese investors are slightly less bullish - naturally given Ukraine/Russia, Iraq, Israel/Hamas, etc. - though they are not getting spooked out of equities. Investors remain upbeat on the yen (correspondingly bearish on the euro) and they say they like Japanese equities best again (most bullish on capital goods and bearish on consumer goods).
In terms of most-watched stocks, I noticed McDonald's Holdings Japan fell off the list. Showing its face again is Mixi (OTCPK:MIXIF), a leading domestic social networking site; mobile games. Among the large caps, Oriental Land [(OTCPK:OLCLY); operates Tokyo Disneyland] and Softbank (OTCPK:SFTBY) inched up among the top-3, though Toyota (NYSE:TM) remained by far the most-watched. OLCLY is thinly-traded. Limit orders only if one absolutely must go there. Otherwise, ordinary shares are liquid but will need approx. $20K to establish a position due to minimum lot size and current pps (if this is foreign to you, please refer to my book, a very inexpensive way to become properly informed of investing in Japan).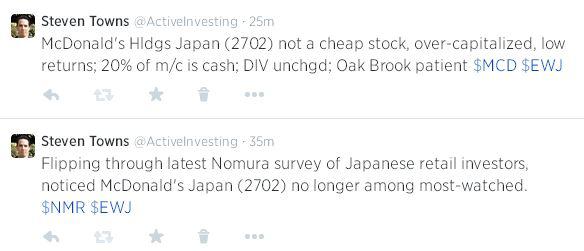 Not liking the value proposition or growth opportunities for McDonald's Japan. No particular comments at present on the others. However, I will say that I continue to like consumer goods companies (very selectively, of course), unlike the survey respondents (who are probably factoring in the likelihood of the second consumption tax next year while still adjusting to the April hike).
For your review, here are the most-watched stocks from Nomura's Individual Japanese Investor Survey - July and August in reverse order:
August 2014: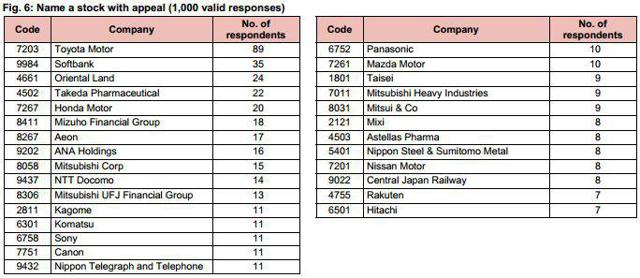 July 2014: