Kohl's (NYSE:KSS) has been trailing the market over the last five years. The stock price has barely budged over the period, growing only 10% compared to an increase of 94% for the S&P 500. It has also underperformed its closest peer, Target (NYSE:TGT), a laggard in its own right.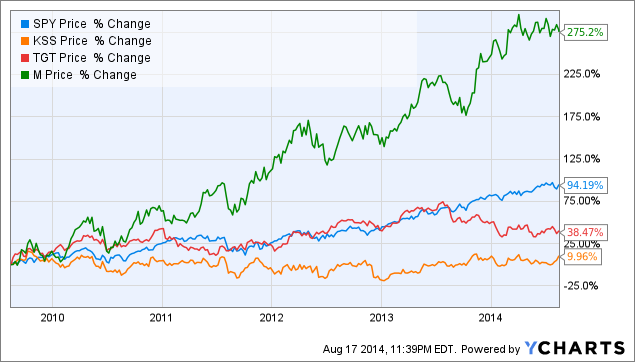 Business Performance
The reasons for Kohl's underperformance are clear. Since 2009, sales have grown from $17.2B to $19B, at an annualized rate of 2.6%. Moreover, much of the sales growth has been driven by an increase in the number of stores, from 1058 in 2009 to 1158 at the end of FY13. Same store sales have shrunk or grown under 1% in four of the last five years and are on pace to decline slightly in FY14 as well.
Gross margins have also declined slightly over the period, from 37.8% in FY09 to 36.5% in FY13. The current year has seen a slight improvement in gross margins, to around 37%. The company has tried to offset this by controlling its sales & marketing expenses, which are around 22% of sales.
Net income in FY13 was $889M, lower than FY09 levels. However, EPS grew at 6.3% annualized over the period, driven by share buybacks. Kohl's has aggressively repurchased its shares and total share count is down over 100M (33%) compared to FY09, bumping up EPS.
Valuation assumptions
In valuing any retailer, the number of stores and same store sales growth are key assumptions. I am assuming that Kohl's opens around 15 stores every year - over the last 4 years, it has opened an average of 25 stores annually, though the pace of expansion has slowed down since FY12. I am also assuming that it manages to reverse its trend of same store sales declines, and is able to expand comps by 1.5% annually. This is by no means an aggressive target, however given the past performance I am being somewhat conservative. I am also assuming that Kohl's manages to sustain gross margins of 36.5% and spends around 22.5% of sales on SG&A. Both these numbers are in line with FY13 actuals, though there might be some upside to the gross margin number since the company has done better in the past. Overall, I feel my assumptions are on the conservative side.
Using these assumptions, I value Kohl's at $65/share with a discount rate of 9% and a terminal value growth rate of 2% which accounts for the moderate growth prospects of the company. This would indicate that Kohl's is around 14% undervalued at current prices. The valuation model is attached.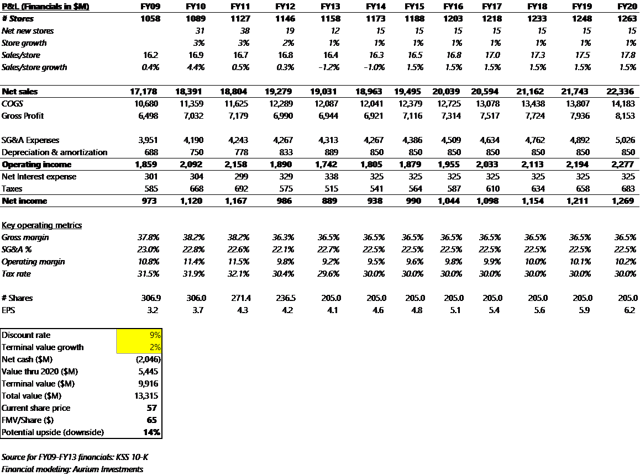 As I noted, my valuation model is not assuming a stunning turnaround by any means. My forecast for annualized sales growth through 2020 is only 2.3%, which appears quite achievable under the current margin structure. If Kohl's is able to expand gross margins to the 37.5% range (which is still below what they achieved between FY09 and FY11), they could offer as much as 25% upside. On the other hand, if we assume comp growth remains stagnant through 2020, the fair market value would be $56, only a 2% decline from current prices. This indicates that at these prices, Kohl's is a pretty low risk investment that does not need to meet a high bar to justify its valuation.
Summary
Kohl's has underperformed over the last few years due to a struggle to differentiate itself from its competition. However, it has taken shareholder-friendly actions by repurchasing shares when they were attractively valued, and paying an attractive dividend (with a current yield of 3%). Although it will never be a high flyer, I believe there is very little downside, and a high probability of reasonable upside, to today's prices. Hence I would recommend Kohl's as a buy.
Disclosure: The author has no positions in any stocks mentioned, and no plans to initiate any positions within the next 72 hours. The author wrote this article themselves, and it expresses their own opinions. The author is not receiving compensation for it (other than from Seeking Alpha). The author has no business relationship with any company whose stock is mentioned in this article.