Heading into earnings on Aug. 21, investors holding shares of Aeropostale (NYSE:ARO) are probably trying to figure out what to do with the retailer's stock. Currently, shares of the once high-flying retailer are trading at $3.17, just 2% above their 52-week low and 74% below their 52-week high. While this disparity in price might appear to provide investors with an asymmetric risk/reward opportunity, is it possible that the business is still risky moving forward?
Analysts expect tougher times ahead
For the quarter, analysts expect Aeropostale to report revenue of $395.44 million. This represents a 13% drop from the $454.03 million management reported the same quarter a year earlier and will likely come as comparable store sales decline significantly. While this is bad, the expectations Mr. Market has for the company's profitability is even worse.
| | | |
| --- | --- | --- |
| | Last Year's | Forecasted |
| Revenue (millions) | $454.03 | $395.44 |
| Earnings per Share | -$0.34 (non-GAAP) | -$0.58 |
For the quarter, analysts expect that Aeropostale will report a loss per share of $0.58 (likely non-GAAP with GAAP coming in even worse). This will represent a big drop from the $0.43 GAAP loss per share and the $0.34 non-GAAP loss per share seen during the second quarter of the company's 2013 fiscal year. While lower revenue is expected to play a role in this decline, the business will likely be hit by impairment charges on assets (mostly inventory) and deleveraging expenses related to a reduction in its comparable store sales.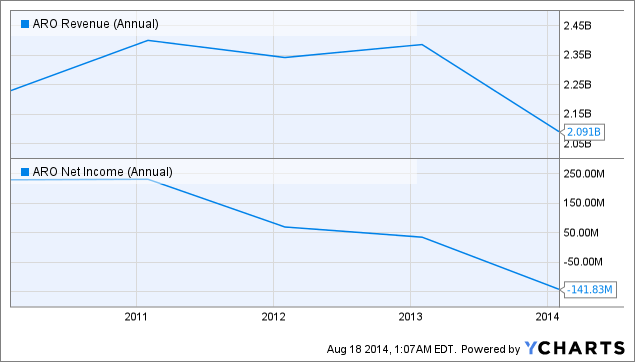 ARO Revenue (Annual) data by YCharts
Unfortunately, if Aeropostale's performance does come in as bad as anticipated, it won't be the first time the business has disappointed investors. Over the past five years, the retailer's revenue has dropped 6% from $2.23 billion in 2009 to $2.09 billion during 2013. The business's bottom line has done even worse, with net income falling from a gain of $229.5 million to a loss of $141.8 million as higher costs and an aggregate 12% drop in comparable store sales has impaired the company's profitability.
Aeropostale isn't the only one in this boat
Although it might be tempting to write Aeropostale off as an outlier, the fact is that many retailers have been struggling in recent years. J.C. Penney Company (NYSE:JCP), for instance, has seen its revenue fall over 32% from $17.56 billion to $11.86 billion as a tough retailer market and a failed attempt by (now former) CEO Ron Johnson to reinvent the company left customers feeling disenchanted.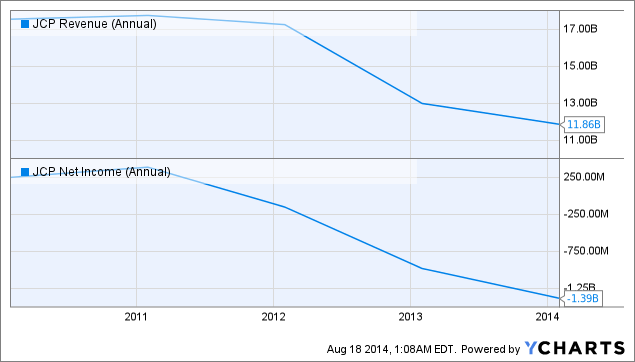 JCP Revenue (Annual) data by YCharts
As a result of falling sales, J.C. Penney's profits have also suffered, with its net income falling from a gain of $251 million in 2009 to a loss of $1.39 billion during 2013. Fortunately, recent events that involve emphasizing more of its store-within-a-store setups like Sephora and a Disney store partnered with The Walt Disney Company (NYSE:DIS), and reintroducing coupons appears to be turning sales and profits around, but the business still has a long ways to go before it can be called a success.
Takeaway
Right now, investors and analysts alike don't think too highly of Aeropostale and for good reason. Unlike J.C. Penney, which is off to a good start, Aeropostale hasn't demonstrated any significant ability to improve sales or reduce losses. Moving forward, the retailer has a lot that it will have to prove to shareholders if it hopes to save itself from a bankruptcy-like situation. While turning operations around is a possibility, the fact that the business's picture continues to worsen instead of even stabilize, suggests that it's a pretty risky play at this stage in the game.
Disclosure: The author has no positions in any stocks mentioned, but may initiate a long position in JCP over the next 72 hours. The author wrote this article themselves, and it expresses their own opinions. The author is not receiving compensation for it (other than from Seeking Alpha). The author has no business relationship with any company whose stock is mentioned in this article.