After the market closes on Aug. 21, GameStop (NYSE:GME) is expected to report revenue and earnings for the second quarter of its 2014 fiscal year. Despite high expectations from analysts, shares of the specialty retailer are trading at $39.64, 31% below the stock's 52-week high of $57.74. Given this disparity between expectations and share price, should investors consider taking a stake in the business or would they be better off looking for opportunities elsewhere?
GameStop's revenue and earnings look set to soar!
For the quarter, analysts expect GameStop to report revenue of $1.63 billion. If this forecast turns out to be accurate, it will represent an 18% jump in sales from the $1.38 billion management reported the same quarter last year. If the first quarter of GameStop's 2014 fiscal year is any indicator of its source of growth, then the primary revenue drivers for this quarter will likely be its new video game hardware, which shot up 81% from $241.8 million to $438 million and its mobile and consumer electronics, which saw revenue soar 100% from $51 million to $102.2 million.
Earnings Overview

| | | |
| --- | --- | --- |
|   | Last Year's | Forecasted |
| Revenue (billions) | $1.63 | $1.38 |
| Earnings per Share | $0.09 | $0.18 |
Looking at profits, analysts are even more optimistic. For the quarter, GameStop is expected to report earnings per share of $0.18, exactly double the $0.09 reported a year earlier. While some of this gain will be attributable to the retailer's rising revenue, any increase in profits per share will likely be driven by decreased share count, combined with the higher margins coming from pre-owned games, mobile and consumer electronics, video game accessories, and digital content.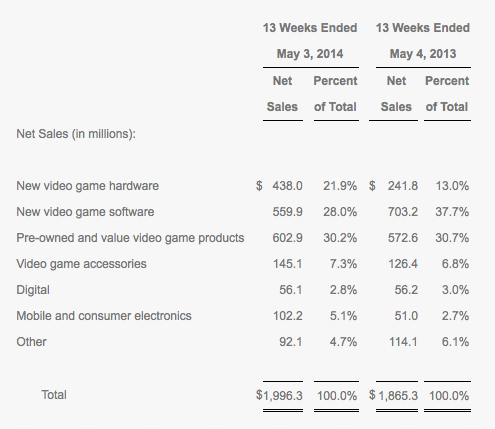 In its last quarter, the company generated a gross profit margin of 49.5% from its pre-owned products. Its mobile and consumer electronics category generated a gross margin of 36.2% while its video game accessories product line saw a gross profit margin of 37.9%. The highest-margin line, however, was GameStop's digital content, which reported a gross profit margin of 63.8%. As long as these product lines stay relevant, the retailer stands a good chance of seeing its earnings beat but, in the event that new video game hardware or new video game software, with gross profit margins of 10.2% and 22.7%, respectively, make up a larger portion of the company's revenue, then the lower profitability of these products could depress the business's bottom line.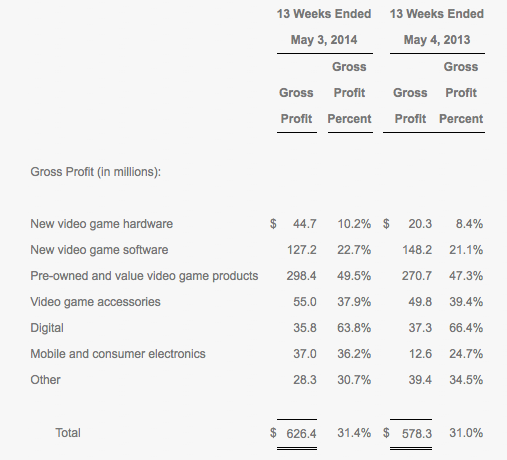 Takeaway
Although analysts have high hopes for GameStop, market participants don't seem terribly enthusiastic. The big fear investors are likely facing right now is that, as a retailer focusing on an industry whose products are susceptible to being sold online as downloadable content as opposed to physical copies or whose products could be easily ordered online through vendors like Amazon (NASDAQ:AMZN) or eBay (NASDAQ:EBAY), GameStop could be easily displaced.
Add to this the fact that it is exposed to competition from Wal-Mart Stores (NYSE:WMT), which recently begun refurbishing used games, and there are plenty of things to worry about. However, if GameStop can maintain its high margin operations and find a way to stay relevant by making itself an integral part of the video game industry (something it's trying very hard to do) then it could make for an attractive long-term prospect.
Disclosure: The author has no positions in any stocks mentioned, and no plans to initiate any positions within the next 72 hours. The author wrote this article themselves, and it expresses their own opinions. The author is not receiving compensation for it (other than from Seeking Alpha). The author has no business relationship with any company whose stock is mentioned in this article.