SkyTides has launched its research of Borneo Resources Investments Ltd. (OTCPK:BRNE). We noted numerous positive developments for BRNE in the last few months. We evaluated these positive changes and incorporated them into our financial projections for BRNE for the remainder of 2014. We believe the following are key events that shareholders should consider when evaluating BRNE's growth potential. We do not believe the market is effectively pricing and reacting to current developments at BRNE. This is likely a short-term phenomenon that provides an immediate investing opportunity.
SkyTides Financial Projection
We have researched BRNE's regulatory filings with the U.S. Securities and Exchange Commission ("SEC"), reviewed BRNE's recent press releases and an affiliate of SkyTides has previously met with members of BRNE management to discuss their business. BRNE has not released any financial projections for 2014. We have therefore utilized all available data and our own understanding of BRNE's business to develop a financial projection for 2014. The results of our work are provided below.
Consolidated Reporting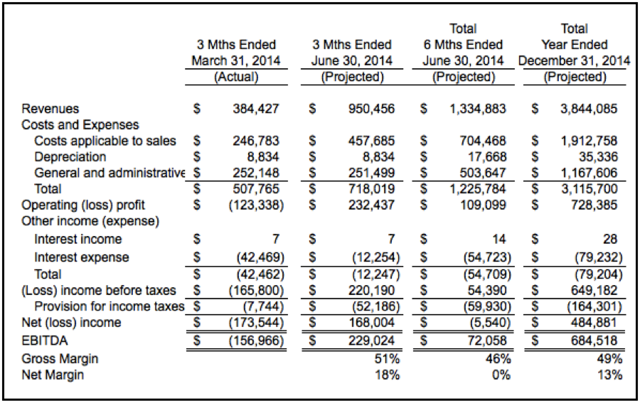 We are confident that BRNE can continue its growth in 2014 and close the year with strong revenues and earnings growth. We have not factored in several other potential positive events such as the successful completion of the expansion plans at Ratatotok South or the initial production at BRNE's other gold production facilities.
NYSE MKT Listing
The financial projection we have completed herein suggests that BRNE could meet the listing standards for the NYSE MKT by the end of 2014. We acknowledge that a listing on a senior exchange is a dramatic event for any company and generally results in significant upside potential for investors for a number of reasons. We have reviewed the NYSE MKT listing standards and considered BRNE's business and our financial projections outlined herein. Our conclusions are as follows:
Listing standard 4 could be met if BRNE's market capitalization exceeds $75 million. We note that BRNE's stock price would have to reach approximately $1.00 per share in order to meet this listing threshold. We believe this could occur at any time. 1
Listing standard 2 could be met if BRNE breaks even in 2014 and raises $2.2 million between now and December 31, 2014 or meets our financial projections and raises equity based financing of at least approximately $1.7 million between now and December 31, 2014. 1, 2
Listing standard 1 could be met if BRNE beats our projection for pre-tax income in 2014 by 38% and raises equity based financing of at least approximately $1.7 million between now and December 31, 2014. 1, 2
Listing standard 3 could be met if BRNE's market capitalization exceeds $50 million and stockholder's equity exceeds $4 million by December 31, 2014.
We believe each of these scenarios is possible by December 31, 2014 and perhaps before. We believe an approval for a listing on a senior exchange such as the NYSE MKT is a critical event and is a significant indication of upside in a stock. We considered another company that we follow that has recently uplisted.
Cellular Biomedicine Group, Inc. (NASDAQ:CBMG) announced on June 16, 2014 that it had been approved for listing on the NASDAQ Capital Market. CBMG closed at $6.80 on the previous trading day, June 13, 2014, and has since traded as high as $38.99 on July 29, 2014. We note the stock closed at $22.68 on August 14, 2014. If an investor purchased shares of CBMG on June 13, 2014 and sold those shares on July 29, 2014 the investment would have returned 473%. We can not predict the future of course but we see immediate short term and long term upside in BRNE as a result of this opportunity to list on the NYSE MKT.
We believe BRNE can approach a market capitalization of at least $100 million upon a successful listing on the NYSE MKT. However, we caution that our estimates of value are still very simplistic. Our valuation assumptions include consideration of both BRNE's projected cashflow and the overall estimated value of its gold and coal assets, which we have discounted down from a preliminary estimate of $1.4 billion. We believe these discounts are justified due to business risks related to the extraction process and the fact that BRNE operates primarily in an under-developed country. While previously engaged by BRNE, an affiliate of SkyTides, previously reviewed and attempted to value these assets. Both SKyTides and this affiliate are very comfortable with the assumptions of value described herein. However, we do intend to seek further evidence to support our valuation estimates.
Continuing Research
SkyTides anticipates providing continuing research coverage on BRNE. However, we caution investors that our research thus far has only been completed only on a preliminary basis. After conducting additional discussions with management, if they are willing to speak with us, we expect to release additional more comprehensive research.
Assumptions
BRNE should be able to complete a reverse stock split in order to qualify for the NYSE MKT minimum price standards of $2 or $3.
Stockholders' equity was $1.8 million at December 31, 2013, we project an increase in stockholder's equity from earnings of $0.5 million for 2014, and BRNE is required to have $4.0 million in stockholders' equity in order to qualify for the NYSE MKT.
For the three months ended March 31, 2014, BRNE's Indonesian operations generated revenues and profits of approximately $384,000 and $62,000 according to its most recent quarterly filing. Estimated income taxes payable to Indonesia for the quarter were $8,000. These figures suggest that the Indonesian operations produced gross and net margins of approximately 33.5% and 14.0% for this period, respectively.
BRNE stated in its most recent 10-Q that "Revenues for the three months ended March 31, 2014 decreased from the three months ended December 31, 2013 as a result of heavy rains and muddy conditions." BRNE appears to be alluding to a return to strong gold production rates in each of its recent press releases.
BRNE states that its Ratatotok South property can generate 2-3 kilograms (70 - 105 ounces) of gold per month. BRNE stated that it "completed its first full production run in May 2014" at this property. In a subsequent press release BRNE stated that the production at this site exceeded 2 kilograms of gold in late June. We have not considered revenues from Ratatotok South in our projections but instead have assumed that on a combined basis that Talawaan and Ratatotok South produced revenue growth of 150% over the revenue produced in the three months ended December 31, 2013 at Talawaan, which was the last quarter that we believe BRNE's mining was operating under good weather conditions.
We have assumed gross profits for the three months ended June 30, 2014 will be comparable to those generated in the three month period ended December 31, 2013, or 50.9%.
We have estimated income taxes owed on Indonesian business profits to be equal to 12.5%. BRNE may also be subject to U.S. income taxes on the profits earned in Indonesia. However, we believe BRNE will be able to utilize foreign tax strategies to avoid these taxes.
We have estimated revenue growth in the last two quarters of 2014 to be at a 20% growth rate as compared to the three months ended June 30, 2014.
General and administrative expenses in Indonesia were assumed to be 7% of sales for the three-month periods ended September 30, 2013, December 31, 2013 and June 30, 2014, respectively. It appears as though the mining operations were not impeded by poor weather during these periods. We note that the conditions during these time periods have not specifically been confirmed by management and that general and administrative expenses in Indonesia were approximately 17.5% of sales for the three months ended March 31, 2014. Our assumptions and estimates could be incorrect.
We have made assumptions that costs of sales and overall general and administrative costs will increase in the last two quarters of 2014 at a rate of 20% as compared to the three months ended June 30, 2014.
We are not measuring the net loss attributable to BRNE shareholders for any reporting period as we do not have enough data to do so.
Depreciation is disclosed in each of BRNE's recent SEC filings as being related to its mining operations and therefore is presumed to be a component of costs of sale. We note that disclosures about depreciation of BRNE assets are not entirely clear. We plan to seek additional information from management regarding depreciation accounting policies and the depreciable lives of each of BRNE's mining assets.
Disclaimer
All information is sourced from SEC filings at sec.gov, Bloomberg.com, Yahoo Finance, and other sources as indicated within this article. An affiliate of SkyTides has spoken with BRNE management numerous times and was previously affiliated with a company that had a business relationship with BRNE. The author maintains an investment in BRNE and may purchase or sell shares of BRNE both before and subsequent to the publication of this article. Stocks covered by SkyTides are generally risky investments. An investor in these stocks should always be willing to lose their entire investment in the stock. No publication by SkyTides should be seen as an offer or suggestion to buy or sell any stocks covered by SkyTides. An investor should always review the company's SEC filings at sec.gov and all other publicly-available information about the stock before investing. SkyTides is under no obligation to update its research at any time.
Disclosure: The author is long BRNE. The author wrote this article themselves, and it expresses their own opinions. The author is not receiving compensation for it (other than from Seeking Alpha). The author has no business relationship with any company whose stock is mentioned in this article.
Additional disclosure: The author of this article was long BRNE as of the time this article was published and may buy or sell additional shares of BRNE at any time.
Editor's Note: This article covers one or more stocks trading at less than $1 per share and/or with less than a $100 million market cap. Please be aware of the risks associated with these stocks.