With the closure of the acquisition of Concentra, Inc., Humana Inc. (NYSE:HUM) has raised its earnings per share guidance for fiscal 2011.
Humana now expects its earnings per share in the range of $5.45 - $5.65, up from the previous outlook of $5.35 - $5.55.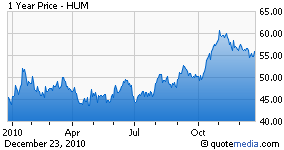 Humana completed its acquisition of Concentra on December 21 for approximately $790 million in cash, and now expects its consolidated revenues for 2011 to increase in connection with this transaction. Concentra produces approximately $800 million of revenues annually from 240 workplace health-care facilities and more than 300 medical centers in 42 states.
Moreover, the acquisition of Concentra will help in increasing Humana's focus on its core businesses as a health care provider, besides providing revenue diversification and opportunities for strategic expansion over the longer term. Additionally, Concentra will provide access to Humana's medical members in certain regions.
The revenue diversification enjoyed by Humana will also help reduce its exposure to health care overhaul regulations, as the health law seeks to compress an insurer's profits from selling benefits.
Humana will also benefit from Concentra's focus on evidence-based, cost-effective medical care and a service-driven culture.
Apart from Humana, its competitor Cigna Corporation (NYSE:CI) remains on track to grow its international business, and UnitedHealth Group Inc. (NYSE:UNH) is focussed on earning revenues from several segments outside health insurance coverage.
In the past five years, Humana has announced 11 pending or completed acquisitions. With the acquisition of Concentra, Humana will gain new opportunities in the growing area of health care. In addition, the deal will enhance Humana's business, diversify its revenue stream and will provide opportunities for expansion.