Double digit year-to-year increases in farmland values were reported in select regions of the Great Plains. The Tenth Federal District estimated that irrigated and non-irrigated crop land increased 6.3% and 6.9% respectively from the second quarter last year. Irrigated farmland in Kansas, Oklahoma, and areas of Colorado, New Mexico, and Wyoming all reported double digit increases.
Non-irrigated land in Oklahoma and areas of Colorado, New Mexico, and Wyoming also reported double digit increases. Non-irrigated land had not seen comparable increases over the past several quarters due to the drought across the district, but storms over the past few months have provided precipitation, easing drought conditions.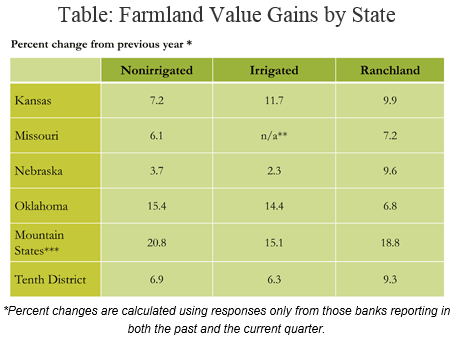 Source: Federal Reserve Bank of Kansas City Tenth District Agricultural Credit Conditions Report
Credit
Credit conditions across the District were healthy despite low grain prices. Bankers surveyed believe that several years of strong profitability in the crop sector allowed farmers to financially position themselves to weather a decline in farm income in 2014/15. Farm income 2014/15 is expected to be lower than 2013/14 due to low crop prices and poor wheat yields. Normally, poor U.S. wheat yields result in higher global prices, but ample global supply due to increased production in Europe and Asia has significantly limited the crop's profit potential in 2014/15.
Bankers reported that there was an ample supply of capital available for farm loans, and that they expect interest rates to remain steady through the third quarter. Collateral requirements went unchanged from last quarter.
Outlook
Falling farm income may provide some risk to credit conditions, but farmland values are expected to continue to increase through harvest. Record breaking yield expectations for corn and soybeans should be another factor when evaluating farm income in 2014. The decline in crop prices should be partially offset by the increase in expected bushels per acre, lessening the impact on overall farm income.
The Federal Reserve Bank of Kansas City's second quarter survey of Farmland Values and Agricultural Credit Conditions Report is a summary of the Tenth District's value of farmland, farm loan portfolio performance, and on-farm income. The Tenth District consists of Colorado, Kansas, Nebraska, Oklahoma, Wyoming, the northern half of New Mexico, and the western third of Missouri.
Disclosure: The author has no positions in any stocks mentioned, and no plans to initiate any positions within the next 72 hours.
The author wrote this article themselves, and it expresses their own opinions. The author is not receiving compensation for it. The author has no business relationship with any company whose stock is mentioned in this article.