My regular readers know my philosophy about investing in the small biotech space by now. This arena is simply different than investing in other sectors. Some hedge funds employ PhDs in biochemistry but still get it wrong as much as they get it right. How drugs/compounds actually do in actual trials is next to impossible to predict consistently. Anyone that says differently is selling something.
This area calls for a different investing strategy. My philosophy is to take much smaller positions in a larger amount of selections than in other sectors. One must realize that there will be many misses within the biotech portion of your portfolio. However, this should be compensated for by the occasional five or ten bagger.
I thought my article on this sector this week would consist of updating readers on a couple of my favorite small biotech stocks and what lies ahead for both.
First up is Avanir Pharmaceuticals (NASDAQ:AVNR). The company is a small pharmaceutical company whose lead drug, Nuedexta, the only FDA approved product for the treatment of pseudobulbar affect, a disorder of laughing or crying that can accompany underlying neurological disease. This condition is commonly observed in people with neurological injuries such as brain injury and stroke.
The stock has done very well since I provided a deep dive on it in early May. It feels like time for an update as the shares shot up more than five percent in yesterday's trading and the stock feels ready to take the next leg up.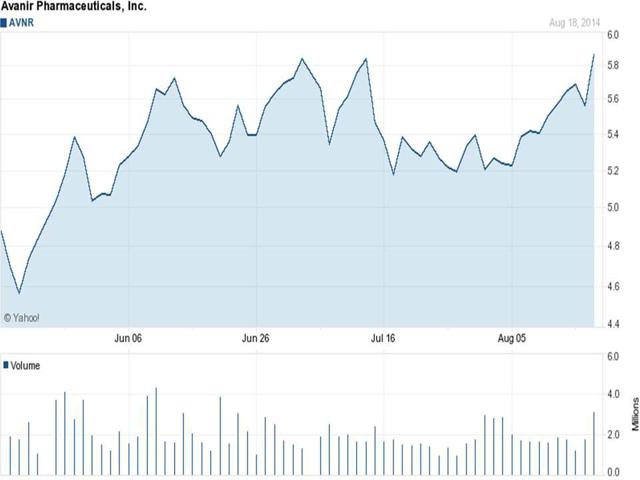 Since my last update, Avanir posted quarterly results that saw it deliver 45% year-over-year sales increases driven by Nuedexta. This could accelerate as sequential growth (Q/Q) was 14% last quarter. The FDA also accepted the company's application for a phase II study to investigate a product candidate for the adjunctive treatment of major depressive disorder.
Although the company continues to post small losses as it ramps up Nuedexta sales, it has a stable of promising other compounds in early to late stage development. Given the explosive growth of Nuedexta as well as its deep pipeline, I believe Avanir would be a great buyout for a larger player who could boost sales using its larger sales force. The median price target by the five analysts that cover the stock is $10 a share, much higher than the current price of the stock.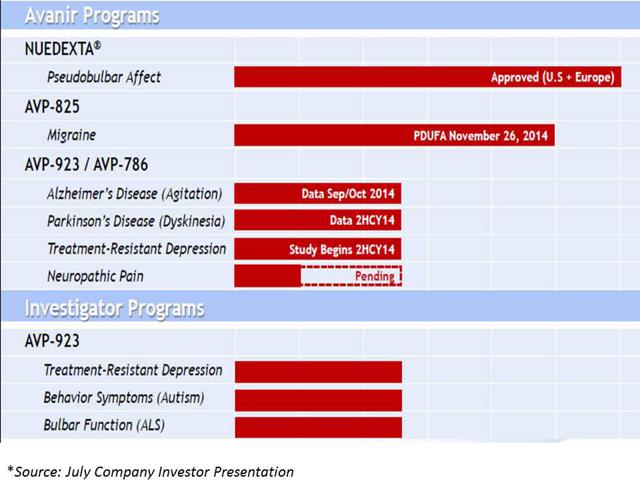 Next up is Dynavax Technologies Corporation (NASDAQ:DVAX) which is a clinical-stage biopharmaceutical company that discovers and develops novel products to prevent and treat infectious and inflammatory diseases. Its lead product candidate is HEPLISAV, a Phase 3 investigational adult hepatitis B vaccine.
The stock has done little over the past three months but has good long term, if speculative promise. The company is currently conducting a huge over 8,000 person Phase 3 trial for the effectiveness of HEPLISAV. If trial is successful, I would expect the compound to be approved by 2016 for both the United States and Europe which would be a huge positive catalyst for Dynavax's stock as the potential worldwide demand for Hepatitis B vaccines is somewhere between $500 million to $1 billion annually. Dynavax's market capitalization is less than $400 million.
The company also has a compound (AZD1419) developed in conjunction with AstraZeneca to treat asthma. AZD1419 recently met both safety and pharmacologic endpoints in its Phase 1 study in healthy patients and is being tested now in test subjects with mild asthma.
In addition to these two promising compounds, the company had over $150 million in cash on hand as of the end of the first half of the year. This should get the company through the next 6-7 quarters, based on the current burn rate, without raising additional funds from investors. The four analysts that cover the stock have price targets between $3 a share to $6 a share on the stock, all substantially above the current stock price of ~$1.50 a share.
Both of the stocks are only for the speculative investor. That being said, I think both are solid high risk/high reward plays and I have each of these names in the aggressive part of my portfolio.
Disclosure: The author is long AVNR, DVAX.
The author wrote this article themselves, and it expresses their own opinions. The author is not receiving compensation for it (other than from Seeking Alpha). The author has no business relationship with any company whose stock is mentioned in this article.