While both the CPI and Core CPI figures were in line with estimates, today's housing data came in stronger than expected. Our initial take on the beat is that it is a bit late in the summer to see a bump such as this, so the strength might actually be real organic growth with builders ramping up as they prepare for the market to strengthen into 2015. Also pointing to a potentially stronger housing market are the results coming in from home improvement and home goods retailers.
Chart of the Day:
If the market is setting up for another move higher, could this be the time where we see the Russell 2000 break out? We have been bullish of the index, via the iShares Russell 2000 ETF (NYSEARCA:IWM), and think that through the end of the year that the SPDR S&P 500 ETF (NYSEARCA:SPY) will underperform versus the small cap names.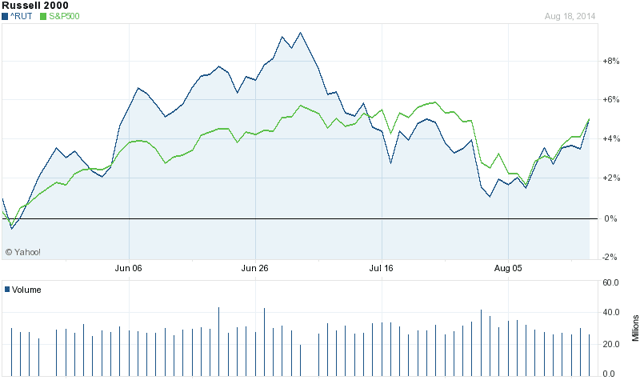 Click to enlarge
Source: Yahoo Finance
We have economic news today, and it is as follows:
CPI (8:30 a.m. EST): Act: 0.1%
Core CPI (8:30 a.m. EST): Act: 0.1%
Housing Starts (8:30 a.m. EST): Act: 1093k
Building Permits (8:30 a.m. EST): Act: 1052k
The Asian markets are higher today:
All Ordinaries - up 0.66%
Shanghai Composite - up 0.26%
Nikkei 225 - up 0.83%
NZSE 50 - up 0.85%
Seoul Composite - up 0.88%
In Europe, the markets are higher this morning:
CAC 40 - up 0.38%
DAX - up 0.98%
FTSE 100 - up 0.51%
OSE - up 0.24%
Home Improvement Continues To Shine
The one area of retail which has been a constant outperformer has been the home improvement retailers. Home Depot (NYSE:HD) and Lowe's (NYSE:LOW) have delivered steady growth and avoided the disastrous quarters other retailers have faced, as consumers shifted their focus to spending on big items, such as cars and houses. Home Depot reports before Lowe's, and the quarter that the company reported early this morning was quite impressive.
Home Depot beat the analysts' consensus estimate of EPS of $1.45 and revenues of $23.61 billion, as the company reported EPS of $1.52 and revenues of $23.81 billion for the quarter. While the company saw strength across its various geographic areas with same store sales rising 5.8%, the US displayed considerable strength as same store sales rose 6.4%. On the back of this solid quarter, management raised their full-year earnings guidance.
Lowe's reports its quarterly results tomorrow and if recent trends hold, the company could report a very strong quarter. Another reason we are optimistic that Lowe's will report a solid quarter is due to its focus on higher quality fixtures and its focus on the female customer. With TJX Companies (NYSE:TJX) showing most of their sales growth coming from the HomeGoods division this quarter, we think that this could signal that the US consumer is once again spending on their homes.
Insulin Drug Approved
Eli Lilly (NYSE:LLY) received tentative approval from the US Food & Drug Administration, or FDA, for its insulin injection drug called Basaglar which is used to treat those who suffer from diabetes. Although the FDA did give the drug a tentative approval, there will be a 30-month stay due to patent litigation filed by another drug maker, France's Sanofi (NYSE:SNY). The FDA cannot give approval of the drug now until one of two events occurs; either the 30-month period ends, or the courts find in favor of Eli Lilly.
This could be a blockbuster drug once it reaches market as it is a long-lasting blood sugar controller which can be used to treat both type 1 and 2 diabetes.
Disclosure: The author has no positions in any stocks mentioned, and no plans to initiate any positions within the next 72 hours.
The author wrote this article themselves, and it expresses their own opinions. The author is not receiving compensation for it (other than from Seeking Alpha). The author has no business relationship with any company whose stock is mentioned in this article.