In my article yesterday ("AT&T: A Desperate Sprint About To Declare War"), I discussed how Sprint's (NYSE:S) new CEO, Marelo Claure, was on the verge of starting a "very disruptive" price war that could be costly to AT&T (NYSE:T). Well, today we have the details. S is attacking the family market (or "Framily" in Sprint's marketing parlance) and small corporate market with prices as low as $10/month per line.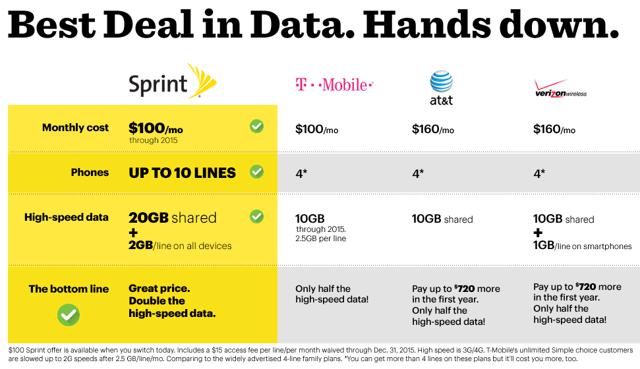 Click to enlarge
Source: Sprint
S has underutilized capacity and is an also ran in the wireless market. Basically, adopting a "disrupter" model, with the implicit backing of Sprint's 70% owner, Softbank (OTCPK:SFTBF), which in turn is controlled by Japanese billionaire, Masoyashi Son, S is saying the company's only chance of attaining critical mass is to buy it. Clearly, S is willing to take a loss in the short term; T will have no choice but to defend its 34% share with a strategic response.
T's response (and it will have to respond) will likely take the form of lower rates and higher costs (if additional data is offered for the same cost). In fighting off T-Mobile (NASDAQ:TMUS), T proved itself to be nimble, in adjusting its prices and offerings. However, TMUS' disruption was more about changing the subsidy paradigm. Sprint's disruption is a plain and simple price war for market share.
As articulated in the below chart, a minimal impact on revenue can have a large impact on price.

The Chinese have a well-known curse, "May you live in interesting times." T must have ticked the Chinese off, because life for the company and its shareholders just got a lot more interesting!
Disclosure: The author has no positions in any stocks mentioned, and no plans to initiate any positions within the next 72 hours.
The author wrote this article themselves, and it expresses their own opinions. The author is not receiving compensation for it (other than from Seeking Alpha). The author has no business relationship with any company whose stock is mentioned in this article.