Every so often I stumble across a stock that was not on my radar. My email subscribers are always sending me stocks that I will then do research on, and may discover that it appears to be a really decent opportunity. That is how I was told about Energy XXI (EXXI).
While I lean towards a dividend growth investing strategy for retirement, it will never mean that I shut myself off from the world around me, and from time to time I will fit a stock that will pay me to wait for its true value to appear, realizing that I am putting risk capital to work.
EXXI falls into that category right now, and I have purchased it for one of my portfolios.
Energy XXI Is Undervalued And Pays Me A Very Nice Dividend To Wait For It To Succeed, Or Not
As of now the stock price is trading at 52 week lows and is heavily discounted to its book value.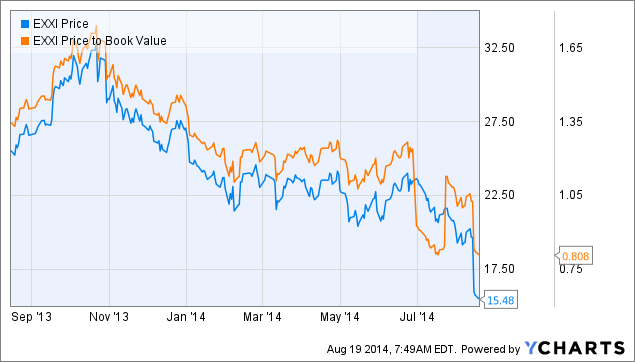 A 20% discount to book value could mean a short term capital appreciation to about $18.50/share from its current price of $15.45. I bought my position at about $16.00 and if it drops any further I intend on adding more shares to my position.
Of course that is not the only reason I will place this stock in my retirement portfolio. The company pays a very decent dividend for me to wait for its true value to appear, or not.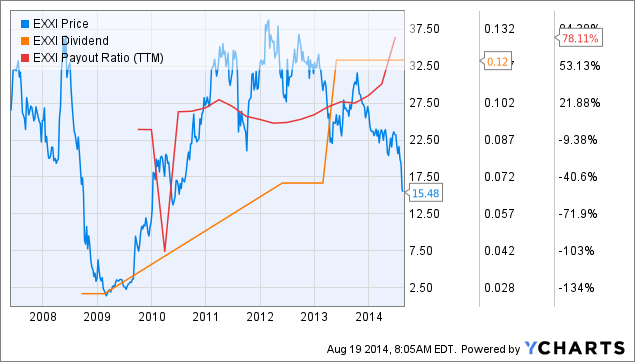 This little company has been all over the map in terms of share price, but since 2009 it has paid a dividend and even increased its dividend. While many investors might say that a 78% payout ratio is not a sign of a company that can continue paying dividends, I believe that not only can it continue paying dividends, but I also believe that if the company strategy works, it will increase its dividends.
What Makes This Stock Compelling?
Last year, the company reported about $1.2 billion in revenue while earning about $725 million. Both of these numbers were down from the prior year.
Revenue: -7% year over year
Earnings: -15% year over year
However the focus of this company has been to purchase other smaller, similar companies and to position itself as a "player" in the Gulf of Mexico, and the coastal areas. The costs involved as well as the fact that there are already so many players in the Gulf, has continued to earnings and revenues, but that might be about to change with its latest acquisition.
Merger will create the largest public independent producer on the shelf
Pro forma production approximates 65,000 BOE per day, 70 percent oil
Transaction expected to be immediately accretive to shareholders
The press release further notes:
As a result of the merger, Energy XXI will become the largest public independent producer on the Gulf of Mexico shelf, with production of approximately 65,000 barrels of oil equivalent (BOE) per day, 70 percent oil, including a reduction related to the pending divestiture of non-operated interests in the Eugene Island 330 and South Marsh Island 128 fields. Upon completion of the merger, Energy XXI expects to have an enterprise value of approximately $6 billion.
The enterprise value increase alone is great, but more importantly, production will significantly increase, and once achieved will quell some of the analysts fears.
Energy XXI is downgraded to Sector Perform from Outperform with a reduced $28 price target from $34 at Howard Weil, which says that given the company's prior issues integrating the Exxon acquisition, investors could question why the integration of the EPL acquisition will perform any better.
Where was this analyst when the shares were trading at $38/share? Now that the company has completed the acquisition of EPL, wouldn't that be a net positive for investors? Also note that the price target has been reduced from $34 to $28/share, which is almost a double from the current share price anyway.
Of course Weil was not the only genius analyst to lower its rating or price target.
Canaccord Genuity maintains its Buy rating, still liking EXII for its oil-weighted asset base, the Gulf of Mexico horizontal drilling program, a history of generating free cash, and potential upside from its exploration program, but cuts its price target to $30 from $36 following disappointing production guidance.
Ok, I see, an announcement that the share price target is reduced from $36 to $30, but the rating remains a buy. Why bother? The share price is $15.48, and hitting $30 would also mean a double bagger.
I Want The Income While I wait For The Company To Gel
Keep in mind that I am not saying that this is a risk free investment. I would not make this a centerpiece of my retirement portfolio, but allocating some risk capital makes sense because as of now the dividend yield is 3.10% and the share price is more than 1/2 of what it was just 6 months ago.
During the earnings call, it was noted by John Shiller (newly appointed COO as well as the CEO):
We continued to integrate EPL into Energy XXI and we've seen savings ahead of what we originally expected .....A large piece of those savings is on insurance where we expected to see initial savings of $15 million and actual savings we're in excess of $25 million when we renewed our insurance in June.

G&A is another area where we're already capturing significant synergies. We have the teams integrated now and have made most of the cuts needed to right size the operation support and administrative staff. Today the annualized expected G&A savings should exceed $15 million compared with the $7.5 million discussed originally. In LOE,...in total, we should save more than $50 million on lease operating expenses in fiscal 2015, triple what we promised with the potential for more going forward.

In summary our goals are to increase oil production through low risk development drilling while driving down cost, all which help to increase cash flow to strengthen the balance sheet. With the EPL acquisition, we've created an unmatched asset base that provides opportunity to achieve these goals and we have formed the teams and challenged them to execute on the program. These are the reasons we believe the future is bright for Energy XXI, our employees and our shareholders.
For a company that never has given forward guidance previously, those are pretty bold statements, and ones that I believe could materialize in several ways.
The EPL merger increases production, revenues, and earnings for EXXI faster than some might think.
EXXI could actually become a takeover target by some larger players in the business.
EXXI still has one defender, as Miller Tabak came out positive on the shares, which the firm sees as a takeover candidate worth $35/share.
I happen to agree with Tabak's position. Since the stock has already been beaten to a pulp, if the company executes, or is taken over, the 3.10% dividend I am receiving could pale in comparison to the capital appreciation I might enjoy.
To encapsulate my opinion:
A 3.10% dividend yield is worth my attention, even if it is not a dividend winner.
A 20% discount to book value tells me I might be getting a bargain.
The company strategy of buying other companies to grow itself, has also positioned the company as a takeover candidate itself.
The share price is now selling at 52 week lows, and even though analysts have been cold on the stock, I believe they are wrong.
The Bottom Line
Yes, this is not my usual mega cap blue chip dividend champion stock to own forever. However, the company seems to offer a unique opportunity for me to take advantage of the dividends while I wait for a significant increase in its share price.
Once that happens, I can sell the stock and put the money right back to work in my dividend champs.
Disclaimer: The opinions of the author are not recommendations to either buy or sell any security. Please remember to do your own research prior to making any investment decision.
Disclosure: The author is long EXXI.
The author wrote this article themselves, and it expresses their own opinions. The author is not receiving compensation for it (other than from Seeking Alpha). The author has no business relationship with any company whose stock is mentioned in this article.