RetailMeNot, Inc. (NASDAQ:SALE) made its public debut a little over a year ago on Friday, July 19, 2013. Shares of the world's largest digital coupon marketplace ended their first day with spectacular gains of 31.9% at $27.70 per share. The shares subsequently traded to a spectacular high of $48.73.
What a difference a year can make. The company came into second quarter earnings as a Goldman Sachs' (NYSE:GS) Top 25 Small Cap Stocks. Goldman had a $44 price target on the shares. The company subsequently released its financials with revenue coming in at $60 million and net income of $4.3 million, 16% off the $5.1 million net income from the same period a year ago. The shares fell $5.30 (21%) to $20 per share in pre-market trading the next day. Friday the shares closed at just $17.74 just a stones throw from its 52 week low of $16.77.
Below are the company's historical operating results as included in a really well done article here by author Shock Exchange: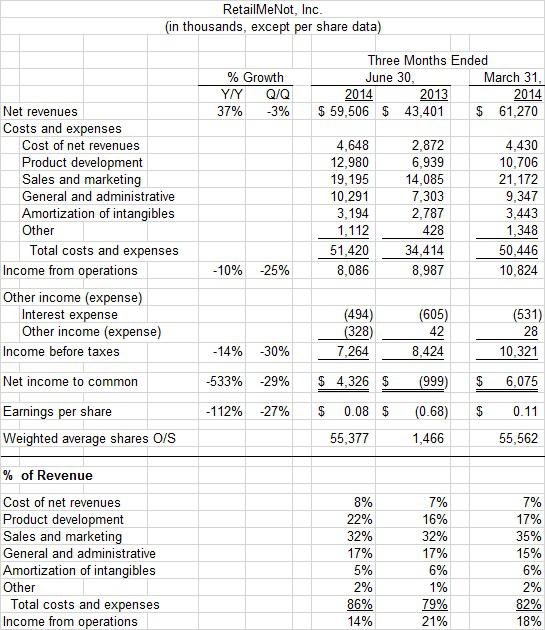 For every effect, there too is a cause. That cause in the case of RetailMeNot was Google's (NASDAQ:GOOG) launch of their revised Panda Algorithm code-named Panda 4.0. Panda is designed to remove low-quality content from Google's search results. A recent Winners & Losers report on which large sites were impacted the most both in a positive and negative way identified RetailMeNot as one of the larger sites on the losers list, where Searchmetrics reported an approximate 33% loss in organic search visibility after Panda 4.0 was released. RetailMeNot was quick to issue a statement responding to these reports saying they "greatly overstate the impact on RetailMeNot.com."
The company statement released reads as follows:
The company believes these reports greatly overstate the impact on RetailMeNot.com. Over RetailMeNot's history, search engines have periodically implemented algorithm changes that have caused traffic to fluctuate. It is too early to judge any potential impact of the latest Google algorithm change. While RetailMeNot's traffic with Google continues to grow year-over-year, the company has experienced some shift in rankings and traffic. The company continues to believe its focus on content quality and user experience will continue to help grow the business, enable consumers to save money and drive retailer sales.
It appears clear they "experienced some shift in rankings and traffic." But they say it is too early to tell the overall impact on the company.
In addition, the company said they have "made considerable strides to diversify its traffic sources" detailing that "approximately 35% of RetailMeNot's traffic came from sources other than search engine." In its second quarter, 35% of all the company's approximate 150 plus million visits came via mobile devices; mobile also represented about 19% of second quarter revenue. Jefferies analyst Brian Pitz of is caustiously optimist that the company can continue to diversity its revenue sources into mobile, email and direct.
So as I've stated in previous articles, it's one thing to point out a problem, and another to offer a possible solution. RetailMeNot lacked diversification in how it sourced customers relying heavily on Google. Google has now changed the playing field and RetailMeNot needs to attempt to level it as quickly as possible in an effort to mitigate the adverse financial implications along with trying to preserve and restore shareholder value.
My suggestion…buy a company that already has an established mobile based national couponing and loyalty brand and leverage it inside of your much larger scale. By the time you build it yourself, it may be too late and it likely cost far more than just acquiring the company I suggest they look at. Won't be the first time I have pointed this out and probably won't be the last.
In my opinion, RetailMeNot should look at a small company named Spindle (OTCQB:SPDL) in an effort to immediately begin to try and unwind their Google search debacle.
Spindle is a financial services company with full service acquiring and processor services as well as a virtual incentive, promotion, retail affiliate, advertising, and publishing platform. Under its Yowza!! brand, independent sales offices (ISO's), direct merchant acquisitions, channel partners, white labeled selected enterprise channels, joint venture partners, and large retailers, are able to nurture, convert, and transact via one on one interactions between consumers and merchants. Today, Spindle is a full service commerce enabler for mobile.
Importantly, Spindle's Yowza!! mobile delivery is not impacted by Google's new search results algorithms. The platform offers a mobile centric solution that delivers relevant coupon for in store redemption. It is geo-location based and the focus on in store content is the future of mobile commerce. Surfing to an online location or printing a coupon is old school. Using a mobile device that delivers coupons and offers while you are shopping is different from the current RetailMeNot online focus.
Yowza!! is delivering beaconing and point of sale solutions that connect consumers and merchants directly rather than through a loose connection from an online coupon.
Integrated ordering, loyalty, payment, and offers is where Square, Groupon (NASDAQ:GRPN), Amazon (NASDAQ:AMZN) and other are moving. RetailMeNot needs to offer a competitive solution to stay relevant in the market or it will continue to see an erosion in shareholder value.
This fall beacon based offers will emerge as one of the top new shopping technologies. Spindle is one of the innovators in this space combining beaconing technology, offer delivery platform, and single national brand in one solution.
The mobile marketplace demands more than online-only solution. Mobile is mainstream, brick and mortar, face to face, bringing the online rich media capabilities to the hands of shoppers where and when they need it.
RetailMeNot needs a quick fix, a small company who they can snatch up and instantly gain a platform that can be almost immediately leveraged within their greater scale. They need an entrée into mobile and they need it now. I can think of few other companies out there that would offer RetailMeNot so much for so little.
Despite being recently named a recipient of Frost & Sullivan's 2014 Customer Value Enhancement Award for its broad solutions portfolio that enables merchants and consumers to engage, interact and transact through innovative mobile technology, Spindle's shares have seen a steep pullback from previous all time highs in the $3 range. While the shares clearly got ahead of themselves being one of the only small publicly traded pure plays in the space, they have now retraced what I consider too far. Recently trading in the $1 range, I see significant value and an even higher likelihood that someone soon seeks to acquire them. In fact, one might consider the shares currently on "SALE".
There's no doubt in my mind that Spindle could be the perfect tool enabling RetailMeNot to unwind it's recent Google related issues while quickly providing them a highly strategic and timely mobile opportunity. Based on Friday's shareholder letter, Spindle appears to be on the verge of a major inflection point making timing opportune. Mr. Cunnigham, Ms. Beougher, Mr. Pho…are you listening?
Disclosure: The author is long SPDL. The author wrote this article themselves, and it expresses their own opinions. The author is not receiving compensation for it (other than from Seeking Alpha). The author has no business relationship with any company whose stock is mentioned in this article.
Editor's Note: This article covers one or more stocks trading at less than $1 per share and/or with less than a $100 million market cap. Please be aware of the risks associated with these stocks.