We don't think that there's a whole lot to dislike about Coca-Cola (NYSE:KO). It's the kind of company that fits right into the investment style that we like.
It's been around for 120+ years
It has a constant history of raising its dividends
It is a global brand with a large international footprint
It's a brand name that has recognition and prestige
It's a low beta name that has weathered constant bear markets and bounced back with continued growth
Buy and hold investors, we believe, can always look to Coca-Cola as an outlet for money they are looking to invest into the equity markets. Of recent, however, worries have been abound in the Coke camp, as domestic sales volumes have had some investors falling into a McDonald's (NYSE:MCD) like funk about whether long-term growth prospects would be effected.
Coke's plans of rebranding some of its drinks and experimenting to try and boost growth have mostly failed. From an investor's standpoint, the stock has been red this year to the tune of about 1% while the S&P has flourished. In that time, however, Coke's yield has been 2.90%.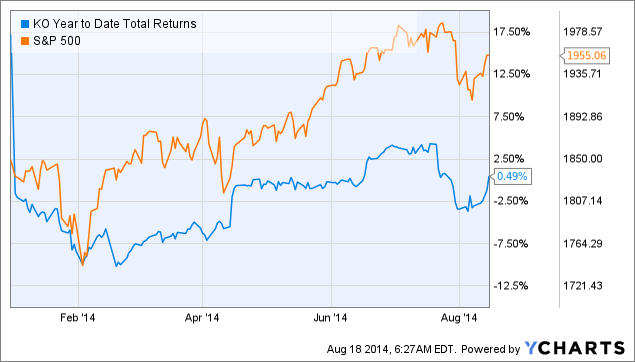 KO Year-to-Date Total Returns data by YCharts
Global growth came in around 3% over the last quarter for Coca-Cola. While this is a figure indicative of a behemoth company the size of Coca-Cola simply "chugging along", the company has been trying to figure out a way to improve on this while keeping up their home turf foundation here in the U.S.
If there was one thing we could take from PepsiCo (NYSE:PEP) and transplant into Coca-Cola, it would be a little more diversification. Namely, the fact that PepsiCo has its snack product division, which gives it a little safety net if beverage sales pull back. For Coke, this is where the recent deal with Monster comes in.
Monster (NASDAQ:MNST) is just that, a monster.
The company, since originally forming as Hansen Beverage in the 1930s, has turned itself into the hottest name in the energy drink business short of Red Bull. Investors have been brought on a lovely ride since the company became Monster in 2007.

The stock ripped higher 30% on Friday after the news of the Coke partnership was announced. While some of this was due to the sales potential associated with it, we also believe that the Coke name simply carries the prestige with it that could facilitate this move upward on its own.
People that were already thinking about diversification were likely happy to see Coke's stake in Green Mountain (NASDAQ:GMCR) through their partnership announced early this year. However, the Green Mountain partnership has not yielded any tangible results as of yet, and investors are still waiting to see the fruits of that deal come into bloom.
Put simply, we like everything about the Monster deal for Coke.
We like the reasoning behind going after the Monster brand.
There are many obvious reasons to go forward with this transaction. Obviously, we think this is going to help spur growth for Coke in a new mini-sector of their industry. Energy drinks and the growing variety of energy drinks being produced by Monster are now still "emerging" with younger generations and especially for those that don't like good old fashioned hi-test coffee, which is what we stick with here in the OPI offices. Call us "old school".
It's going to be great in a diversification sense, as well. With the Green Mountain deal in place and this deal now in place, Coke has started to spread out a bit, albeit still under the umbrella of the beverage sector. Are snack foods next?
We like the way that Coca-Cola is going about it.
First, they're financing the transaction with cash on hand. We like any deal that doesn't require taking on new debt.
Second, Coke is going to transfer its underwhelming energy brands (most notably Full Throttle and NOS) over to Monster to see if they can help give them a boost. Costs associated with competing with Monster are going to continue to fall off, we believe.
Third, the company is being smart about managing the risk involved here. Namely, the risk involved with energy drinks is that they're at some point either going to be regulated or that they're going to ultimately be found as dangerous.
Rather than Coke diving right in, they're taking a small stake in Monster to "test the waters", a sure fire conservative sign of a company that's looking to protect its 120+ year pedigree.

The Peel's Feel:
Based on the above, we rate Coca-Cola with a JUICY (BUY).
At the office, we believe that Coke's pullback over the last 6-8 months coupled with this transaction has created opportunity for those looking to add low beta deep value to their portfolio. We believe Monster to be a brand with staying power, even more now that it's linked to the Coke name. We believe we have a mutually beneficial relationship between these two entities and that 2015 could be the year for Coke that finally eases investors' tensions that have been brought to a head over the last few quarters.
Disclosure: The author has no positions in any stocks mentioned, and no plans to initiate any positions within the next 72 hours. The author wrote this article themselves, and it expresses their own opinions. The author is not receiving compensation for it (other than from Seeking Alpha). The author has no business relationship with any company whose stock is mentioned in this article.